TRITTICO – PRIMAROSA CESARINI SFORZA – LEA CONTESTABILE – SUSANA TALAYERO – TRALEVOLTE – ROMA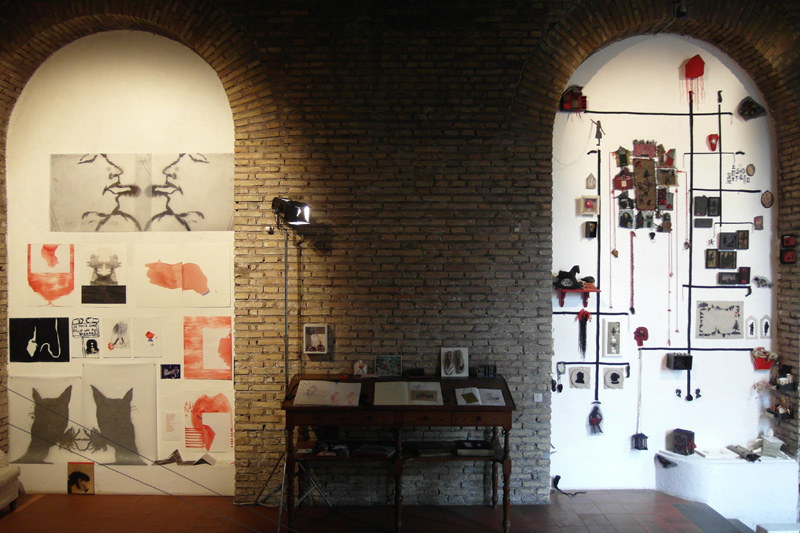 Trittico
Primarosa Cesarini Sforza – Lea Contestabile – Susana Talayero
Introduction by Silvia Bordini and Francesca Gallo
January 11 – February 8,  2013
www.tralevolte.org – Roma
A characteristic of art today, within the variety of practices and of languages, lies in its ability to ask questions: questions that do not lead to certainties but rather to thoughts, emotions, crossover of ideas and relationships that push us towards a critical dimension, a sort of going beyond. The thin yet strong thread that connects Primarosa Cesarini Sforza, Lea Contestabile and Susana Talayero is truly this questioning and questioning oneself. Three artists who, in the metaphoric framework of the triptych, attenuate the conformity as well as the dissonance of their creative processes; a plurality that is always mediated by a sense of doing which comes from the painting, but only to put it into debate, in a game of confrontation between reality and imagination, substance and depiction.
The space in the gallery thus becomes the image of a place of creation, a room of one's own in which Primarosa, Lea and Susana narrate the fragments of an everyday world so as to reveal, each in their own way, the connection of spells and shadows, the stability and the unexpected, the drama, the imponderable, the unusual, the risk, the restlessness.
 www.facebook.com/tritticoartshow
Associazione Culturale TRAleVOLTE
Piazza San Giovanni in Laterano 10
Tel. 0670491663 – Mon. to Frid. – Hours 17 to 20
Position the cursor on the images to view captions, click on images to enlarge them. 

Posizionare il cursore sulle immagini per leggere le didascalie; cliccare sulle immagini per ingrandirle.