TRANSFIGURATION – PAVILION OF THE P.R. OF CHINA – 55TH INTERNATIONAL ART EXHIBITION – LA BIENNALE DI VENEZIA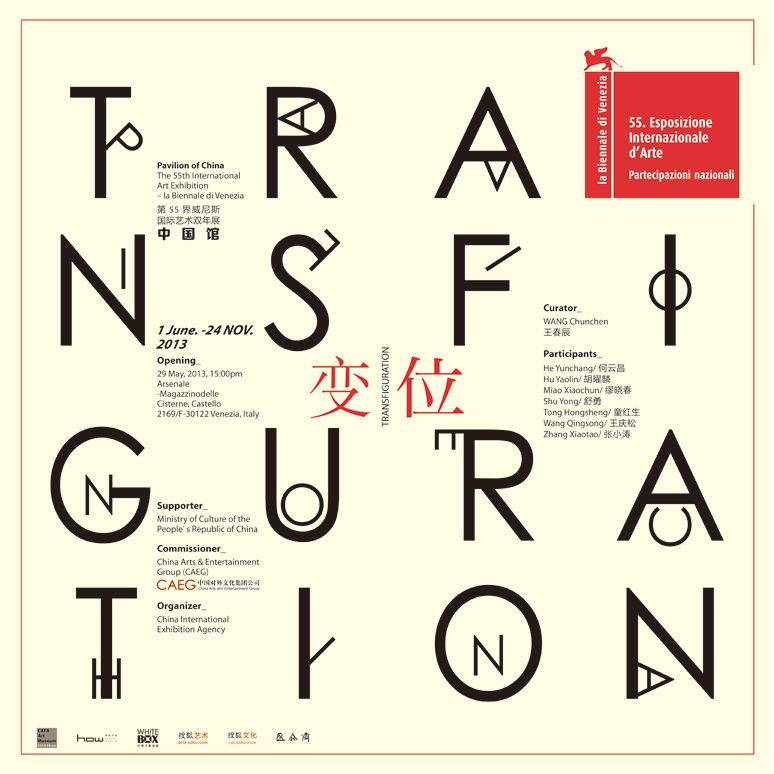 TRANSFIGURATION
01.06.2013 – 24.11.2013
Opening: 29.05.2013, at 15:00
Pavilion of the P.R. of China at the 55th International Art Exhibition – la Biennale di Venezia
Supporter: Ministry of Culture of the People's Republic of China
Commissioner: China Arts & Entertainment Group (CAEG)
Organizer: China International Exhibition Company
Curator: WANG Chunchen
Participants: HE Yunchang, HU Yaolin, MIAO Xiaochun, SHU Yong, TONG Hongsheng, WANG Qingsong, ZHANG Xiaotao
ABSTRACT
Curator Wang Chunchen chooses 'Transfiguration' for the theme of Chinese Pavilion. Transfiguration refers to contemporary changes in art and its thinking, especially refers to the surpassing of the gap between life and art, the transformation of life to art, of the commonplace to artworks or art performance, of non-art to art. Seven Chinese artists will feature their works in the Pavilion. The commissioner is China Arts & Entertainment Group (CAEG).
Exhibitors: He Yunchang is a sincere and honest artist, he always uses his body as an expression to imagine and question this world. His Venetian work 'The Water of Venice' stresses the communication among people as a continuum of his social performance; Hu Yaolin in recent years has worked hard to preserve, restore, and rebuild many old Chinese styled houses, since many a such buildings are disappearing out of our vision due to the rapid construction. His 'Thing-in-itself', symbolically and formally similar to the dome of Pantheon in Rome, is his heritage sentiment to the re-made China. Miao Xiaochun, as the explorer of new digital art, is committed to re-making of visual knowledge and spectacle by taking intercultural elements into his transfigured artworld. Shu Yong aims at public participation and involvement, his site-specific work 'Guge Bricks' are the collections of the newly popular circulated phrases and words through a machine translation, thus displaying the displaced and multiple reading of such language connotations as a phenomena of globalization. Tong Hongsheng likes to express inner feelings and beliefs by painting the daily objects, his 'Still Life' series are used to symbolize such belief as cultural remains. Wang Qingsong's tableau photography is regarded as the simulacra of Chinese reality; his works try to visualize changing inner stories and their effects. Zhang Xiaotao is a trans-media artist, starting from painting and now focusing on new media art to probe the possibility of creating new art language by digital art. His virtual animation is such allegory of social vicissitudes and future as new potential.
Contemporary art in China is diversified and varied, expressing its concerns with China and the world, these artists are not only the makers of images, in fact the elucidators of attitudes and conceptions.
Such artists make dynamic and fresh artworks, and try to expose the truth and meaning of their existence. They become more active than before to display their visual wisdom to deal with their value and significance in the society. In this sense, 'transfiguration' becomes an action for not limiting art or suspending the possibility of expression, and tries to face contemporary social concerns directly. Transfiguration as a process aims at the future and as a method faces multiple possibilities of art expression.
Chinese art today is no single dimension anymore; it is entangled with knowledge and interpretation of the artists towards the times and embodies all their emotions and their challenges as the symptoms of social existence and mind. Such transfiguration represents the expansion and convergence of Chinese art in the global vision for the exploration of the meaningful reality by their art.
– Wang Chunchen
PRESS CONTACT
Commissioner: China Arts and Entertainment Group (CAEG) – Tel: +86-10-64003506
E-mail: vebiennale.cn@gmail.com, biennale@caeg.cn, info@lab-yit.com