ATTESE IMPOSSIBILI – VALENTINA COLELLA E SARA SPIZZICHINO – CENTRO LUIGI DI SARRO – ROMA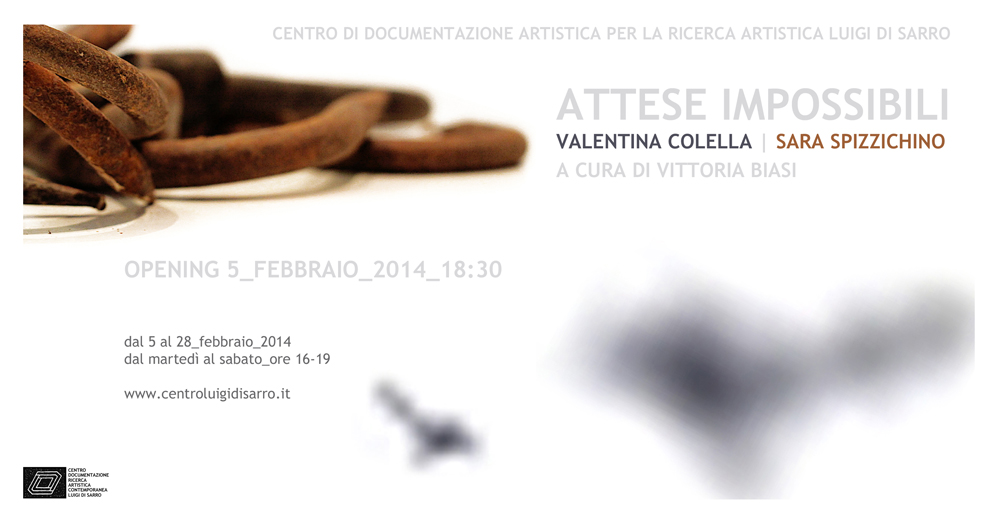 VALENTINA COLELLA | SARA SPIZZICHINO
ATTESE IMPOSSIBILI
Dal 5 febbraio al 28 febbraio 2014
Centro di documentazione artistica contemporanea Luigi di Sarro – Roma
www.centroluigidisarro.it –  info@centroluigidisarro.it
Via Paolo Emilio 28 – 00192  Roma
Valentina Colella's and Sara Spizzichino's artistic project Attese impossibili was born from the desire to visualise and translate the relationship with the outer world in a particularly fragile moment. The transposition into a visual element is determined through the awareness of the emotional complexity to be harmoniously structured in the feeling of love for the world. The questions, the requests, are gathered behind the waiting line, like those on an airport floor, before effectuating a transfer.
I have met Sara Spizzichino in 2010 at Mlac, during the exposition-happening Altre Narrazioni. The artist was building small sculptures made of white folded paper, telling the story of a Japanese girl who, escaped from the bombs, would have survived to the radiations' effects if she had been able to make one thousand paper foldings. The little girl did not menage to complete her work in the time she was given! Sara feels herself like as a successor of the story, so she carries on the realisation of the girl's project from the point the numeration interrupted. In this sense the artist waits for a completion trying to exorcise it in the time itself, which runs on the number like a prayer!
I have asked Sara to carry on the work in occasion of the happening In Albis (2012) at L'Aquila and the school boys were fascinated by that tale, so they decided to realise paper foldings for their own town. The artist confronts herself with the cruel language of hooks which, hanging on chains, remind to a butchery, where the sight of the slaughter excites life. Sara Spizzichino confronts herself with the questions, with the quest and the longing for answers of every time and generation. It is a generational chain which becomes visual in the installation Love Swing: "The non-existent body hanging on the hooks -says the artist- exasperates a love condition based on the non-accomplished, on everything which is neither said nor lived in any kind of relationship: lovers, parents and sons, brothers;" The pursue of the Absent, writes Didi Huberman, pushed man -christian or jew- to build cathedrals, works of art, to secure alliances in order to trace paths into the maze of the existence's. Art, like religion, reminds the sacrifice, gives a name to the absence, nails down virtue and sin.
For Valentina Colella the theme of absence focuses on the experience of disappearing. Everything happens somewhere else, in other places, in another earth! In the distance! In the silence! Facebook's net becomes source of information and end of a waiting. The experience in the real life and in the virtual space are the polarities in which the artist recreates her own path, a quest aimed to exorcise the event.
The disappearing is the awareness of the un-lived is the manque of a world, of a project which will never come true. An encounter begins, which retreats the places of the virtual world through Google Maps. Valentina Colella translates the experience into a lapidary language, landmarks of a thought questing for a geographic settle-down place. The images are taken from the net and are introduced without any further elaboration: the enlargement blurs in the virtual light, making impossible to grasp any visibility, to comprehend a dimmed sight. Like in an intimate short story, the narration proceeds on chapters, whose title translates into writing the particular condition: #1 and to my question: "what are you thinking about?" my answer was always the same: "I'm here with you and I'm happy"; #2 Apnoea #3 waiting with me someone who's not coming back. It is not a story about pain without theatricality: it may be the quest for strength, for secret ways out to leave the events into their own suspension. Without answer. That is the conclusion for something which ceases existing, without any farewell word. Valentina Colella, among the many ways of making art, prefers photography, in which she analyses the falling of the light on the objects. In this circumstance she is the actual object of her analysis, her interior image dematerialising into the last leave between sky and sea, not waiting for an answer, which is impossible. The waiting is to know how to create the other's face into the inner passage.

Progetto a cura di Vittoria Biasi
Il progetto Attese impossibili delle artiste Valentina Colella e Sara Spizzichino nasce dal desiderio  di visualizzare, comporre e tradurre il rapporto con il mondo esterno in un momento di particolare fragilità. La traslazione in elemento visivo è determinata dalla consapevolezza della difficoltà emotiva a strutturarsi armoniosamente nel sentimento d'amore per il mondo. Le domande, le richieste sono raccolte dietro la linea d'attesa, come quella sul pavimento degli aeroporti, prima di effettuare un passaggio.
Ho conosciuto Sara Spizzichino nel 2010 al Mlac, in occasione della mostra/evento Altre Narrazioni. L'artista era intenta a costruire piccole sculture con carta bianca, piegata, raccontando la storia di una bimba giapponese che, salvatasi dalle bombe, sarebbe sopravvissuta all'effetto delle radiazioni, se fosse riuscita a realizzare mille origami. La bimba non riesce a completare l'opera nel tempo a lei concesso! Sara, sentendosi  erede di una storia, prosegue la realizzazione del progetto da dove la numerazione si era interrotta. In tal senso l'artista attende un compimento cercando di esorcizzarlo nel tempo, che scorre sul numero come una preghiera!
Ho chiesto a Sara di proseguire il lavoro  in occasione dell'evento In Albis (2012) a l'Aquila e gli alunni delle scuole elementari, affascinati dal racconto, decidono di costruire gli origami per la loro città. La storia sospesa ritorna nella mostra Attese impossibili. L'artista si confronta con il linguaggio crudele di ganci, che appesi a delle catene ricordano la macelleria, dove la mostra dell'uccisione della carne alimenta, eccita la vita. Sara Spizzichino si confronta con gli interrogativi, con la ricerca, con il desiderio di risposte di ogni tempo e generazione! E' una catena generazionale che si visualizza nell'installazione Love Swing: "Il corpo inesistente – dice l'artista – appeso nei ganci esaspera una condizione amorosa fatta di ciò che non si compie, di tutto quello che nelle relazioni di ogni tipo – amanti, genitori/figli, fratelli – non viene detto e vissuto." L'inseguimento dell'Absent, come scrive Didi Huberman, ha spinto l'uomo, cristiano o ebreo, a costruire cattedrali, opere, a stringere alleanze per tracciare percorsi nel labirinto dell'esistenza. L'arte come la religione ricorda il sacrificio, dà un nome all'assenza, inchioda la virtù e il peccato.
Per Valentina Colella il tema dell'assenza si focalizza nell'esperienza della scomparsa. Tutto accade in altro luogo, in un'altra terra! Nella distanza! Nel silenzio! La rete di Facebook diviene la fonte di informazione e la fine di un'attesa. L'esperienza vissuta nell'intersezione tra la vita reale e lo spazio virtuale sono le polarità su cui l'artista ricostruisce il proprio percorso, una ricerca per esorcizzare l'evento. La scomparsa è la coscienza del non vissuto, è il manque di un mondo, di un progetto che non potrà più essere verificato! Inizia un incontro che ripercorre i luoghi del mondo virtuale, attraverso Google Maps. Valentina Colella traduce l'esperienza in un linguaggio lapidario, tappe di un pensiero alla ricerca di un luogo geografico in cui posizionarsi. Le immagini sono tratte dal web e sono presentate senza alcuna rielaborazione: l'ingrandimento si sgrana nella luce virtuale, quasi facendo sparire la possibilità di cogliere la visibilità, la comprensione di una visione appannata dalla nebbia. Come un racconto intimo, il discorso procede per capitoli, con il titolo che traduce nella scrittura la particolare condizione: #1 e alla mia domanda:"cosa pensi?"la risposta era sempre la stessa: " sono qui con te e sono felice"; #2 apnea; #3 aspettando con me chi non tornerà.
Non è un racconto sul dolore vissuto senza teatralità: è la ricerca, forse, della forza, dei passaggi segreti per poter lasciare gli eventi nella loro sospensione. Senza risposta. Questa è la conclusione di qualcosa che cessa di esistere, senza parole di commiato. Valentina Colella, tra i vari modi di fare arte, predilige la fotografia, in cui analizza le ricadute della luce sugli oggetti. In questa circostanza è lei stessa l'oggetto dell'indagine, la sua immagine interiore che si smaterializza nell'ultimo foglio tra il cielo e il mare in attesa non di risposta: quella è impossibile. L'attesa è nel sapere creare il volto dell'altro nel passaggio interiore!
Vittoria Biasi
Storica dell'Arte e Curatrice internazionale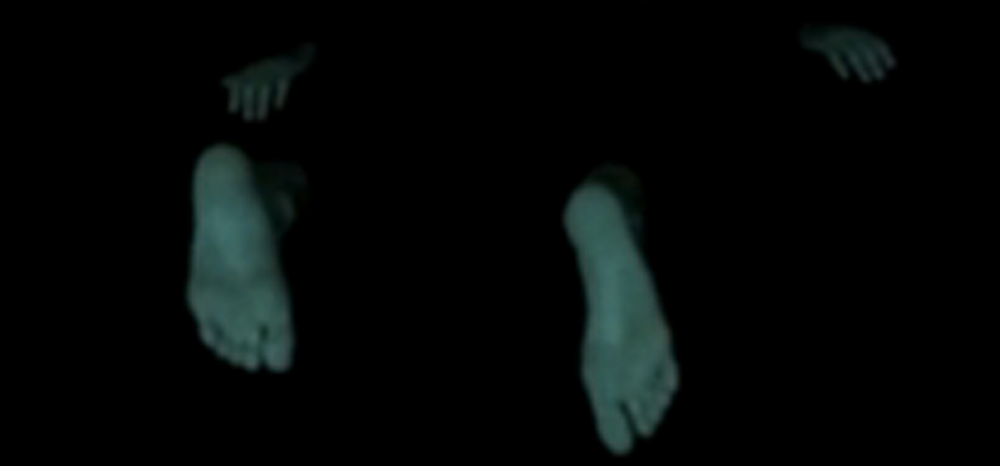 VALENTINA COLELLA | #1 e alla mia domanda: "cosa pensi?" la risposta era sempre la stessa "penso che sono qui con te e sono felice" #2 apnea #3 aspettando con me chi non tornerà.
Valentina Colella (1984), vive e lavora a Firenze.
Lavora approfondendo la quotidianità residua del reale che sopravvive al e nel digitale, creando attraverso vari media che spaziano dalla pittura, installazione, al video e alla fusione di frames da internet.
Nel 2008 realizza il progetto fotografico "Entrata/ uscita dalla gabbia", dove il soggetto è la stanza attraverso un dentro/fuori separato dalla linea appena visibile della zanzariera.
Tra il 2009 e il 2012 trova piena realizzazione "Valentina's room", una serie di fotografie che indagano con visione onirica e sfacciatamente femminile, la connessione tra l'immagine e la consapevolezza del sé, dinamiche mentali che si mescolano al flusso della vita, in uno spazio silenzioso, gli oggetti prendono vita, pulsano e parlano dell'anima di chi li nutre, usandoli.
Nel 2011 con la mostra personale presso la Galleria AOC58 (Roma) i protagonisti dell'installazione "INVASIONE/NON INVASIONE" sono gli oggetti che costruiscono un principio di verità. La loro immagine impressa su fogli trasparenti trasforma la realtà quotidiana in fasci di luce, in essenze che aleggiano mosse dal respiro dell'ambiente. Valentina descrive così la sua giostra involontaria " Gli oggetti presentati, appartengono al mondo privato, che è il tema ricorrente nelle mie opere. La loro rappresentazione è un gioco di osservazione quasi morbosa dell'intimo dove scorre l'aspetto segreto della vita. I luoghi sono spesso rappresentati dagli oggetti che li occupano. Questi possono descrivere la vita di una persona. Nell'installazione lo spettatore può scegliere se avvicinarsi ai miei oggetti, passando nell'opera per viverli, o può evitarli, per vederne altri o farli restare ombre, spettri sospesi, passando ai lati dell'installazione".
Nel 2012 vince il contest internazionale ARTE: SINGOLARE FEMMINILE con un'opera immersiva dedicata all'artista ARTEMISIA rivisitando la "Danae", l'oro lanciato da Zeus si trasforma in pioggia di pixel bianchi che vanno a materializzarsi in un video proiettato su fogli di plexiglass mossi dagli spettatori.
Nel 2013 torna a far vivere i suoi personaggi immaginari, vivi e attivi nella realtà digitale con il progetto di tesi "CHAT ROOM", cominciato nel 2011 con la Galleria Continua.
Tornando al limite sospeso tra realtà e finzione in rete, raccontato con l'immagine fredda e sgranata del web.
Mostre PERSONALI
2012 – Artemisia En Rose, Palazzo dei Medici, Firenze
2011 – Invasion/ not invasion, AOC58 GALLERY, Rome
2006 – Scratches of colours, Municipal Museum, Historical and environmental documentation, Rocca Pia (AQ)
2006 – Burning and extinguished fires Signals, by Leo Strozzieri, Introdacqua, (AQ)
Mostre COLLETTIVE
2013 – The Gabala International Art Exhibition, Azerbaijan
2013 – WhiteOut Hundred Years Gallery, by JILL ROCK, London
2013 – Parliamo tanto di … Lui, a cura di CARLO PALLI, Studio Rosai, Firenze
2013 – Parliamo tanto di … Lui, a cura di CARLO PALLI, Biblioteca Nazionale Centrale, Firenze
2013 – "Entropie" Sala del Basolato, Fiesole
2012 – « Une lumière dans mon livre » Le livre d'artiste, Galerie Vera Amsellem, Parigi
2012 – XIX Edizione Esposizione Nazionale artisti per Epicentro, (ME)
2011 – Art Invasion, Circle of Artists, Roma
2011 – Dolce still novo, domestic landscape in contemporany Italy, KAOHSIUNG MUSEUM OF FINE ARTS, TAIWAN
2008 – The places of Fattori, Fine Arts Academy, Firenze
2007 – Existence-esistance, Ex COFA, Pescara
2007 – Artsxworld, Pozzi in Africa, International Association, Telese Terme (BN)
2006 – Academy exhibited, Palazzo Camponeschi, L'Aquila
2006 – Contemporary, MUSPAC, Experimental Museum of Contemporary art, L'Aquila
2006 – dipingEREMO, Grancia dei Celestini, Sulmona (AQ)
2005 – The Week of Art, Fine art Academy, L'Aquila
2005 – D'Annunzio Award, Teatro D'Annunzio, Pescara
2004 – Decoration workshop, Palazzetto dei Nobili, L'Aquila
Performance and Happening
2012 – In Albis, L'Aquila
2010 – "7000 + 1" Omaggio a JOSEPH BEUYS
a cura di Vittoria Biasi e Lucrezia Di Domizio, Accademia di Belle Arti, Firenze
2009 – In Albis, TODI
2009 – In Albis, Start Point, Museum of Innocents, Firenze
2009 – In Albis, BKK Art and cultural Center, Bangkok

Recidence
2006 – dipingEREMO, Celestine Fifth's Abbey, Sulmona (AQ)
Prize
2013 – Premio Marina di Ravenna, (Ravenna) Museo MAR, finalist.
2012 – Arte: Singolare, femminile, (Firenze).
2006 – dipingEREMO (AQ).
Collections
2013 – Collection, Biblioteca Nazionale Centrale di Firenze, Firenze
2011 – Collection, Museum Epicentro, Gala di Barcellona, (ME)
2011 – Collection, Museum MicroCollection, Jerago con Orago, (VA)
2012 – Collection, Carlo Palli, Prato.
Pubblicazioni
(by) Carlo Palli, Parliamo tanto di … Lui, Campanotto Editore (2013)
(by) Azerbaijan Culture Fondation, "Melody of portraits", The Gabala International Art Exhibition, Azerbaijan (2013)
(by) HeyArt,  "Entropie", (2013)
(by) Sergio Fintoni, Dolce still novo – domestic landscape in contemporany Italy (2011)
(by) Anna Gallo and Giuliana Videtta, the Places of  Fattori, Mauro Pagliai Publisher (2008)
(by) Leo Strozzieri, Burning and Extinguished fires Signals, Artechiara Pescara (2006)
(by) Gianna Valenti, Centennial Rotary Celebration (2005)
(by) Sonia Barone, Decoration workshop, (2004)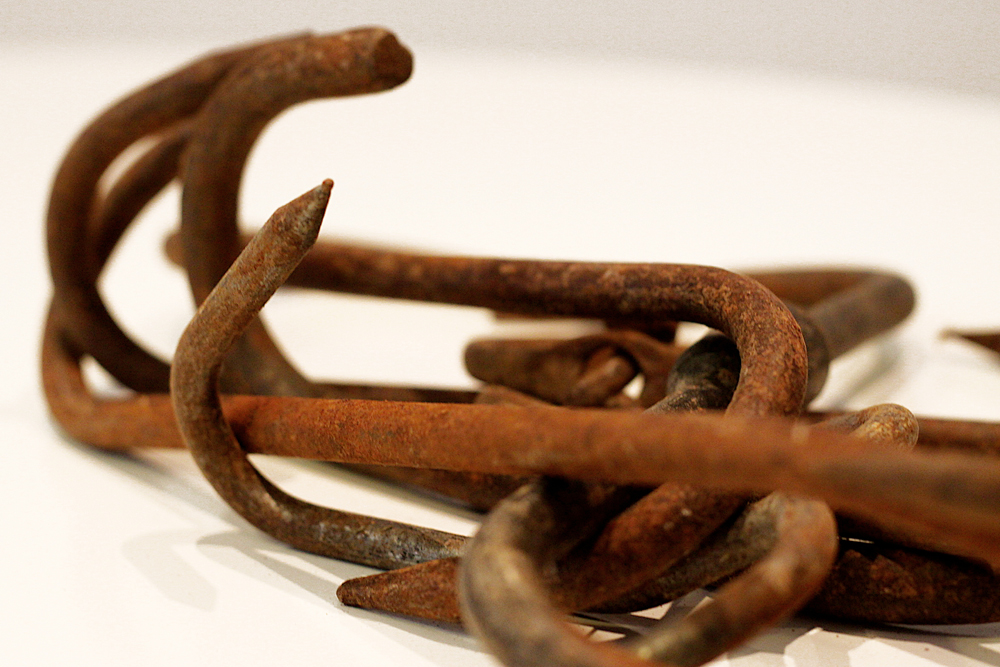 SARA SPIZZICHINO | LOVE SWING Installazione, dimensioni variabili | THE QUIET PLACE Video, 12,47"
Sara Spizzichino (1980) vive e lavora a Roma. Artista interessata alle relazioni interpersonali tra individui e istituzioni, predilige diversi mezzi espressivi come l'installazione, il video e forme alternative di disegno come ad esempio il frottage. Nel 2013 espone a Factory, Ex Mattatoio di Testaccio, una serie di inginocchiatoi foderati con bandiere, dal titolo In the name of Gov, dove analizza il rapporto religioso che intercorre tra individuo e Stato, e nello stesso tempo il video The quiet place, presentato anche in questa mostra, che descrive la correlazione tra meccanismi di difesa e relazione.
Mostre PERSONALI
2012
"Scripta Volant, a site-specific installation project". La Schillerstrasse 51, Munich.
2011
"Ad inseguire il vento". AOCF58, Roma, a cura di Francesca Gallo.
2010
"Welcome back to Wonderland". Spazio Espositivo d'Arte Contemporanea Magnolia, Roma, a cura di Maria Palazzesi.
"Blood". Spazio Espositivo d'Arte Contemporanea Magnolia, Roma, a cura di Maria Palazzesi.
2007
"Wonderland". Spazio Espositivo d'Arte Contemporanea Magnolia, Roma, a cura di Maria Palazzesi.
COLLETTIVE
2013
"Essere Io non ha misura" a cura di Daniela Cotimbo, Sara Fico, Laura Loi, Giulia Zamperini. FACTORY, Spazio Giovani Roma Capitale – Ex Mattatoio di Testaccio.
"Il corpo solitario, l'autoscatto nella fotografia contemporanea". Centro di documentazione della ricerca artistica contemporanea Luigi di Sarro, Roma, a cura di Giorgio Bonomi.
2012
"Romance 1". Gallery of Art, Temple University, Rome, a cura di Tiziana Musi."
"In Albis". Basilica of San Bernardino, l'Aquila, a cura di Vittoria Biasi.
2011
"It's an A4 Christmas". Thoresby Gallery, Nottinghamshire. A cura di Cynthia Harrison. [Regno Unito].
"Westgate Winter Wonderland". Westgate Studios, Wakefield. A cura di Alice Bradshaw & Bob Milner. [Regno Unito].
"File Urbani". Galerie Exposure Twelve, Berlino, curata da Tiziana Musi.
"While not in Rome". Associazione Culturale Esthia, Rome. Curata da Christina Heger e Patricia Carmo Baltazar Corrêa.
"Altre Narrazioni". MLAC, Museo Laboratorio di Arte Contemporanea, Rome. A cura di Andrea Fogli, Micaela Deiana, Daniela Cotimbo, Chiara Pirozzi.
2010
"Senales Rojas – L'Arte contro la proliferazione della barbarie". A cura di Patricia Rivadeneira, catalogo edito da Fondazione Volume! Guest galleries: 1/9 Unosunove, Associazione Culturale Esthia, Casa della Memoria e della Storia, Casa Internazionale delle Donne, Federica Schiavo Gallery , Furini Arte Contemporanea, LipanjePuntin contemporary art, Mlac-Museo Laboratorio di Arte Contemporanea, Università "Sapienza" of Rome, Studio Stefania Miscetti, The Gallery Apart.
"Corpo Etico". A cura di Bianca Menna e Maria Palazzesi, Lavatoio Contumaciale, Roma.
"InEsperienza". Casa Internazionale delle Donne, Rome.
2009
"Avvertenze Artistiche". A cura di Andrea Fogli, Mercati di Traiano, Roma.
"Rome, place of memory, place of visions". A cura di Andrea Fogli, Museo di Roma in Trastevere, Rome.
"Dislocazioni" . The changing face of the mediterranean: Migrant Woman's Creativity & Constraints. Galleria Magnolia, Casa Internazionale delle Donne, Roma. A cura di Maria Palazzesi, Loyola University Chicago.
"Nero, racconti dall'oscurità". Scuderie Estensi, Tivoli
Position the cursor on the images to view captions, click on images to enlarge them. 

Posizionare il cursore sulle immagini per leggere le didascalie; cliccare sulle immagini per ingrandirle.