GENGHIS KHAN (1950) – MANUEL CONDE, CARLOS FRANCISCO – PHILIPPINE PAVILION – 56° BIENNALE DI VENEZIA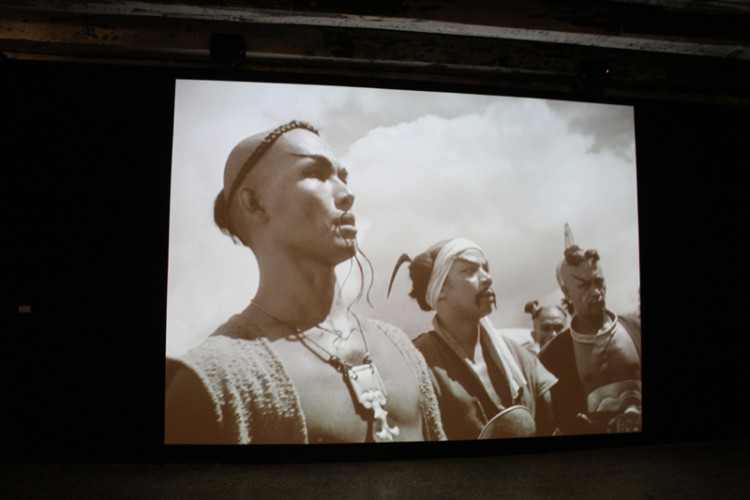 TIE A STRING AROUND THE WORLD – THE PHILIPPINE PAVILION
56° BIENNALE DI VENEZIA – 2015
9 May –  22 November 2015
European Cultural Centre – Palazzo Mora, Strada Nuova 3659, Venice
A film on the incomparable conqueror Genghis Khan would unreel. It ends with the Emperor, perched on a rock, casting his magisterial gaze over his dominion and promising his servile woman to "tie a string around the world" and lay it at her feet, a profession of love and romantic apprehension of conquest.
In 1959, the film maker Manuel Conde and the painter Carlos Francisco worked together to the first film ever on Genghis Khan. Telling the tale of the conqueror's rite of passage from warrior to overlord, it bemused Hollywood and Venice. The Philippine Pavilion returns to Venice after fifty-one years through this film to reflect on the country's modernity and the present scheme of a world redrawn on the surface of water. Around this premise, Jose Tence Ruiz intimates the specter of the Philippine ship on the South China Sea, at once "slum fortress" and armature of archipelago. Manny Montelibano refunctions the sound and image of a threshold of territory to scan the epico of survival and the radio frequency of incursion. Surveying his dominion, Genghis Khan turns to his beloved and wows to tie a string around the world and lay it at her feet.
http://www.philartvenicebiennale.com/index.html
Program
May 6-8: Philippine Pavilion Vernissage, Palazzo Mora*
May 6 at 12 noon: Official Press Conference La Biennale, Teatro Piccolo Arsenale*
May 8 at 3 p.m.: Opening of the Philippine Pavilion*
May 9 at 11 a.m.: La Biennale Awards Ceremony, Ca' Giustinian*
August 20: David Medalla Lecture, Palazzo Mora
Position the cursor on the images to view captions, click on images to enlarge them.
Posizionare il cursore sulle immagini per leggere le didascalie; cliccare sulle immagini per ingrandirle.
The Philippines is back at the Venice Biennale after a fifty-year hiatus. The first and last time the Philippines officially participated in the Venice Biennale was at its 32nd edition in 1964. The Philippine Pavilion moves around Manuel Conde's Genghis Khan, a seminal Philippine film made in 1950 in Manila and Angono; re-edited and annotated by the American writer-critic James Agee; and screened at the Museum of Modern Art and the Venice Film Festival in 1952. It was co-written and designed by Carlos Francisco. Conde and Francisco are National Artists in the Philippines.
Genghis Khan (1950 film) – Wikipedia, the free encyclopedia
http://en.wikipedia.org/wiki/Genghis_Khan_(1950_film)
La Biennale di Venezia – Gengis Khan (1950)
http://www.labiennale.org/en/cinema/archive/69th-festival/lineup/off-sel/retrospective/genghis-khan.html