WITH THE WIND. IT'S YOUR CALL – CON IL VENTO. E' UNA TUA SCELTA – INSTALLATION BY LIU JIAKUN – CINESE PAVILION – LA BIENNALE DI VENEZIA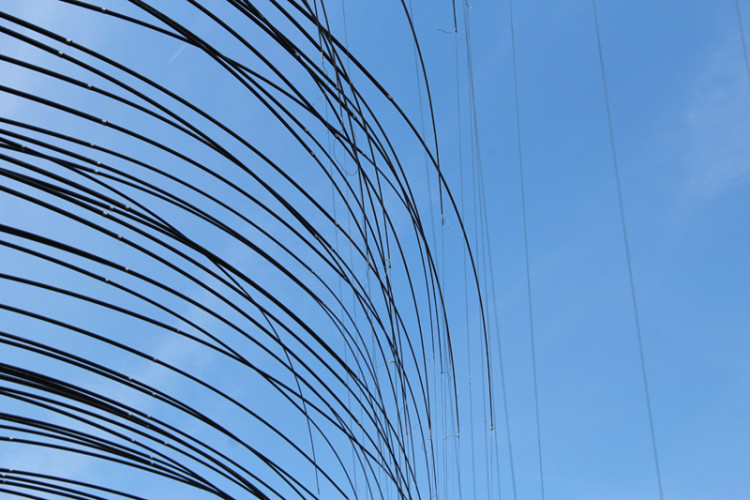 Liu Jiakun
Con il vento 2015. E' una tua scelta
With the Wind 2015. It's Your Call
Other Future – China Pavilion – La Biennale di Venezia
Installazione – materiali misti – misure: 2.400 cm (lunghezza) – 1200 cm (larghezza) – 500 cm altezza installazione
2015/installation/mixed media/2.400-1200-500
La mia scelta è stata con il vento – altro futuro
di Raffaella Losapio
La sorprendente installazione di Liu Jiakun, noto architetto cinese contemporaneo, è composta da una fila di canne da pesca disposte ad arco, fissate al terreno con l'ausilio di tronchi d'albero orizzontali, con spade appese all'estremità anteriore. I grandi e lunghi tronchi che fanno da base, simboleggiano la natura; la spada appesa rappresenta la condizione dell'umanità. L'opera rappresenta lo status incerto della società di fronte al futuro; è quindi un felice tentativo di comunicare la riflessione e l'ansietà dell'artista circa il fragile equilibrio della natura nella sua evoluzione.
Il delicato bilanciamento è dovuto ai materiali utilizzati e alla finezza dell'energia cinetica. Gli elementi che la compongono vibrano ed oscillano al vento, scontrandosi l'un l'altro. Un leggero movimento in una parte può influenzare sensibilmente il complesso dell'impianto, senza sconvolgerne l'armonia.
Liu Jiakun e il suo assistente He Shuo, sempre attenti e presenti nei tre giorni della preview press, incoraggiano i visitatori a condividere e scrivere il loro punto di vista su dei fogli di carta, che potranno successivamente, apporre sulla spada servendosi di magneti utilizzati per bilanciare i pesi della struttura. Tale operazione modifica dolcemente l'equilibrio dell'installazione, innescando una reazione che la fa muovere, e genera anche interazione fra l'opera e il fruitore. Ogni giorno le note lasciate dai visitatori di tutto il mondo sono raccolte, e alla fine dell'esposizione, andranno a comporre un testo finale.
Questa elegante struttura, elaborata e complessa pur nella sua apparente semplicità, utilizza le vere canne usate in Cina per tagliare l'erba sui fiumi. La flessibilità che genera il movimento delle lunghe canne è indispensabile altrimenti esse si spezzerebbero durante il taglio.
Il calore del sole piega in basso le canne da pesca in vetroresina producendo una piacevolissima frescura per i fruitori.
Sotto il grande arco all'ombra creato dall'installazione, sono messi a disposizione del pubblico, dopo il percorso negli spazi dell'Arsenale, numerosi e solidi sgabelli pieghevoli di colore verde. Così l'opera interattiva, composta dal grande portico ad arco, nei giardini assolati della Biennale di Venezia, offre un servizio molto utile alla collettività, trasformando uno spazio libero all'aperto nel prato, in un'ampia area di ritrovo, comunicazione e ristoro all'ombra per tutti.
Liu Jiakun dedica se stesso a tradurre l'essenza culturale orientale in linguaggio architettonico contemporaneo. Le sue opere affrontano le questioni architettoniche contemporanee in modo realistico, con un approccio ispirato alla saggezza popolare, compatibilmente alle tradizioni.
Raffaella Losapio
director Studio.ra – 1F Mediaproject
.-.-.-.-.-.-.
JIAKUN ARCHITECTS
Add.: 2-6F, Block 1, 3 YulinNanlu, Chengdu, Sichuan, P. R. China
P.C.610041 – Tel. /Fax: +86-28-85589491
E-mail: jkads@126.com – http://www.jiakun.com/index.html
Photogallery – Position the cursor on the images to view captions, click on images to enlarge them.
Posizionare il cursore sulle immagini per leggere le didascalie; cliccare sulle immagini per ingrandirle.