43° FESTIVAL INTERNAZIONALE DEL TEATRO – LA BIENNALE DI VENEZIA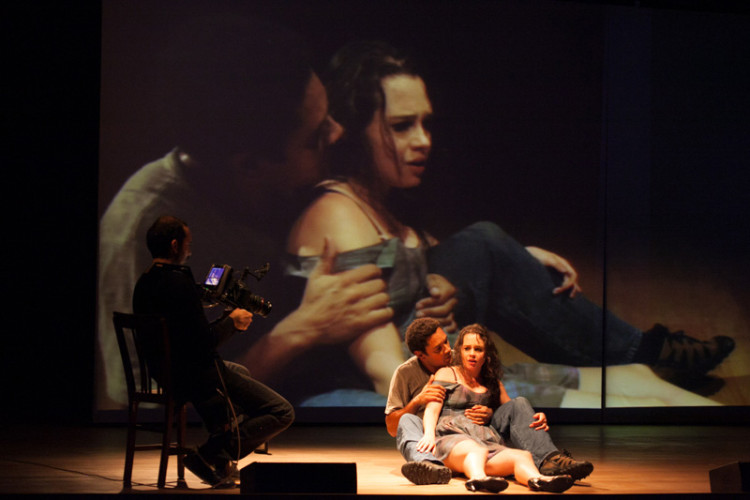 Biennale di Venezia
43° Festival Internazionale del Teatro
direttore Alex Rigola
30 luglio al 9 agosto 2015
con il sostegno della Regione del Veneto
Download: calendario 2015
Testo di Vittoria Biasi
Il direttore Alex Rigola, di cui abbiamo apprezzato l'impegno nelle precedenti biennali, ha presentato il programma di spettacoli e di nuove creazioni della Biennale College – Teatro che sarà la centralità del 43° Festival Internazionale del Teatro. Questo, proseguendo il percorso intrapreso negli ultimi anni, è come un laboratorio scientifico che favorisce l'incontro tra artisti e giovani professionisti di tutto il mondo. Grandi maestri internazionali presenteranno i loro spettacoli nell'ambito del 43. Festival e saranno guide di workshop di creazione che avranno luogo quest'estate.
Saranno nuovamente protagonisti del Festival i Leoni d'oro delle passate edizioni, Jan Lauwers con la Needcompany, Thomas Ostermeier con la Schaubühne, Romeo Castellucci e la Socìetas Raffaello Sanzio, e artisti i cui spettacoli saranno presentati alla Biennale in prima italiana: Christoph Marthaler, Falk Richter, Agrupación Señor Serrano, Fabrice Murgia (Leone d'argento 2014), La Zaranda, Christiane Jatahy, Lluís Pasqual (Direttore della Biennale Teatro 1995-1996), il lituano Oskaras Koršunovas, Milo Rau, Antonio Latella.
La Biennale di Venezia presenterà inoltre la sezione Young Italian Brunch in collaborazione con il Teatro Stabile del Veneto – Teatro Nazionale: una programmazione costituita da quattro compagnie (due dal Veneto e due dal resto d'Italia), che con Latella e Castellucci completeranno la partecipazione italiana del Festival e avranno una chance di visibilità con i programmatori internazionali.
Il 43. Festival Internazionale del Teatro, seguendo la poetica della biennale All the worlds Future è rivolta alla partecipazione del pubblico, con programma di workshop, di spettacoli e un ciclo di incontri aperto agli spettatori e che si svolgerà il giorno successivo al debutto sulla scena, per creare un momento successivo di riflessione e confronto.
I workshop di Biennale College sono organizzati in otto percorsi di sette giorni che prevedono la presentazione finale, per il 9 agosto, di una micro produzione della durata di 10/15 minuti. Il tema assegnato ai workshop sarà La terra trema. Biennale College – Teatro, ispirata anche all'impegno verso il reale della Biennale Arte 2015,  All the worlds futures, chiede agli artisti una riflessione sulle diverse strade dell'umanità contemporanea. Ai maestri di Biennale College sarà chiesto di scegliere ciascuno il nome di un territorio come titolo e oggetto di lavoro, che farà così da specchio del nostro presente per riflettere sul nostro futuro.
Ai workshop per attori e registi si aggiungono tre percorsi sulla drammaturgia (Pascal Rambert, Yasmina Reza, Mark Ravenhill) uno sullo spazio scenico e l'illuminotecnica (Albert Faura e Max Glaenzel) e uno di critica. Confesso che la partecipazione di Yasmina Reza mi rende particolarmente felice, nel ricordo della rappresentazione sul bianco con l'opera teatrale Art (Champs Elysées 1994/95) e della sua capacità regista di cogliere la comprensione/incomprensione dell'umanità attorno ad un evento, individuando nel sentire la linea di confine tra gli uomini.
Per Biennale College è prevista la partecipazione di circa 350 professionisti da tutto il mondo che saranno coinvolti attraverso un bando internazionale la cui pubblicazione è prevista dalla metà di aprile.
Vittoria Biasi
Storica dell'arte, critico e curatrice internazionale