NO ONE HAS INTENTION OF BUILDING A WALL – PHOTOGALLERTY – BERLIN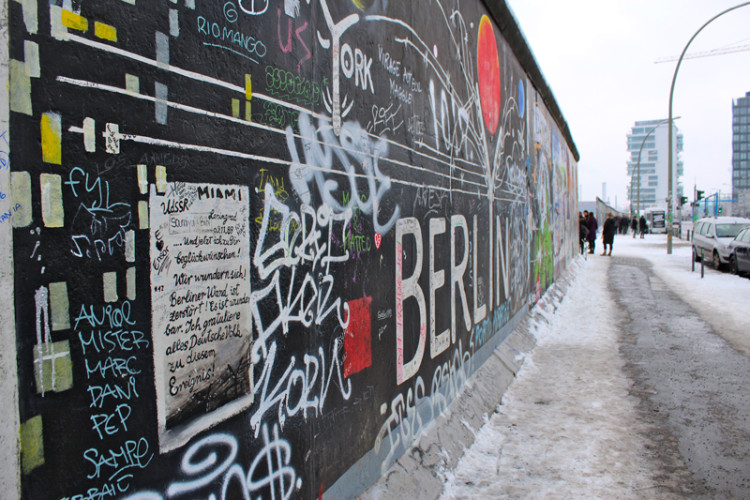 "No one has intention of building a wall."
Testo di Vittoria Biasi – Art historian

Con queste parole, rimaste famose nella storia, Walter Ulbrict (Chairman of the State Council of the German Democratic Republic) conclude l'intervista dopo la conferenza stampa internazionale nella grande hall della casa del Ministro in East Berlin il 15 giugno 1961. Il muro è eretto 13 Agosto dl 1961.
Il concetto di barriera è il metalinguaggio della storia individuale, sociale! È l'elemento estremo razionalizzante la diversità, riunione forzata di insiemi coesi verso una destinazione. Il muro è il mito dell'eterno ritorno, il paradosso di ogni modernità, con cui il nostro tempo si confronta nella memoria recente di Berlino. Il muro è la definizione di un tempo ideologico, che sottrae alla storia il senso che l'uomo le attribuisce.
L'edificazione del muro si inserisce nel panorama post-bellico della Germania, degli abitanti di Berlino. Gli effetti umani, psicologici, economici sono ancora difficili da ricostruire.
Con l'apertura del muro di Berlino nel 1989 inizia la libera circolazione dei cittadini, da Berlino Est verso Berlino Ovest, e la riunificazione delle due Germanie nel 1990.
Dei chilometri di cemento è rimasto un tratto presso Postdamer Platz, una striscia di 1.350 metri vicino all'Oberbaumbrücke, chiamata East Side Gallery, ed una terza a nord in Bernauer Strasse.
La East Side Gallery è una galleria di opere pubbliche e documenta la partecipazione degli artisti, venuti da ogni parte del mondo, per la caduta del muro. I pensieri scritti in differenti lingue sono accanto ai graffiti, accanto una memoria coinvolgente. Su alcune opere è rimata traccia della firma degli artisti, per altre questa è conservata su siti e pubblicazioni che documentano la storia del muro che nessuno aveva intenzione di costruire!
Vittoria Biasi – Art historian

Photogallery – Position the cursor on the images to view captions, click on images to enlarge them.
Posizionare il cursore sulle immagini per leggere le didascalie; cliccare sulle immagini per ingrandirle.