MUSEUM MAN – NINA DE FELICE – BERLIN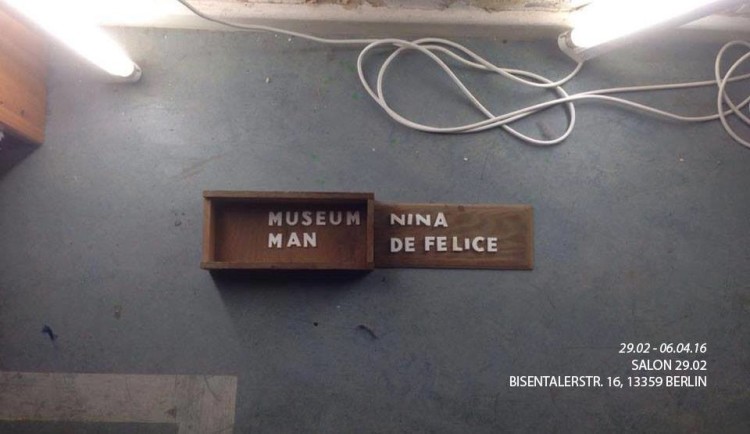 museumman
Nina de Felice
paintings/ sketches
29 February/ 6 March 2016
Salon 29 February 2016
Biesentalerstrasse 16, D-13359 Berlin
https://www.facebook.com/events/1670769503187579/
Nina DeFelice grew up in New Jersey where she remained until moving to Washington, DC to pursue her passion for Fine Art. While living in Washington DC she received her BFA in painting from The Corcoran College of Art and Design in 2012. She received awards for her work including the 2012 Ethel Lorraine Bernstein Memorial Scholarship Award and has shown work in various galleries in Washington, DC, NYC, Berlin and in Baltimore, MD. She is now living and working in Berlin.
Through the use of traditional painting methods and a specific color palette the artist attempts to portray the mundane act of being human. She does so by pinpointing daily routines of general life in a non perscriptive way to give a sense of normalcy to the figures in the portraits while juxtaposing them into subtly surreal environments to contrast the seemingly lifeless form. The work is thought of as portraits of human psychology and tests the importance of the relationship between a subject and its surroundings in an image by creating a sort of moral push and pull between the two.
The fragility of the paper as well as the contemporary preference of working with oils on canvas rather than paper are factors equally important to the paintings as the images and ideas themselves. The unique edges of the paper as it's easily frayed and buckled creates a naturally flawed frame to encase carbon copy type figures.
The combination of traditional oil painting methods with experimental mark making both highlight areas to the viewers eye as well as display emotion through the contrast of thick paint and smooth textures. The figures painted are meant to be symbolic of man and woman and work as a model to project a psychology upon. The figures are intended to be relatable without giving much personality or character to make them appear as a "stranger" to the viewer. The figures in this body of work both mimic and replace objects which would be in tools in their environments.