KILAPSAW: EVERYTHING MUST GO – LIFE URBAN PERFORMANCE – LONDON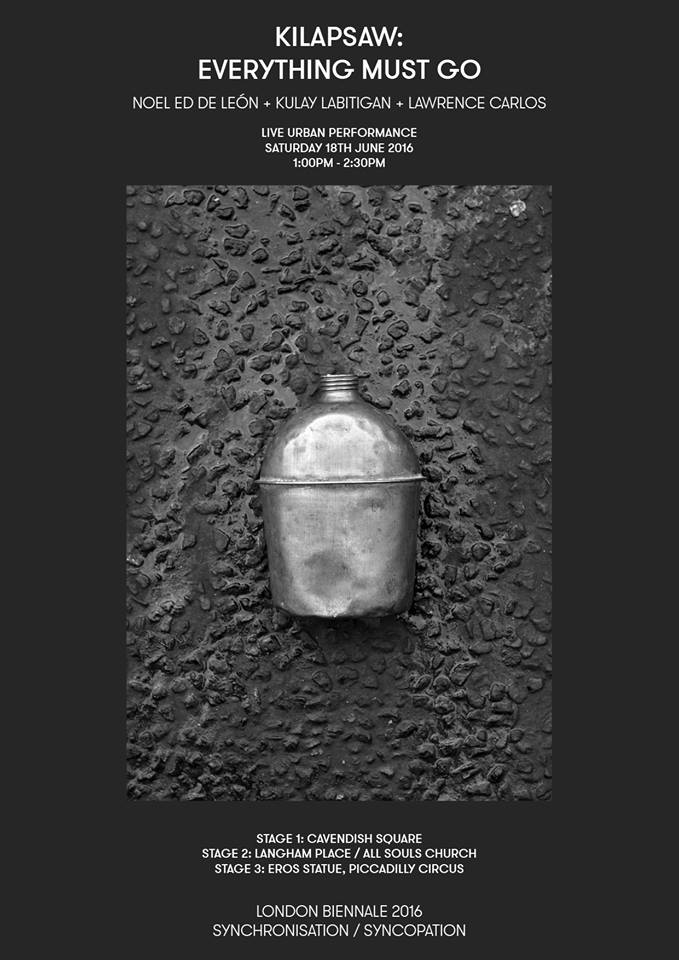 Kilapsaw: Everything Must Go
By Noel Ed De Leon, Kulay Labitigan and Lawrence Carlos
Live Urban Performance
Part of London Biennale 2016, 'Synchronisation / Syncopation'
Saturday 18 June 2016
1pm – 2:30pm
Kilapsaw: Everything Must Go is a durational performance which tests the limits of humans in an urban space rife with materialism. The performance explores the synchronisation of political interests, capitalism, commercialism, war, religion, migration, poverty, and inhuman acts in the making of Central London's urban environments.
As part of the London Biennale 2016 'Synchronisation / Syncopation', the artists will undertake a journey through the urban spaces of Central London, testing their own physical and mental endurance as they move through sites echoing a history of destruction, reconstruction and the silent voice of people around us.
The artists welcome you to join them on a journey through central London or to meet them at the final destination on Piccadilly Circus.
Stage 1: Cavendish Square (1pm)
Stage 2: Langham Place / All Souls Church
Stage 3: Piccadilly Circus Eros Statue
Supported by:
Batubalani: Developing Philippine Modern Art in the UK
www.batubalani.com