JAPANESE HEADS' NARRATIVE – OPEN STUDIO HERVE' CONSTANT – LONDON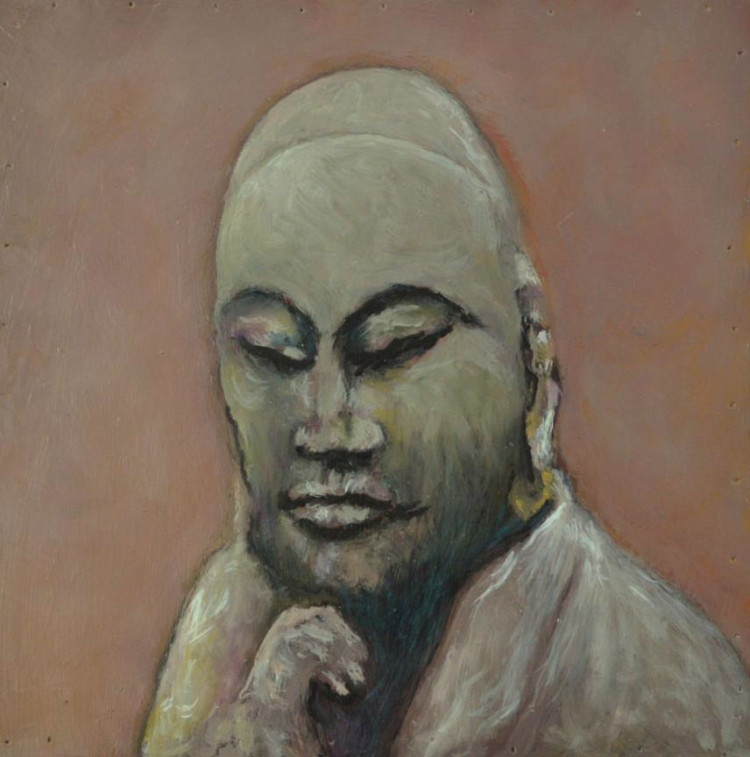 OPEN STUDIO: HERVE CONSTANT
PRIVATE VIEW Friday 22 July 2016  6 – 9pm
Saturday 23 – Sunday 24 July 2016  1 – 7pm
Email: hconstant@talktalk.net       www.herveconstant.com
SPACE STUDIO 10 Martello Street London E8 3PE England UK
Near London Fields Station. 02072496021
I would like to invite you to an OPEN STUDIO event. I will be exhibiting in STUDIO 29 at SPACE STUDIOS 10 Martello Street, E8. There will be encaustic, acrylic and oil paintings on show and limited artist books and silkscreen prints.
-.-.-.
Hervé Constant is a London-based French artist. He was born in Casablanca, Morocco and was brought up for over ten years in Hyeres, South of France. He studied theatre acting at the Conservatoire de Toulon before obtaining a grant to further his studies at the Ecole Nationale Superieure des Arts et Technique du Theatre in Paris.
Hervé's work is a mixture of different interests, social and cultural influences.
Psychologist Madelyn Freeman will present an Open Studio talk on Saturday, 23rd July at 4 pm entitled "The Unfiltered Eye" to discuss what Herve's 'Japanese Heads' reveal to us about the human condition.
.-.-.-.
During my 2014 'Journey of the Soul' Exhibition in Fukuoka, Japan I visited 'Raizan Sennyoji Daihioin', a temple founded by an Indian Buddhist monk, in 178 AD.
The temple is situated in a steep river valley, on the northern slope of the Hoshima mountain range and represents the main branch of Japanese Buddhism known as 'Shingon'.
'Shingon' translates into English as "true words" from the Sanskrit word for 'mantra', originally translated from Sanskrit into Chinese and then later into Japanese and was used to express an esoteric principle :-
"… the true reality of all things cannot be revealed in words …".
I arrived at the temple in the chilly mist of a November day. Maple trees, some known to be 400 years of age, had retained at least some of their leaves, although most had fallen to the ground. It was late morning and very peaceful. For some time I remained motionless, in a contemplative mood. Thoughts arose about the continuity between time past and time present …
I entered into the area where 500 Rakan stone statues were located, each individually carved to represent the first enlightened 500 disciples of Buddha. Each carving created, for me, a powerful presence. Admittedly, I felt overtaken by the aura of each distinct characteristic … pervasive yet remote. Silence was broken only by the sound of monks chanting sutras, the wind chimes or bird song punctuating the air with its beauty.
Long after I returned home, to my London studio, but before I could put thoughts into words or experiences into form, by chance something interesting happened. A neighbouring artist wanted to rid himself of a pile of small wood panels, each measuring about 10 x 10 inches and left them stacked in the foyer. By sheer luck I happened to see them and instinctively knew I could make use of them. This was the reason why I began to paint the series of Japanese Heads now on display.
I believe in the virtue of patience and knowing when the right moment arrives, before unfolding and revealing an inspiration to paint. Something fits into the right place … at the right time.
It may simply be luck or serendipity but, more importantly, it may also be an awareness of instinct. I like to think the energy and imagery of the Japanese statues somehow travelled with me. The richness of each unique and varied expression surprised me. I was also to discover, in the process of painting, that inanimate objects carved out in stone can convey to us the depth of our humanity.
RECENT NEWS:
– Exhibition at LARROQUE ART FESTIVAL organised by Kenneth Hay 26 July – 5 August 2016. Group exhibition.
– London Biennale in Manila Pollinations 14 September – 25 September 2016
– Transart Triennial's "Imperceptible Self" exploration. Berlin August 2016
– Milan, November 2016