HERVÉ CONSTANT – IMAGE, LANGUAGE, SYMBOLISM (FIELD OF PERCEPTION) – EIN SOF GALLERY – LONDON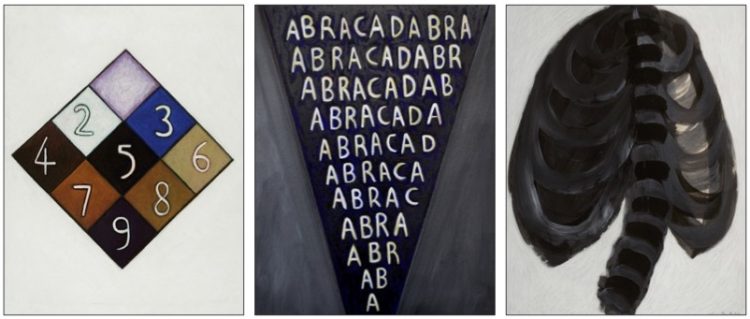 Hervé Constant
'Image, Language, Symbolism (Field of Perception)'
Opening: Thursday, 02 December 2021
(Private view: 19.30 – 22.00)
Exhibition continues 03 December 2021 – 3 March 2022
1-3 Elliott's Place London, N1 8HX
'there is no such thing as transparent interpretation […] interpretive violence can either create or destroy' (Ahearne, 1995, p. 135).
Ein Sof Gallery presents Hervé Constant's solo exhibition 'Image, Language, Symbolism (Field of Perception)' as the second of a series of autumn events supported by Arts Council England, looking at mental health and its full breadth from a Jewish lens. The curation of Hervé's work (very much concerned with signs, symbols, mysticism and manifestation) explores the idea that interpretation of another is inherently charged with assumption. It also introduces the idea of the 'field of perception' — the visuality, language, and symbolism — around external surroundings, and explores how visuality, language, and symbolism are connected in producing an understanding of another. This exhibition seeks to challenge interpretation versus reality, and acknowledge that what can be percieved about the other doesn't fully encapsulate what can be known about them. In there lies a tension both for the periever and the percieved, a spiritual anxiety that the signs and symbols being attached don't line up with the real.
Curated by Nicole Zisman
A project of Chabad Lubavitch of Islington
Hervé Constant is a London-based French artist. He was born in Casablanca, Morocco. He studied theatre acting at the Conservatoire de Toulon before obtaining a grant to further his studies at the Ecole Nationale Superieure des Arts et Techniques du Theatre in Paris.
Hervé's work can be characterised as a transit between different expressive media, spanning from videos to performances and paintings. The artist, in his work dimension, directs his research towards unexplored territories where every language, like video projections and paintings, is blended. Constant's paintings express states of mind, meant to reveal to himself his own inner expressions and personal descriptions through symbols, signs, colours, forms and objects.
Most recently, Hervé has presented his solo exhibition Les Passages in Milan and Rome with ZONE/Pelouse interdite, Association of visual culture studies, and Studio Ra contemporary. He has held previous solo exhibtions in the likes of the MONA (Museum of New Art, Detroit USA), Ben Uri Museum (Soho, London) Pelouse Interdite (Milan, Italy) and Barbican Cinema (London). A sound recording of his was included in 'Sound Fetish' WPS1 at the Venice Biennale 05, and is now part of the Archive of MOMA New York. His video 'Run' was selected by the Hayward Gallery London as part of the 60 second Surreal at the National Film Theatre. Recent projections have taken place in Roma, Studio Ra, FEST'AFILM Festival du film Montpellier and 'Visions in New York City' Gallery Macy NY in 2010. His book Killing was part of a show displayed at Kaleid Editions 'The Plasto-Baader-Books Exhibition of Unique Artists' Books' in London.
With immense gratitude to Mendy and Hadasa Korer, Jeremy Keenan, and Arts Council England.
For press enquiries, please contact
Nicole Zisman Curator
Tel: +44 (0)7454 474227 – Email: info@nicolezisman.com
To RSVP: https://www.jewishislington.co.uk/ein-sof-gallery