A STITCH IN TIME UNIVERSAL BY DAVID MEDALLA IN COLOURS OF RAINBOW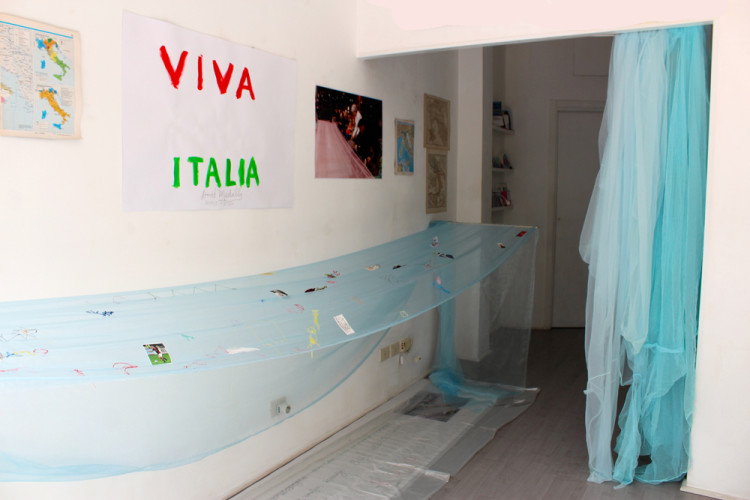 by Raffaella Losapio
A Stitch in Time, is a participatory project of David Medalla, begun in 1967 on white cotton towels, and proposed in the decades in different versions in different parts of the world, such as: Documenta 5, Kassel, 1972 Survey of the AvantGarde in Britain, Hose Gallery, London, 1972 Art meeting Place, Covent Garden, London in 1974, and yet another version, in South Hill Park, Braknell, in 1982, right up to our times.
A poetic anecdote is reported in the book "Exploding Galaxies" by Guy Brett, published by Kala Press in London in 1975. David wrote that he had given in the fall of 1968, a white handkerchief and a black to each of his two ex-lovers, with a spool of thread and a box of needles each. Both had arrived in London, at different times, to spend a few weeks with him, one was from Paris and was on California Street, the other was from New York and was on the road in India. The Philippine artist told everyone to sew on handkerchiefs anything to spend in a pleasant and relaxing time waiting for planes, ships, trains or buses and that they could transmit to other tissues in their travels.
Nine years later, waiting for a plane at Schiphol Airport in Amsterdam, David met a curious-looking young Australian with various materials related to his backpack. She asked him what it was and the boy replied that it was a participatory art work that someone gave him in Bali.
David Medalla then looked closely and recognized the small piece of cloth he gave to one of his former lovers, because in it himself sewed his simple message of love.
Finally in 2016 A Stitch in Time for the first time arrives in Italy, in Bologna, at the Enrico Astuni Gallery, in an exhibition curated by Lorenzo Bruni, in two different versions of colors.
On a long green veil, suspended vertically from the ceiling to the floor, friends, visitors, collectors, art historians have left the sign of the relationship, imagination, the ability to broadcast their presence on the work, to be there.
On a pink veil, outdoor spot before entering the gallery, the public has embroidered or fixed objects on the work in the infinite progress of the poetic and the Medalla thought that emphasizes the journey, the change, the meeting at a time of collective joy, discovery.
Vittoria Biasi, in 2007 on the occasion of the project 'Urbi et Orbi' she edited at the Studio.ra, during the White Night, she writes: "Medalla is considered a nomadic artist or an art Magicien de la terre. It does not compare to a static concept of memory continuing to hear all vibrationally. The poetics of his performances is driven by minimal signs, footprints of a well addictive."
Urbi et Orbi is a monumental diptych David Medalla, unique in the world, consists of two separate sculptures and designed specifically for Roma, using the "U" Urbi, the volcanic tuff bricks from the mysterious ancient villages of Lazio, and for the "O" Orbi, the rosadas, the typical bread of the Romans.
After nine years from Urbi et Orbi, finally he arrives in Rome A Stitch in Time, in a wonderful blue veil (1st May 2016), always at the Studio.ra during the Opening of the IX London Biennal, founded and directed by Medalla with Adam Nankervis, International Coordinator and Founder & Director of Another Vacant Space in Berlin.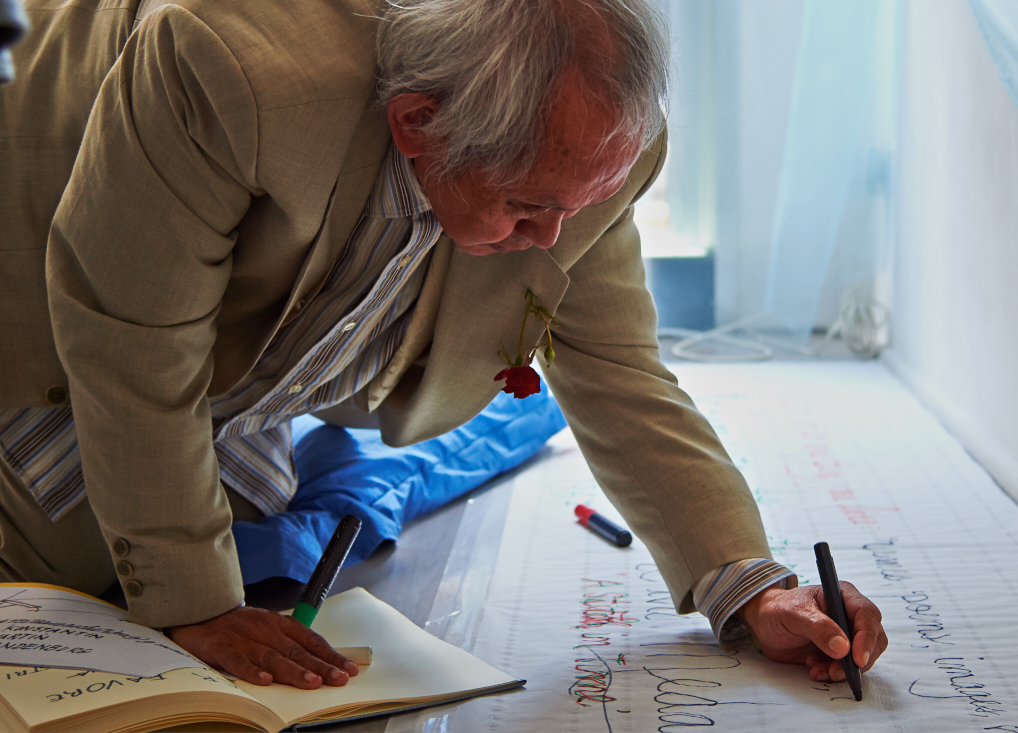 Medalla proposes for the first time in the capital, said participatory work with dedication to Italy, accompanied by the Risorgimento opera Nabucco by Giuseppe Verdi, the elegant written patriotic "VIVA ITALY" by himself solemnly painted on a large white card and ancient and modern maps of the "Belpaese".
Sewing more hands on the same veil of various objects, performed by the London Biennale IX 2016 artists and visitors, allowing you to explore the relationship between normally static categories: public and private, individual and collective; gives to any person some type of enthusiasm and confidence in their ability to be creators. Have already been set on the great veil, with threads of different color: small fragments of tissue, fragments of jeans, the Lazio coast shells, seeds, white feathers of herring gulls of the Tiber and green feathers of parrots parakeet Caffarella, coins, flowers, pieces of paper, metal, photographs of personal identification documents, newspaper clippings unsurpassed Totti, Roma player and actor Gigi Proietti, two of the most known Roman personalities born and lived in the Appio Latino district …
A Stitch in Time is a suspension bridge in the totality, an endless line, a hammock, a long table full of food for everyone, a parchment that evokes the Egyptian papyri. A Stitch in Time, in his delicate celestial transparency as the clean sea of ​​dreams, is a hymn to life, the gift containing a new concrete message of love for Rome and Italy with its Mediterranean "mare nostrum" of all migrants in their risky pilgrimage in search of hope in a new life.
This structure of 5 meters, defined melodic David, will remain at Studio.ra for some time to the users hand to continue sewing thoughts, attach names, poems, pictures. After the summer it will begin the mobility, the change that will take different forms throughout an endless journey through space and time, in other Italian cities.
I would like to imagine a future in an infinite veil, suspended vertically from heaven to earth, with all the nuances in colors, with bright stars sewn by angels and messages of peace secured by living things on earth and in the universe.
Raffaella Losapio – Founder & Director of Studio.ra
Roma, 21 maggio 2016
Testo italiano – Italian text and other images:
A STITCH IN TIME' UNIVERSALE DI DAVID MEDALLA NEI COLORI DELL'ARCOBALENO
https://www.1fmediaproject.net/2016/05/21/a-stitch-in-time-universale-di-david-medalla-nei-colori-dellarcobaleno/