JUNGLE FEVER BY PASCALE MARTHINE TAYOU – ST REGIS – GALLERIA CONTINUA – ROMA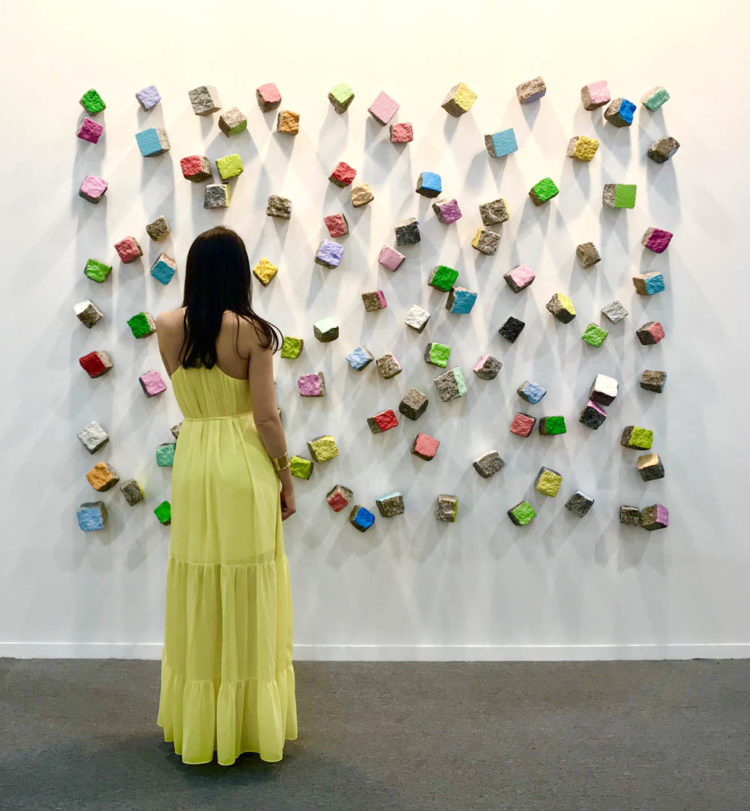 JUNGLE FEVER by PASCALE MARTHINE TAYOU
A partire dal 24 maggio, fino al 13 ottobre 2019, una selezione di opere di Pascale Marthine Tayou sarà dislocata negli spazi comuni dell'hotel The St. Regis Rome, che diviene così la cornice ideale per l'esposizione di un artista che ha fatto del viaggio e dell'arricchimento che ne deriva la sua cifra stilistica.
The St. Regis si fa ancora una volta promotore di un rapporto di apertura verso il mondo dell'arte contemporanea. Questo progetto permetterà ai visitatori di scoprire i tratti principali delle opere del camerunense, oggi residente in Belgio, che combinano riferimenti delle origini africane in relazione alla sua attuale esperienza europea.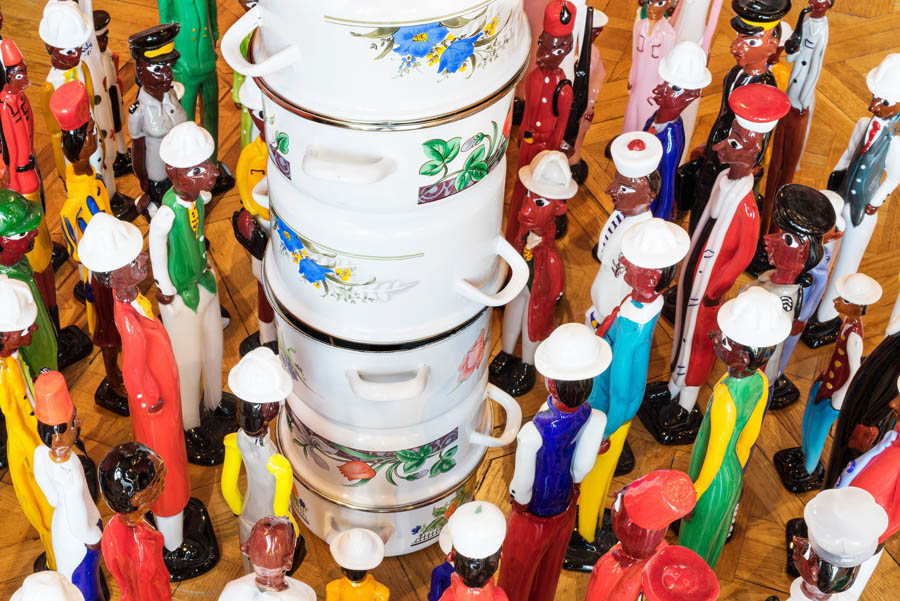 The St. Regis Rome and Galleria Continua enrich their prestigious collaboration in the name of artistic research and dialogue between contemporary art and the guests
The St. Regis Rome and Galleria Continua are pleased to announce the name of the second artist at the center of their collaboration: it is Pascale Marthine Tayou, with the new solo exhibition entitled Jungle Fever. Starting from May 24th a selection of works will be displayed along with the public spaces of the hotel, in order to allow guests and visitors to freely enjoy the art. The hotel thus becomes the ideal setting for the exhibition of pieces by an artist who has made the theme of the journey and the enrichment that derives from it, part of his stylistic code. Jungle Fever for The St. Regis Rome will be various and articulated and will allow the visitor to discover the main features of the works of Tayou, born in Cameroon and today living and working in Belgium, which combine references to African origins and features of his current European experience.
The St. Regis Rome has entered its "new era" a few months ago, reopening its doors after a meticulous 40 million euro restoration of the hotel originally inaugurated in 1894 by the legendary hotelier César Ritz. Galleria Continua opened in San Gimignano (Italy) in 1990, the result of the initiative of Mario Cristiani, Lorenzo Fiaschi and Maurizio Rigillo. Occupying a former cinema, Galleria Continua established itself and thrived in an entirely unexpected location, away from the big cities and the ultramodern urban centres, in a town – San Gimignano – steeped in history.
The exclusive collaboration between the hotel and Galleria Continua has given rise to a rich program that brings Italian and international audiences closer to the masterpieces of the best exponents of the contemporary art scene. Among the works exhibited in the hotel for Jungle Fever, stand out "Big Square Stones", "Big Triangular Stones" and "Big Colorful Stones", small individually colored blocks of granite placed on the wall of the Sala Borromeo, which is located to the right of the lobby. The material used to make these works is colored granite flooring: the pebbles refer to the concept of social conflict, weapons used by the people in protest against the police. The different colors recall the differences and the singularities of every modern community.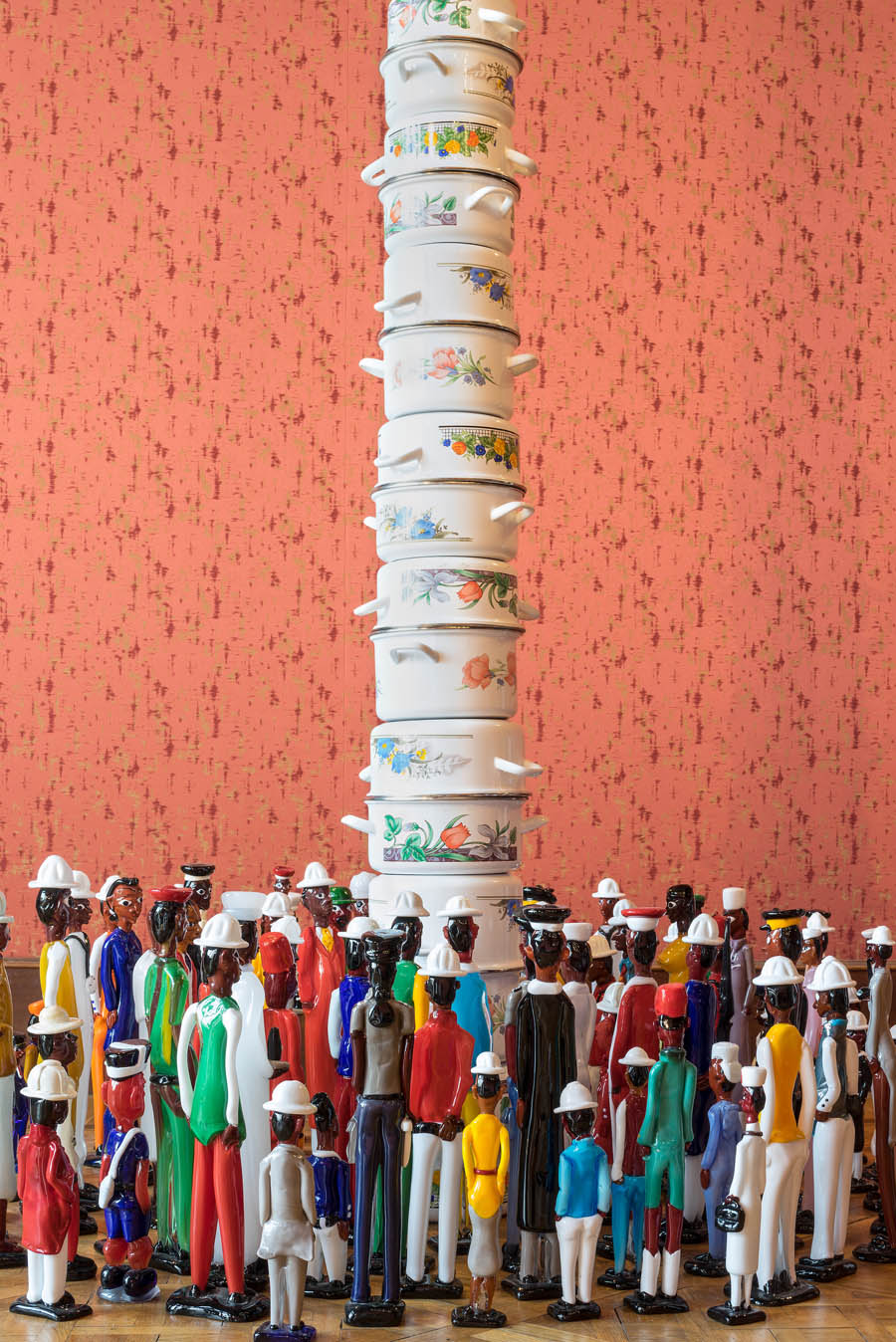 "Colonne Coloniale" will particularly intrigue the visitors: a 3-meters-high column made of pots and surrounded by small Murano glass statues, depicting the inhabitants of an African village gathered around the majestic pile of objects that, from symbols of the domestic routine are elected with icons.
There will also be numerous sculptures located in the lobby and LUMEN Bar spaces including "Cristal Masks", wooden and glass masks; "Shanghai Colonial", wooden sculptures and "Totem Cristal", in crystal and mixed materials.
The works, which will remain on display until October 13, are an invitation to interact with art for guests, global travelers and Roman citizens: The St. Regis Rome once again promotes a relationship of openness towards the world of contemporary art, with the desire to create a dialogue between lovers of beauty.
For more information on The St. Regis Rome you can visit www.stregisrome.com
For more information on Galleria Continua, visit www.galleriacontinua.com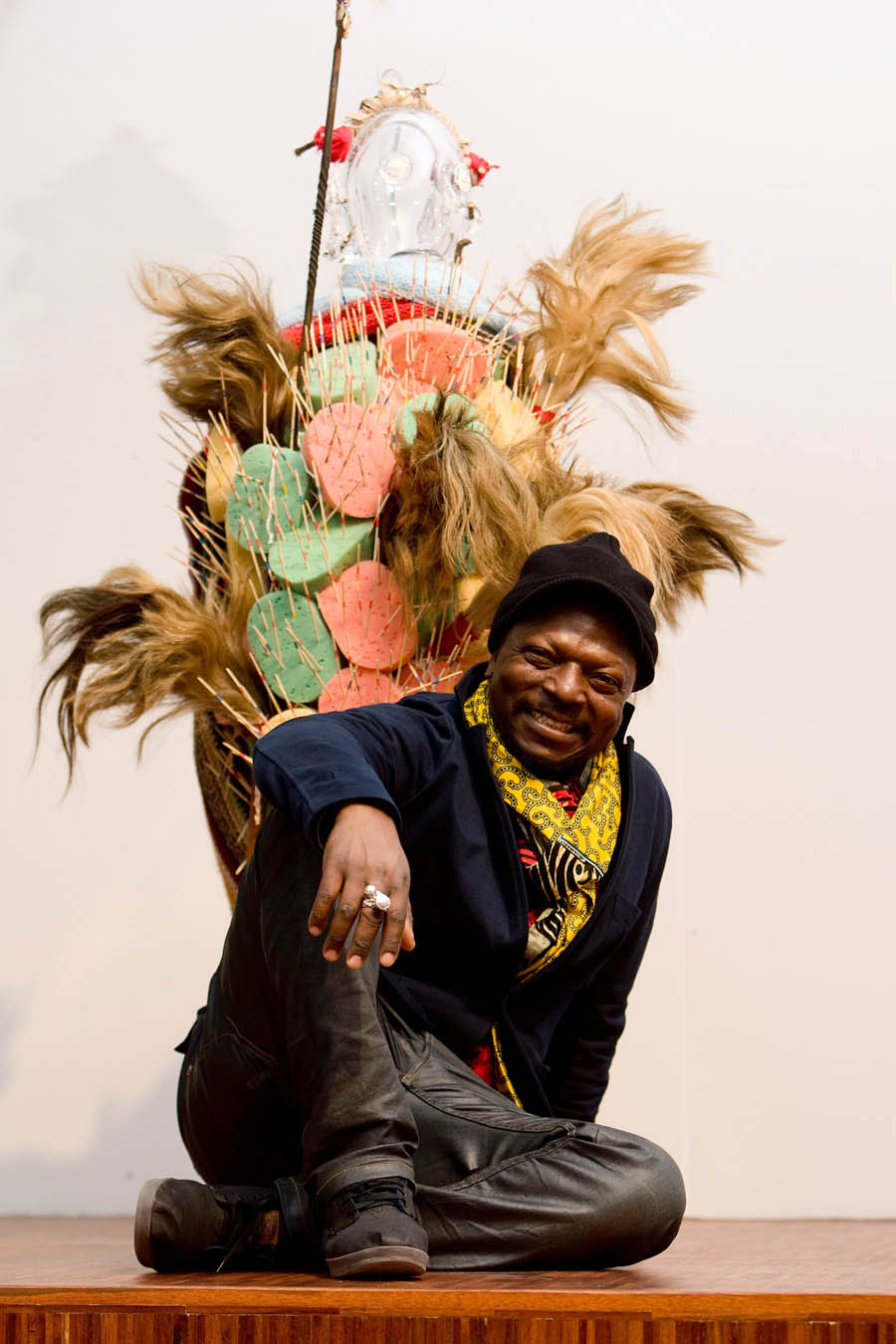 Pascale Marthine Tayou (Nkongsamba, Cameroon, 1966) lives and works in Ghent, Belgium. He has been known internationally since the Nineties, and in particular following his presence at Documenta 11 (2002) and the Venice Biennial (2005 and 2009). He has participated in numerous international exhibitions and in artistic events such as the Dakar Biennial (2018), the 5th Lubumbashi Biennial, Hangar Picha (2017), the PARCours Biennial – PARKunst (2016), the Cairo Triennial (2015), the Turin Triennial (2008), and Biennials in Gwangiu (1997-1999), Santa Fe (1997), Sydney (1997), Havana (1997-2006), Liverpool (1999), Berlin (2001), San Paolo (2002), Munster (2003), Istanbul (2003) and Lyons (2002-2005). The artist has presented personal shows in the following galleries: Macro (Rome, 2004 – 2012), S.M.A.K. (Ghent, Belgium, 2004), MARTa Herford (Herford, Germany, 2005), Milton Keynes Gallery (Milton Keynes, Great Britain, 2007), Malmo Konsthall (Malmo, Sweden, 2010), Mudam (Luxembourg, 2011), La Villette (Paris, France, 2012), KUB (Bregenz, Austria, 2014), Fowler Museum (Los Angeles, USA, 2014), Serpentine Gallery (London, Great Britain, 2015), Bozar (Brussels, 2015), Musée de l'Homme (Paris, France, 2015), CAC Malaga (Malaga, Spain, 2016), Varberg Kunsthal (Varberg, Svezia, 2017), IFA (Institut für Auslandsbeziehungen), (Berlin, Germany, 2017), Mu.ZEE, (Oostende, Belgium, 2018). His works form part of the collections of prestigious international institutions such as the Pompidou Centre, Centre National des Arts Plastiques, Mudam, ARKEN Museo d'Arte Moderna, SMAK, Stedelijk Museum voor Actuele Kunst, Kunsthaus Bregenz, the Abu Dhabi Guggenheim Museum, Tate Modern, Louisiana Museum of Modern Art, MAC Lyon, MACRO (Museum of Contemporary Art Rome), National Gallery of Victoria and the Salama Bint Hamdan Al Nahyan Foundation.
About St. Regis Hotels & Resorts
Combining classic sophistication with a modern sensibility, St. Regis Hotels & Resorts, part of Marriott International, Inc., is committed to delivering exceptional experiences at over 40 luxury hotels and resorts in the best addresses around the world. Since the opening of the first St. Regis hotel in New York City over a century ago by John Jacob Astor IV, the brand has remained committed to an uncompromising level of bespoke and anticipatory service for all of its guests, delivered flawlessly by signature St. Regis Butler Service. For more information and new openings, visit stregis.com or follow Twitter, Instagram and Facebook. St. Regis is proud to participate in Marriott Bonvoy, the new name of Marriott's travel program replacing Marriott Rewards®, The Ritz- Carlton Rewards®, and Starwood Preferred Guest® (SPG). The program offers members an extraordinary portfolio of global brands, experiences on Marriott Bonvoy Moments and unparalleled benefits including earning points toward free hotel stays and nights toward Elite status recognition. To enroll for free or for more information about the program, visit MarriottBonvoy.marriott.com.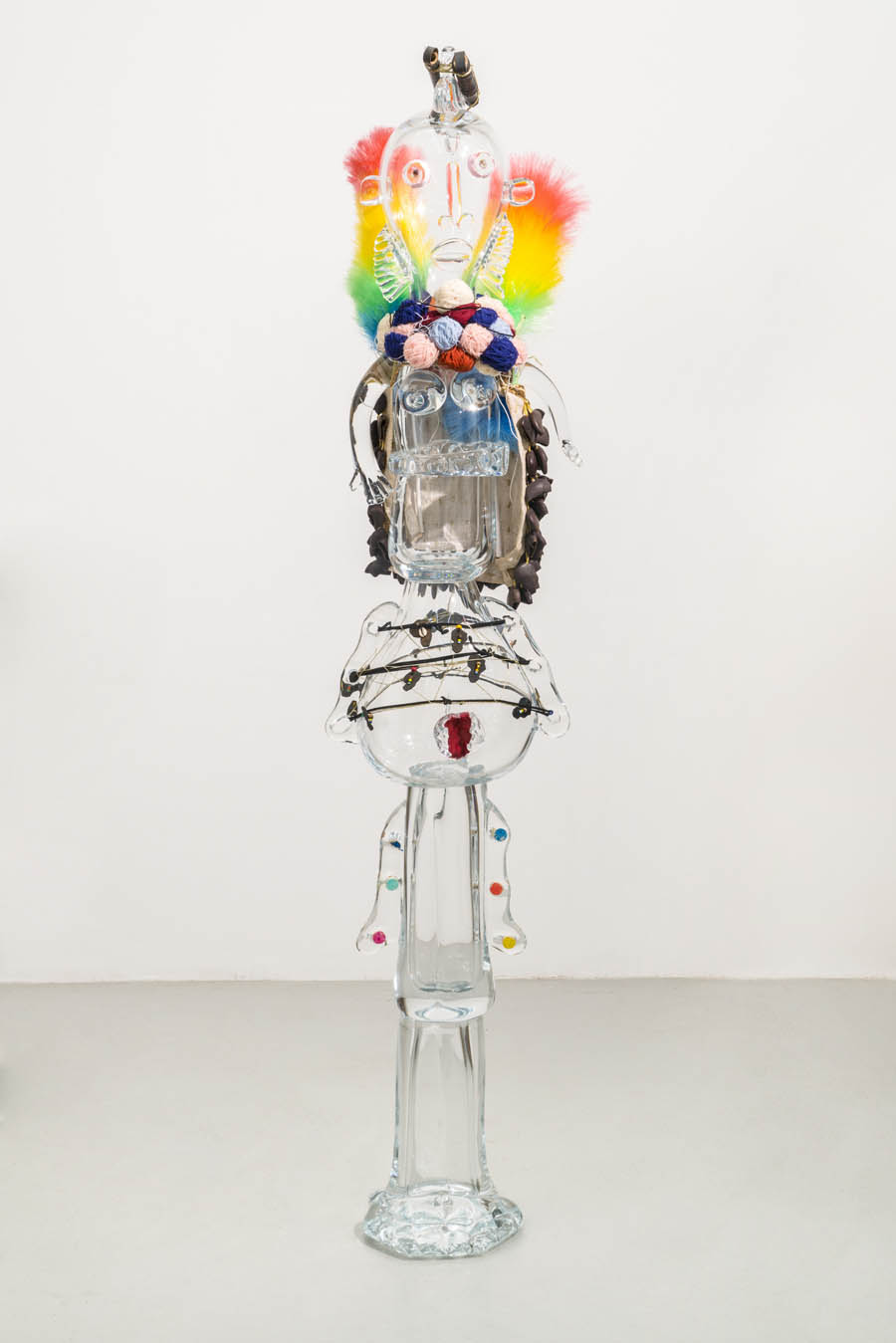 Marriott International, Inc.
Marriott International, Inc. (NASDAQ: MAR) is based in Bethesda, Maryland, USA, and encompasses a portfolio of more than 7,000 properties in 30 leading hotel brands spanning 130 countries and territories. Marriott operates and franchises hotels and licenses vacation ownership resorts all around the world. The company now offers one travel program, Marriott Bonvoy™, replacing Marriott Rewards®, The Ritz-Carlton Rewards®, and Starwood Preferred Guest®(SPG). For more information, please visit our website at www.marriott.com, and for the latest company news, visit www.marriottnewscenter.com. In addition, connect with us on Facebook and @MarriottIntl on Twitter and Instagram.
About Galleria Continua
Galleria Continua opened in San Gimignano (Italy) in 1990, the result of the initiative of three friends: Mario Cristiani, Lorenzo Fiaschi and Maurizio Rigillo. Occupying a former cinema, Galleria Continua established itself and thrived in an entirely unexpected location, away from the big cities and the ultramodern urban centres, in a town – San Gimignano – steeped in history, timeless, magnificent. This choice of location provided scope for the development of new forms of dialogue and symbiosis between unexpected geographies: rural and industrial, local and global, art from the past and the art of today, famous artists and emerging ones. Remaining faithful to a spirit of perpetual evolution and committed to interesting as broad a public as possible in contemporary art, in the course of over twenty years Galleria Continua has created a strong identity for itself through its ties and experiences. That identity is grounded in two values – generosity and altruism – which lie at the heart of all its dealings with artists, the general public and its development as a whole. Galleria Continua was the first foreign gallery with an international program to open in China in 2004 and three years later, in 2007, inaugurated a new peculiar site for large-scale creations – Les Moulins – in the Parisian countryside. In 2016 the gallery embarked on new paths, opening a space in La Habana, Cuba, devoted to cultural projects designed to overcome every frontier. Galleria Continua is all about a desire for continuity between ages, the aspiration to having a part in writing the history of the present, a history that is sensitive to contemporary creative practices and which cherishes the link between past and future, and between different and unusual individuals and geographies.
Press Contacts:
The St. Regis Rome
Sara Migliore, Director of Communications Italy
Sara.Migliore@marriott.com
Galleria Continua
Silvia Pichini, Communications director
press@galleriacontinua.com