LE MUSE INQUITE. THE DISQUIETED MUSES. LA BIENNALE DI VENEZIA DI FRONTE ALLA STORIA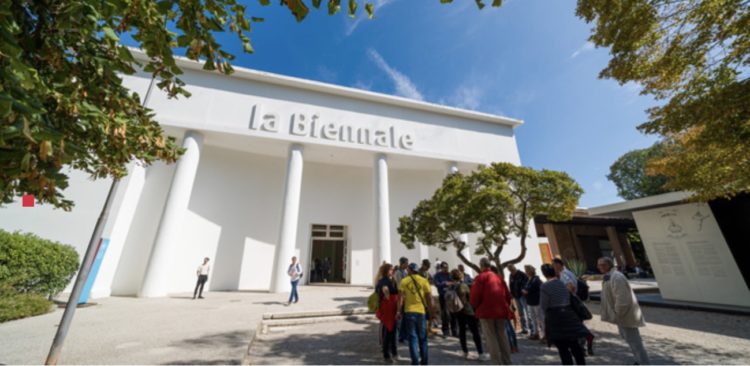 LE MUSE INQUIETE.
LA BIENNALE DI VENEZIA DI FRONTE ALLA STORIA
La Biennale di Venezia, nella ricorrenza dei 125 anni dalla sua fondazione, presenta la mostra Le muse inquiete. La Biennale di Venezia di fronte alla storia, che si terrà al Padiglione Centrale dei Giardini della Biennale da sabato 29 agosto fino a martedì 8 dicembre 2020, realizzata dall'Archivio storico della Biennale di Venezia – ASAC.
La mostra è per la prima volta curata da tutti i direttori dei sei settori artistici: Cecilia Alemani (Arte), Alberto Barbera (Cinema), Marie Chouinard (Danza), Ivan Fedele(Musica), Antonio Latella (Teatro), Hashim Sarkis (Architettura), che hanno lavorato insieme per ripercorrere, attraverso le fonti uniche dell'Archivio della Biennale e di altri archivi nazionali e internazionali, quei momenti in cui la Biennale e la storia del Novecento si sono intrecciate a Venezia.
INFORMAZIONI:
La mostra sarà aperta dal 29 agosto al 5 ottobre dalle 11 alle 19;
dal 6 ottobre all'8 dicembre dalle 10 alle 18;
chiuso il lunedì (escluso 31 agosto, 7 settembre, 2 novembre, 7 dicembre).
Biglietti: Intero € 12 / Ridotto studenti € 8 / Biglietto gruppo adulti € 10 (min. 10 persone)
Vendita dei biglietti di mostra esclusivamente online.
THE DISQUIETED MUSES.
WHEN LA BIENNALE DI VENEZIA MEETS HISTORY
La Biennale di Venezia, to mark the 125th anniversary of its foundation, presents Le muse inquiete (The Disquieted Muses). When La Biennale di Venezia Meets History, an exhibition by the Historical Archives of Contemporary Arts – ASAC, to be held in the Central Pavilion of the Giardini della Biennale from Saturday 29 August to Tuesday 8 December 2020.
This is the first exhibition to be curated by all the artistic directors of La Biennale's six departments: Cecilia Alemani (Art), Alberto Barbera (Cinema), Marie Chouinard(Dance), Ivan Fedele (Music), Antonio Latella (Theatre), and Hashim Sarkis(Architecture). Working together, they have used the one-of-a-kind sources of the La Biennale's Historical Archives and other Italian and international archives to retrace key moments during the 20th century when the Biennale crossed paths with history in Venice.
INFORMATION:
The exhibition will be open from August 29th to October 5th, 11 am – 7 pm;
From October 6th to December 8th, 10 am – 6 pm;
Closed on Mondays (except 31 August, 7 September, 2 November, 7 December).
Tickets: Regular ticket € 12 / Students € 8 / Adult groups € 10 (min. 10 persons)
Tickets exclusively available online.