MIA PHOTO FAIR 2021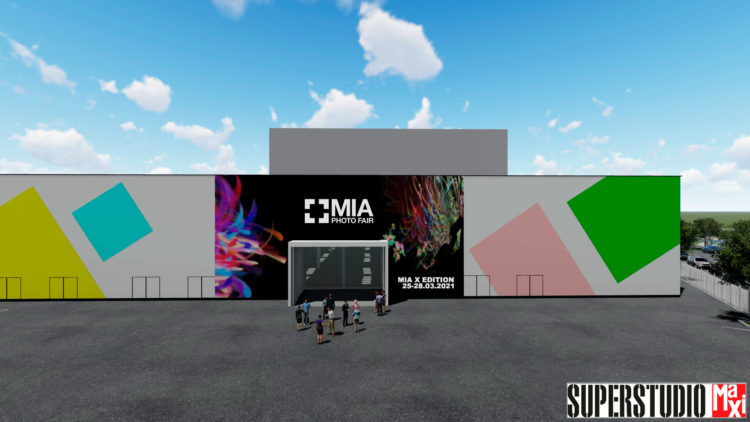 The X Edition
postponed to
25 – 28 March 2021
@ the newly born location of
SUPERSTUDIO MAXI
After careful analysis of the current global spread of Covid-19, the organizers of MIA Photo Fair have decided to cancel the 2020 edition, initially scheduled for March and then postponed to September of this year.
The new appointment with MIA Photo Fair will take place in Milan from 25-28 March 2021, in the new venue of SUPERSTUDIO MAXI in via Moncucco, in the Famagosta area, near to Navigli.
"In this state of uncertainty linked to the Covid-19 emergency – says Fabio Castelli, MIA Photo Fair founder and director – we have decided to cancel MIA Photo Fair 2020 and concentrate all our efforts on 2021. For its tenth edition, MIA Photo Fair moves to a new venue SUPERSTUDIO MAXI, the result of a futuristic industrial conversion project of 7.300 sq. mt, made by Superstudio group. This step was also driven by the decision of The Mall to partially change the intended use of the location, making it not suitable for large scale events like MIA Photo Fair".
"It is a sort of homecoming – continues Fabio Castelli. The first editions of MIA Photo Fair took place at Superstudio Più in the Tortona area, the well-known Design District of Milan. Since then, our relationships with the Superstudio Group have remained excellent. We started to deal with the Borioli family, owners of Superstudio, a few months ago, before the start of the renovation of SUPERSTUDIO MAXI, evaluating together which could be the possible synergies between MIA Photo Fair and Superstudio Events, entity which manages all the events of Superstudio Group. Furthermore, pushing towards wider scenarios, we feel that this new site has great potential and we think, with good hope, that the Famagosta district of Milan can quickly become one of the centres of photography in Milan, as far as the Tortona area has been for design".
The municipality of Milan has launched major regeneration projects for its suburban districts which now play a leading role in the development of the city. The Famagosta – Moncucco district houses the futuristic new IULM University building project and the new seat of the Politecnico Design School, aiming at enhancing the high-level cultural purpose of this new area.
Informazioni:
Segreteria Organizzativa MIA Photo Fair
Via San Vincenzo 22 – 20123 Milano | Tel. +39.02.83241412 info@miafair.it – www.miafair.it