ANICKA YI – HANGARBICOCCA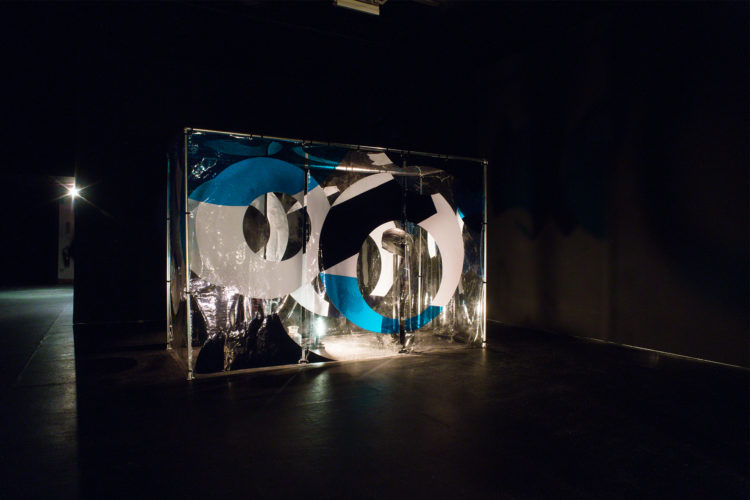 24 FEBBRAIO – 24 LUGLIO 2022
ANICKA YI
Metaspore
Curated by Fiammetta Griccioli and Vicente Todolí
Since the beginning of her practice, American-Korean artist Anicka Yi (b. Seoul, 1971; lives and works in New York) has used biological and perishable materials such as tempura-fried flowers, algae, and glycerin to create sculptures and installations that form hybrid and symbiotic entities, thus subverting the concepts of natural and synthetic. She explores complex ecosystems privileging an immaterial and invisible dimension by employing elements like scents and bacteria in her artworks.
Collaborating with various professional figures, including engineers, chemists and scientists, Yi expands the limits of her work by developing ambitious projects that investigate new possibilities for interaction and communication between living organisms and artificial intelligence systems.
The artist's first solo exhibition in an Italian institution, "Metaspore" is conceived as a survey and will present over twenty
works, from 2010 until today, together with the production of a new expanded version of the artwork Biologizing the Machine (terra incognita), exhibited at the 58th Venice Biennale in 2019. The work investigates concepts such as ecosystem and interdependency, introducing visitors to key aspects of her poetics.
A cura di Fiammetta Griccioli e Vicente Todolí
Sin dai suoi esordi Anicka Yi (Seoul, 1971; vive e lavora a New York) impiega elementi biologici e deperibili come fiori fritti in tempura, alghe e saponi per realizzare sculture e installazioni che sovvertono i concetti di naturale e sintetico, generando entità ibride e simbiotiche. L'artista esplora complessi ecosistemi attraverso una dimensione immateriale, impiegando odori, essenze e batteri. Il suo lavoro si espande tramite la collaborazione con diverse figure professionali tra cui ingegneri, chimici e scienziati, con i quali crea ambiziosi progetti volti a indagare nuove possibilità di scambio e comunicazione tra organismi viventi e entità di intelligenza artificiale.
"Metaspore", prima mostra dell'artista in un'istituzione italiana, è concepita come un'esposizione antologica e raccoglierà oltre venti lavori, dal 2010 ad oggi insieme a una nuova versione ampliata di Biologizing the Machina (terra incognita), presentata alla 58. Biennale di Venezia nel 2019. L'opera esplora i concetti di ecosistema e interdipendenza, offrendo ai visitatori la possibilità di conoscere gli aspetti centrali della sua poetica.
Anicka Yi's solo exhibitions have been held in many leading international institutions, including the Hyundai Commission,
Turbine Hall, Tate Modern, London (2021); Solomon R. Guggenheim Museum, New York (2017); Fridericianum, Kassel (2016); Kunsthalle Basel, MIT List Visual Arts Center, Cambridge, Massachusetts, The Kitchen, New York (2015); and Cleveland Museum of Art (2014). She has taken part in several group exhibitions, including the Venice Biennale (2019); Whitney Biennial, New York (2017); Okayama Art Summit, Gwangju Biennale (2016); Taipei Biennial (2014); and Biennale de Lyon (2013).
Anicka Yi has won major awards, including The Louis Comfort Tiffany Foundation Award (2011) and Guggenheim Hugo Boss Prize (2016). In 2019, the artist realized "Biography Fragrance," a line of three fragrances in limited edition in collaboration with Barnabé Fillion.
The exhibition will be accompanied by the most exhaustive monography on the artist. It will include contributions by Giovanni Aloi, art historian, Rachel Lee, Professor of English and Gender Studies, and Merlin Sheldrake, author and biologist, together with a text by the curators. The catalogue will also include detailed entries of the works on show, a complete chronology of Anicka Yi's exhibition history and an original glossary of her most significant conceptual references, conceived together with the artist.