DAL PROFONDO DEL CUORE – THE DREAMS OF A STORY – COSTA D'AVORIO – 59. BIENNALE DI VENEZIA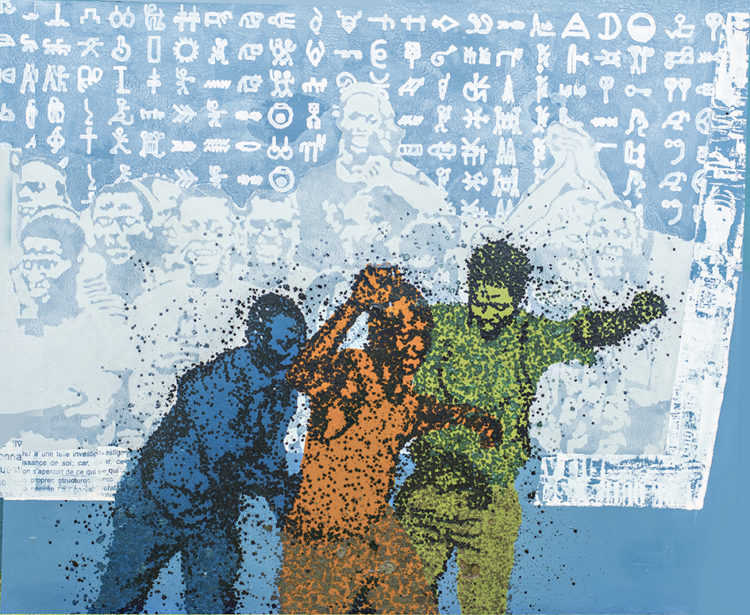 Dal profondo del cuore
by Vittoria Biasi
Padiglione "The Dreams of a Story" – Costa d'Avorio
Venezia, Magazzino del Sale, Dorsoduro, 264 – Zattere
59. Biennale di Venezia
Nella 55. Biennale di Venezia del 2013,  intitolata Il Palazzo Enciclopedico, la Côte d'Ivoire è invitata, per la prima volta, a partecipare alla manifestazione internazionale, accanto ad altri paesi dell'Africa occidentale. Nel padiglione ivoriano la mostra Tracce e segni presenta alcuni simboli tradizionali tra cui le maschere a introduzione del complesso racconto della loro storia. Come dimostra la biennale del 2019, in cui è presentato il progetto The Open Shadows of Memory, a cura di Massimo Scaringella con la partecipazione di Ernest Dükü, Ananias Leki Dago, Valérie Oka, Tong Yanrunan.
Gli artisti espongono opere con immagini del proprio mondo in lotta per la realizzazione del sogno racchiuso nelle tracce della loro storia. 
Nella 59. Biennale del 2022 la Côte d'Ivoire, proseguendo la sua narrazione, si affaccia sul complicato panorama geo-politico e socio-economico contemporaneo con il progetto The dreams of a story, a cura di Massimo Scaringella e del professore Alessandro Romanini, docente di teoria della percezione e psicologia presso l'Accademia di Belle Arti di Carrara.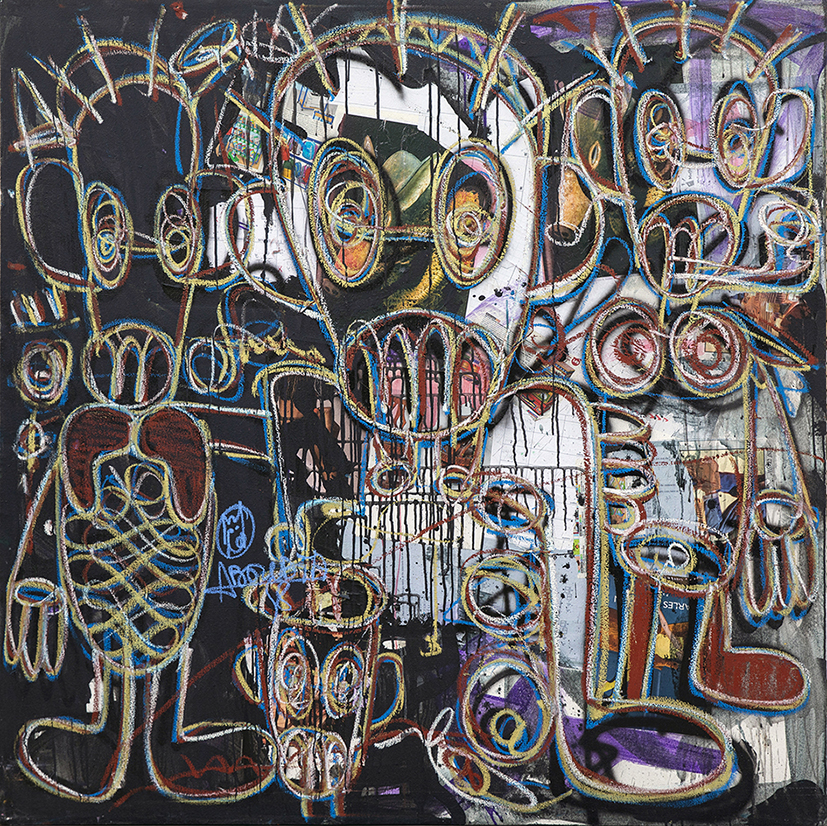 La 59. Biennale è a cura di Cecilia Alemani, che sceglie il poetico titolo Il latte dei sogni, ispirandosi al libro di favole di Leonora Carrington (1917-2011), in cui l'artista surrealista descrive la vita reinventata dall'immaginazione. 
Gli artisti ivoriani invitati Aboudia, Armand Boua, Frédéric Bruly Bouabré, Aron Demetz, Laetitia Ky, Yeanzi utilizzano elementi tradizionali, che trasformano in linguaggi d'arte contemporanea, seguendo o esprimendo il desiderio storico-sociale del paese. La trasformazione espressiva costruisce il percorso di una nuova memoria sociale nella forma estetizzante dell'arte.  
Abaudia, che vive tra Abidjan e New York, ritrae con tratti graffianti la società africana lacerata nel tessuto sociale dove i giovani, proiettati nelle proprie sfide,  sono la linfa sacrificale. Le linee pittoriche nascono da una forza profonda, tagliente, che delinea volti contrastanti, carichi di elementi raccontati in ritagli di vita urbana sollecitata tra auto, grattacieli, televisori, frasi scritte. 
Armand Boua coglie la disumanità, propria del mondo, che si intreccia con le mescolanze etniche, con i pensieri depositari di verità, con gli squilibri socio-economici. Frédéric Bruly Bouabré è il creatore di un alfabeto di 448 pittogrammi monosillabici con l'obiettivo di creare il linguaggio scritto e quindi l'identità di un pensiero che vuole scrivere una storia nuova partendo dalla tradizione Beté per raggiungere la filosofia di fratellanza universale e di pace nel mondo. La storia dell'artista si inserisce in quella dell'Africa, terra dominata da imperi e senza la scrittura come elemento portante di un pensiero. Frédéric Bruly Bouabré, deceduto nel 2014, è tra i fondatori della contemporaneità artistica africana e le sue opere hanno valore religioso-filosofico.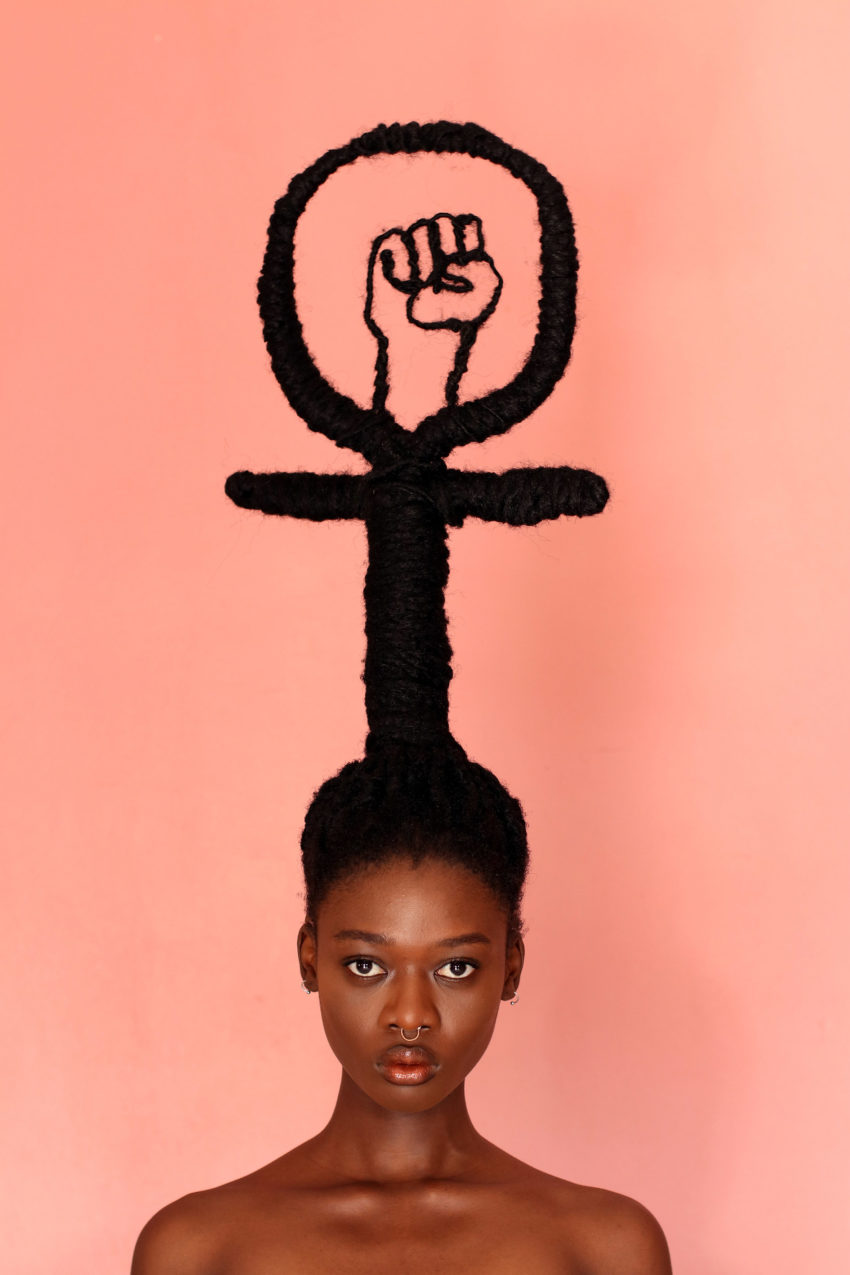 Aron Demetz, che vive in Val Gardena dove è nato, rivolge l'attenzione alle forme scultoree delle sue origini distanti dalle espressività culturali in cui si è formato. Le opere di Yeanzi nascono dalla ricerca di scarti, detriti in cui l'artista ricompone i profili, le derive sociali contemporanei. Il residuo è il rapporto con ciò che non si conosce, che non si reputa utile e quindi da eliminare. La poetica dell'artista apre riflessioni che coinvolgono le regole delle società tribali, di quelle  agricole, di filosofi come Giordano Bruno.
Laetitia Ky, unica artista donna del gruppo, crea le sculture con i capelli  africani. L'opera è la performance costruita attorno al corpo, ai suoi elementi utilizzati in molti riti e che rappresentano la forza vitale permanente, primordiale, seme dell'immortalità.
La partecipazione alla Biennale è l'occasione per far conoscere la ricchezza e l'integrità del patrimonio culturale del popolo ivoriano, sopravvissuto al colonialismo e ancora nel difficile cammino di ricostruzione.