GENERACTION, A REMINDER FOR GENERATIONS, MAIL POST.IT ART PROJECT | VARESE (ITALY)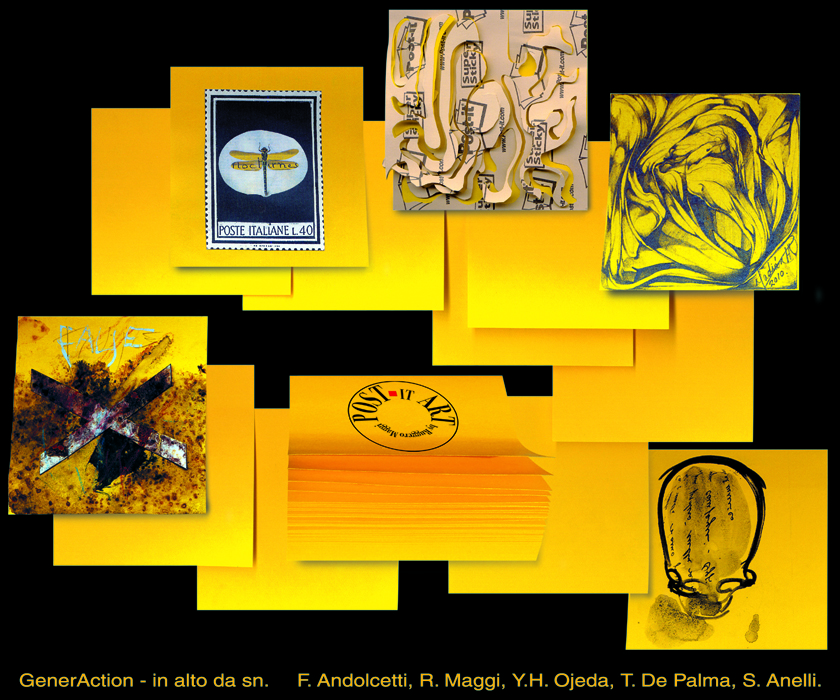 GenerAction
Galleria di Arti Visive dell'Università del Melo
Via Magenta 3 – Gallarate (VA) ITALY
Opening: October 2 at 6.00 pm
2 – 29 October 2010
Open every day from 4.00 pm to 7.00 pm (included sunday)
Informations: +39 0331.708224 – +39 320.9621497
e-mail: udm@melo.it – camera312@fastwebnet.it
GeneraAction_com.stampa
GenerAction
a reminder for generations
Mail Post.it Art Project curated by Ruggero Maggi
At the Visual Arts Gallery of the University of Melo from October 2 till 29 the International Exhibition of Mail Art "GenerAction" will be open to the public. The exhibition has been conceived and curated by Ruggero Maggi, one of the most active mail artists in Italy. The event will be extended later to other European Countries.
The subject "Meeting between Generations", submitted to the invited artists, has offered an opportunity to underline once more how important has always been the relationship that unites all the various "ages" of mankind. Relationship that arises as a fundamental element of Love: the only weapon to fight hatred, arrogance, disrespect … a Post-it ® on the book of Life and Love.
Hundreds of artists from forty Countries have responded enthusiastically to the call: thousands of Post-it ® notes have been sent with the specific request for an intervention, for a sign that indicates their willingness to become involved in this action-event, where Art, Poetry, Sociology constitute the basic elements.
The Earth is not a huge vortex, into which all civilizations, all tribes, all cultural backgrounds mix and mingle, but is formed by a myriad of points, pixels that intersect with one another constantly interacting. This exhibition is just that: a great allegory of life with its many aspects, with its many possibilities and potentials also poetic and artistic, of course.
The global view of the exhibition will be completed by disclosing individual works produced with the most diverse techniques and by exploiting every possibility of utilizing the famous yellow pieces of paper.
"Seek the wisdom of the ages, but look at the world through the eyes of a child." (Ron Wild)
GenerAction _ artists participating to the event:
Fernando Aguiar (Portogallo), Lorenzo Alagio, Anêla Aliotis (Francia), Christian Alle (Francia), Antonio Amato, Fernando Andolcetti, Salvatore Anelli, Enzo Angiuoni, Michela Angiuoni, Antic ham (Corea del Sud), Toni Antonius (Indonesia), Michele Attianese, Dmitry Babenko (Russia), Vittorio Baccelli, Erika Baggini, Anna Banana, Tiziana Baracchi, Calogero Barba, Paolo Barlusconi, Vittore Baroni, Donatella Baruzzi, Keith Bates (Gran Bretagna), Patrizia Battaglia, Elisa Battistella, Horst Baur (Germania), Angela Behrendt (Germania), Mariano Bellarosa, Lancillotto Bellini, John M. Bennett (USA), Luisa Bergamini, Pedro Bericat (Spagna), Francesca Bernardi, Carla Bertola, Giuseppe Bertolino, Diane Bertrand (Canada), Gabriele Bianconi, Tomaso Binga, Julien Blaine (Francia), Joyce Bloem (Olanda), Antonio Bobò, Giovanni Bonanno, Adriano Bonari, Giorgio Bongiorni, Ivano Bortolussi, Anna Boschi, Renee Bouws (Olanda), Antonino Bove, Gioacchino Bragato, Gianni Broi, Paulo Bruscky (Brasile), Keith A. Buchholz (USA), Patricia Bueno (Perù), Ioan Bunus (Francia), Rosaspina Buscarino Canosburi, Nirvana Bussadori, Mirta Caccaro, Virginia Cafiero, Matteo Cagnola, Carlo Canè, Maria Amalia Cangiano, Bruno Capatti, Carlo Capeti, Angela Caporaso, Emma Caprini, Guido Capuano, Michele Carmellino, Lamberto Caravita, Emilio Carrasco Gutierrez (Messico), Nicola Carrù, Schoko Casana Rosso (Germania), Bruno Cassaglia, Maddalena Castegnaro, Torma Cauli (Ungheria), Alessandro Ceccotto, Sergio Cena, Valérie Ceravolo (Francia), Renato Cerisola, Valdemar Cher (Svezia), Pino Chimenti, Silvia Cibaldi, Cosimo Cimino, Franco Colnaghi, Mario Commone, Gigi Conti, Paolo G. Conti, Francesca Romana Corradini, Marisa Cortese, V. Courtois (Francia), Anna Crescenzi, Laura Cristin, Natale Cuciniello, Eleonora Cumer, Filli Cusenza, Flavio Da Rold, Daniel Daligand (Francia), Caterina Davinio, Ko De Jonge (Olanda), Liliana De Lorenzi , Antonio De Marchi Gherini, Teo De Palma, Dario De Souza (Brasile), Adolfina De Stefani, David Dellafiora (Australia), Roberto Denti , Antonio Di Michele, Gabriella Di Trani , Abdourahamane Diarra (Repubblica del Mali), Konrad Dietrich, Marcello Diotallevi, Fausta Dossi, Gianfranco Duro, Mike Dyar (USA), Emerenciano (Portogallo), Elsa Emmy, Ever Arts (Olanda), Arturo Fallico (USA), Fernanda Fedi, Gretel Fehr, Mavi Ferrando, Simonetta Ferrante, Luc Fierens (Belgio), José Manuel Figueiredo (Portogallo), Anna Finetti, Alessandra Finzi, Alfio Fiorentino, Joe Fleury (Svizzera), Lino Foffano, Maurizio Follin, Morena Fontana, Roberto Formigoni, Nicola Frangione, Piet Franzen (Olanda), Leszek Frey-Witkowski (Polonia), Raymond Furlotte (Canada), Mimmo Fusco, Veronica Gabrielse (Sudafrica), Fabrizio Galli, Antonella Gandini, Ornella Garbin, Mario Gatto, Claudio Gavina, Luciano Gerolamo Gerini, Mabel Giaccarini (Argentina), Alessandro Giannandrea, Eugenio Giannì, Juri Gik (Russia), Gino Gini, Guglielmo Girolimini, Lillo Giuliana, Lidia Gobbati, Michael Goetz (USA), Pedro Gonzalves Garcia (Spagna), Isa Gorini, Claudio Grandinetti, Antonio Grassi, Francesco Gravino, M. Greenfield (Gran Bretagna), Klaus Groh (Germania), Elke Grundmann (Germania), Gruppo Sinestetico, Karl-Friedrich Hacker (Germania), John Held Jr. (USA), Tapio Holopainen (Finlandia), I Santini Del Prete, Il Melo, Eberhard Janke (Germania), Miguel Jimenez (Spagna), Emily Joe , Jreena (Gran Bretagna), Dobrica Kamperelić (Serbia), Kappa, Norbert Koczorski (Germania), Tania Krosse (Svezia), Magda Lagerwerf (Olanda), Franca Lanni, Michael Leigh (Gran Bretagna), Pascal Lenoir (Francia), Alfonso Lentini, Les Cammer (USA), Pino Lia, Oronzo Liuzzi, Juan Rodriguez Lopez (Messico), Tobia Los (Germania), Gian Paolo Lucato, Gisella Lucci, Serse Luigetti, Paola Macchi, Michele Macchia, Romina Maggi, Ruggero Maggi, Nadia Magnabosco, Marilde Magni, Paola Malato, Malok (USA), Antonio Mancini, Francesco Mandrino, Antonello Mantovani, Danilo Marchi, Angela Marchionni, Hildegunn Marcussen (Norvegia), Renato Marini, Max Marra, Maria Grazia Martina, Fabrizio Martinelli, Gianni Marussi, Andrea Massaro, Cristina Massironi, Cinzia Mastropaolo, Madalena Matoso (Portogallo), Monica Mazzone, Rita McNamara (USA), Italo Medda, Massimo Medola, Rita Mele, Renato Mertens, Nuria Metzli, Luca Miti, Annalisa Mitrano, Henning Mittendorf (Germania), Giorgio Moio, Samuel Montalvetti (Argentina), Emilio Morandi, Simona Morani, Antonio Garrido Moreno (Spagna), Alberto Mori, Franca Munafò, Keiichi Nakamura (Giappone), Cesare Nardi, Riri Negri Bolgiaghi, Giorgio Nelva, Dragan Nesić (Serbia), Francesco Takehiko Niki (Giappone), Rea Nikonova (Russia), Angela Noya, Paolo Nutarelli, Yadián Hernández Ojeda (Cuba), Jürgen O. Olbrich (Germania), Domenico Olivero, Elisabetta Oneto, Orson Nelson Pacheco Acuña (Cile), Clara Paci, Clemente Padin (Uruguay), Elisabetta Pagani, Vittorio Pannone, Sjoerd Paridaen (Belgio), Ennio Pauluzzi (Isle of Man), Giancarlo Pavanello, Hilda Paz (Argentina), Linda Pelati, Giuseppe Pellegrino, Remy Penard (Francia), Walter Pennacchi, Salvatore Pepe, Teresinka Pereira (USA), Michele Perfetti, Gloria Persiani, Silvano Pertone, Marisa Pezzoli, Riccardo Pezzoli, Alfa Pietta, Barry Edgar Pilcher (Irlanda), Franco Focardi Piri, Pjm (USA), Planet Susannia (Germania), Hugo Pontes (Brasile), Veronique Pozzi, Benedetto Predazzi, Ross Priddle (Canada), Tiziana Priori, Antonella Prota Giurleo, Giancarlo Pucci, Ruggero Radaele, Marco Ravenna, Tulio Restrepo (Colombia), Gaetano Ricci, Giuseppina Riggi, Jaume Rocamora (Spagna), Sabina Romanin, Claudio Romeo, Carla Roncato, Irene Ronchetti (Argentina), Gianni Rossi, Fabrizio Rovesti, Colette Ruch (Svizzera), Günther Ruch (Svizzera), Enzo Ruggiero, Manuel Ruiz Ruiz (Spagna), Marina Salmaso (Danimarca), Massimo Salvoni, Daniele Sanguinetti, Sergio Sansevrino, Anna Santinello, Evie Satijadi (Indonesia), Alba Savoi, Roberto Scala, Patrizia Scalvini & Paolo Caporossi, Evelina Schatz (Russia), Josè Roberto Sechi (Brasile), Gianni Sedda, Serge Segay (Russia), Eugenia Serafini, Danilo Sergiampietri, Elena Sevi, Valery Shimanovsky (Russia), Eliso Ignacio Silva (Venezuela), Fulgor C. Silvi, Luigino Solamito, Mark Sonnenfeld (USA), Oliana Spazzoli, Franco Spena, Carol Stetser (USA), David Stone (USA), Renata e Giovanni Strada, Rod Summers (Olanda), E. Sündermann (Austria), W. Mark Sutherland (Canada), Jaromir Svozilik (Norvegia), Patricia Tavenner (USA), José Antonio Tenente (Portogallo), Ernesto Terlizzi, Roberto Testori, The Shepherd (Gran Gretagna), Paul Tiililä (Finlandia), La Toan Vinh (Vietnam), Marzia Todero, Tokitama (Giappone), Ettore Tomas, Stefano Tonelli, Mario Tonino, Attilio Tono, Micaela Tornaghi, Giuseppe Luca Torraco,  Agostino Tulumello, Lubomyr Tymkiv (Ucraina), Sigismund Urban (Germania), Valdor (Spagna), Anke Van Den Berg (Belgio), Johan Van Geluwe (Belgio), Francis Van Maele (Irlanda), Isabelle Vannobel (France), Giorgio Vazza, Armanda Verdirame, Cristina Vignocchi, Alberto Vitacchio, Piero Viti, Rüdiger Axel Westphal (Germania), Gail D. Whitter (Canada), Jokie X Wilson (USA), Monika Wolf (Germania), Reid Wood (USA), Roberto Zito, Rolando Zucchini.
http://video.mediaset.it/video/tgcom/servizio_artdirectory/185664/generaction—evento-internazionale-di-mail-art.html#tc-s1-c5-o1-p1