THE MUSEUM OF MODERN ART HIGHLIGHTS RECENT ACQUISITIONS OF WORKS BY FRANCIS ALŸS IN NEW EXHIBITION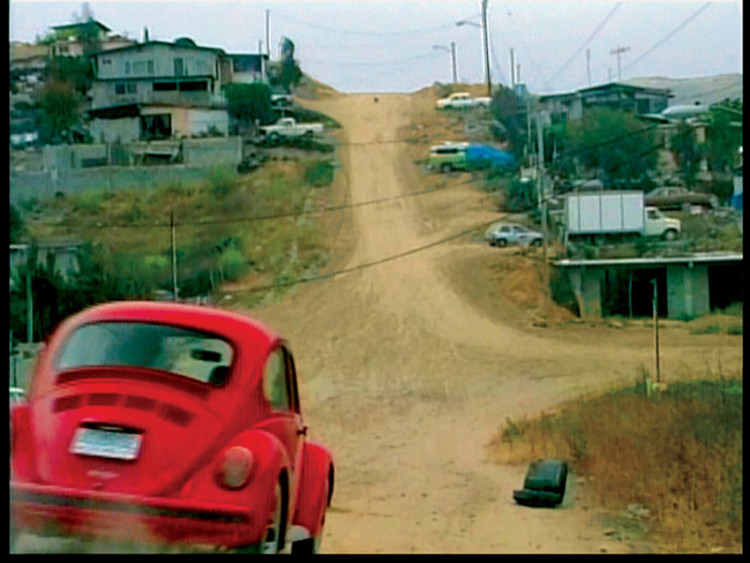 THE MUSEUM OF MODERN ART HIGHLIGHTS RECENT ACQUISITIONS OF WORKS BY FRANCIS ALŸS IN NEW EXHIBITION
Francis Alÿs: A Story of Deception Includes Series of Installations at MoMA PS1
Francis Alÿs: A Story of Deception
May 8–August 1, 2011
The International Council of The Museum of Modern Art Gallery, sixth floor, MoMA
Drawing Gallery, MoMA PS1
www.moma.org
NEW YORK, February 24, 2011—Drawing upon The Museum of Modern Art's unique and important collection of the work of artist Francis Alÿs (Belgian, b. 1959), the exhibition Francis Alÿs: A Story of Deception is conceptually grouped around three major recent acquisitions—
Re-enactments (2001), When Faith Moves Mountains (2002), and Rehearsal I (Ensayo I)
(1999–2001)—each on view for the first time at the Museum. Comprising video installations, paintings, drawings, collages, photographs, and newspaper clippings, these three significant bodies of work present an investigation of methods of social action, from rehearsals to re-enactments in urban environments. These works address the politics of public space and its relation to large-scale communal participation, in which the culmination of many small acts achieves mythic proportions. The exhibition will be on view from May 8 to August 1, 2011, and is organized by Klaus Biesenbach, MoMA's Chief Curator at Large and Director of MoMA PS1; and Cara Starke, Assistant Curator, Department of Media and Performance Art, The Museum of Modern Art.
The exhibition expands to MoMA PS1 with a series of works that include The Modern Procession (2002), a piece commissioned by MoMA to mark the Museum's temporary relocation to Queens (2002–04) while the midtown building was undergoing a renovation and expansion. Through video, photographs, and drawings, the installation documents a ceremonial procession that occurred on June 23, 2002, in which Alÿs, musicians, and various participants traveled from MoMA to MoMA QNS, while carrying the artist Kiki Smith on a palanquin along with representations of works in the Museum's collection, including works by Pablo Picasso, Marcel Duchamp, and Alberto Giacometti.
Alÿs's work uses poetic and allegorical methods to address political and social realities, exploring issues such as national borders, localism and globalism, areas of conflict and community, and the benefits and detriments of progress. The artist's personal, ambulatory explorations of cities form the basis for his practice, through which he compiles extensive and varied documentation that reflects his ideas and process. As one of the foremost artists of his generation, Alÿs has produced a complex and diverse body of work that includes video, painting, performance, drawing, and photography.
SPONSORSHIP: The exhibition is supported by MoMA's Wallis Annenberg Fund for Innovation in Contemporary Art through the Annenberg Foundation, Mr. Eugenio López Alonso, The International Council of The Museum of Modern Art, and Jerry I. Speyer and Katherine G. Farley. Additional funding is provided by The Contemporary Arts Council of The Museum of Modern Art.
PUBLICATION: Francis Alÿs: A Story of Deception is published by The Museum of Modern Art in conjunction with the exhibition of the same name. More of a guidebook than a conventional monograph, the publication reflects the spirit of the artist's wandering practice. It features an introductory essay by Mark Godfrey, Curator at Tate Modern; quotes from Alÿs's writings and interviews compiled by Klaus Biesenbach, organizer of the exhibition at MoMA; descriptions of Alÿs's works; and responses to Alÿs's body of work from a wide range of critics. The book is co-published and distributed outside North America by Tate Publishing. Paperback. 7.5 x 9.5 in.; 192 pp.; 132 color ills. 978-0-87070-790-2.; $35.00. No. 15 Press Contact: Paul Jackson, (212) 708-9593, paul_jackson@moma.org Margaret Doyle, (212) 408-6400, margaret_doyle@moma.org