THE REMEMBRANCE PARK AT SAN GIULIANO DI PUGLIA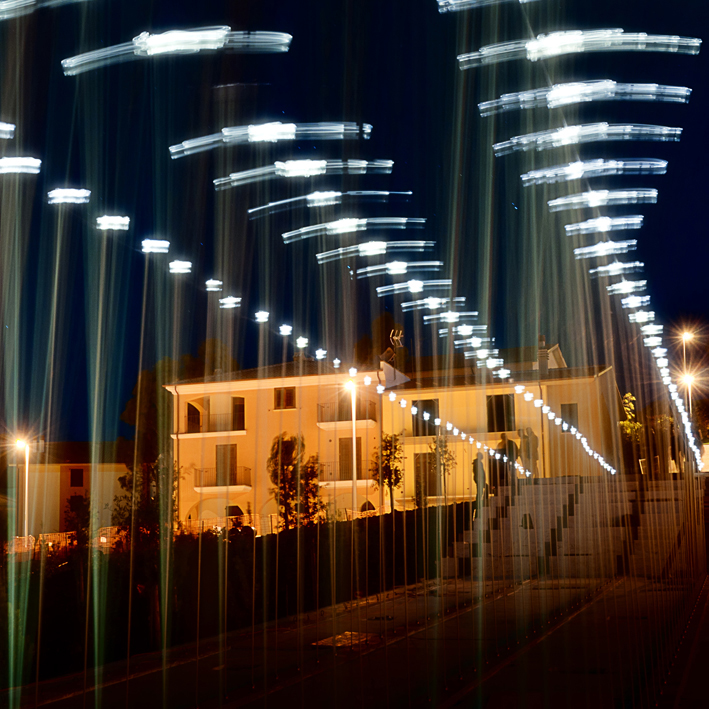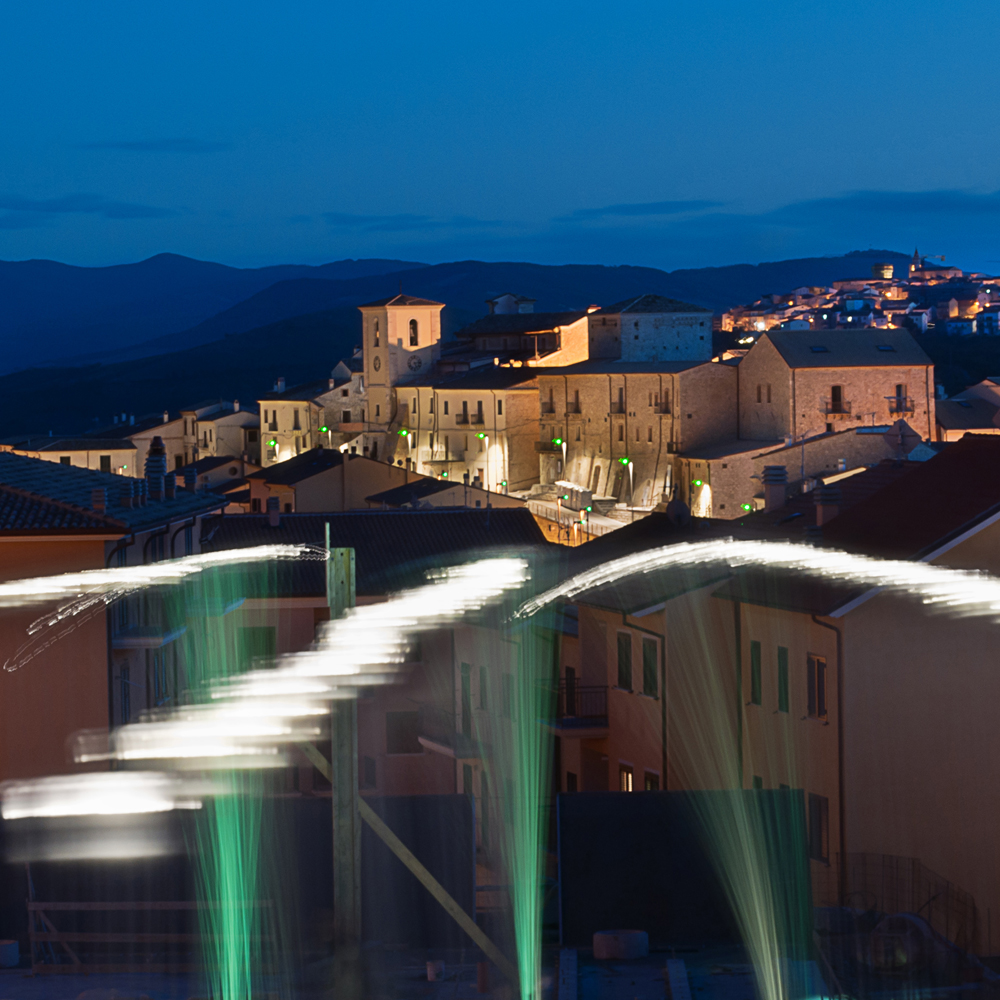 The Remembrance Park at San Giuliano di Puglia
Text by Valentina Piscitelli
Eight years after the tragic event that profoundly touched Italy, San Giuliano renews the memory of the 27 kids and their teacher perished under the ruins of their collapsed school with an architectural element which thoughtfully addresses the theme of memory. One thousand glass fibre canes, forming the luminous thicket designed by Sud'Arch with Nm arquitectos, evoke umana pietas but no sense of celebration.
A storm of led lights on the rectangular outline of what was once the school; inside the area where the Remembrance Park is located, traces of the ruins are visible, purposely left on site, inclusions of history belonging to the architectural narration and embedded in the travertine and lava stone pavement.
On 31 October 2002, the National Council of Architects, chaired at the time by Raffaele Sirica, offered to Mayor Luigi Barbieri the support of the Italian architects by launching an international contest, organized with the newitalianblood.com team. Over 200 designers from 25 Countries participated, the successful firm being the Italian-Spanish Sud'Arch, led by architect Santo Marra in partnership with the Spanish team Nm arquitectos.
The proposed concept was to create an element which would not be subject to the forces of nature, but rather yield to them by using elements signifying flexibility, hence the choice of canes  scattered over an area of roughly five thousand square metres.
15 "immersion" paths running lengthwise and as many rows of luminous canes, increasing in height from 2.2 to 4.5 metres , custom made by IGuzzini, 28 name plates call the victims to mind. "An area treated in an almost holy manner – states architect Santo Marra – which bears physical evidence of the rift caused by the earthquake in the interruption of the luminous thicket, appearing as an irrevocable instant, leaving a gap that cannot be filled between what was there before and what happens after the earthquake".
The procedure set for the project caused the area to be released from seizure a few months ago; the local community was able to attend the construction site and watch each step of the works' progression without the customary fence surrounding building sites. " We have accomplished the most reminiscent project of the whole reconstruction, we are proud for achieving the complete implementation of the contest – stated Mayor Luigi Barbieri – We have been rewarded for the efforts made with Chairman Sirica. On behalf of our community I wish to convey to the National Council of Architects and the Professional Association of Campobasso our heartfelt gratitude".
30 luminous discs, one metre in diameter, scattered along the 15 paths, allow the lit Park to be seen during the day and at night thanks to the low-consumption led lights; around the artificial thicket  a natural wood is growing, a green belt, a hope for the future.
arch. Valentina Piscitelli
www.valentinapiscitelli.it
Translated by Julian Vertefeuille
BOX
The Remembrance Park design was displayed in the WTCA Pavilion at the Shanghai World's Fair, within the exhibition organized by OICE. In November 2010 it was proposed as a candidate for the European Union Prize for Contemporary Architecture Mies van der Rohe Award, one of the world's most prestigious acknowledgments.
Principal: Regione Molise – Ufficio del Soggetto Attuatore – Comune di San Giuliano di Puglia (CB).
Timetable: Contest 2006 – Implementation January 2011.
Contract value: Euro 1.2 million
Project area: 5.000 sq.m
Designers: SUD'ARC-H – Santo Marra (group leader), with Pietro Latella, Luciana Polimeni , Nieves Mestre
Manuel Leira, Vincenzo Mantuano
To view all the contest designs: http://www.parcodellamemoria.it/
Position the cursor on the images to view captions, click on images to enlarge them.
Posizionare il cursore sulle immagini per leggere le didascalie; cliccare sulle immagini per ingrandirle.
Il parco della memoria di San Giuliano di Puglia
di Valentina Piscitelli
A distanza di otto anni dal tragico evento che ha commosso l'Italia, San Giuliano ricorda le vittime del crollo della scuola – 27 bambini e la loro maestra – con la realizzazione di un'opera di architettura che affronta con delicatezza il tema della memoria.
Nessun gesto celebrativo, piuttosto umana pietas restituiscono  i 1000 giunchi in fibra di vetro del bosco luminoso progettato da Sud'Arch con Nm arquitectos.
Una tempesta di luci al led sul rettangolo della sagoma di quella che fu la scuola; all'interno dell'area su cui sorge il parco della memoria si scorgono le tracce di alcuni ruderi lasciati volutamente sul posto, inclusioni della storia che fanno parte della narrazione architettonica inseriti nella pavimentazione in travertino e pietra lavica.
Era il 31 ottobre del 2002, il Consiglio Nazionale degli Architetti con l'allora Presidente Raffaele Sirica donò al Sindaco Luigi Barbieri il sostegno degli architetti italiani bandendo un concorso internazionale, realizzato con il team di newitalianblood.com. Parteciparono oltre 200 progettisti provenienti da 25 Paesi, gruppo vincitore lo studio italo-spagnolo Sud'Arch capitanato dall'arch. Santo Marra in partnership con gli spagnoli Nm arquitectos, l'idea proposta era quella di non realizzare un elemento soggetto alle forze della natura, ma di assecondare le stesse con elementi che rappresentassero il concetto di flessibilità, da qui l'idea dei giunchi, disseminati su un'area di circa 5mila metri quadrati. 15 percorsi "immersivi" sviluppati in senso longitudinale e altrettanti filari di giunchi luminosi, di altezza crescente da 2,2 a 4,5 metri, realizzati ad hoc da IGuzzini, 28 targhe nominative ricordano le vittime. "Uno spazio trattato in modo quasi sacrale – ha dichiarato l'architetto Santo Marra – che interrompendo il bosco luminoso testimonia fisicamente la frattura causata dal terremoto, presentandosi come istante irreversibile, che lascia un vuoto incolmabile tra ciò che c'era prima e ciò che avviene dopo il sisma".
L'iter del progetto ha comportato il dissequestro dell'area pochi mesi orsono, la collettività ha potuto seguire i lavori passo passo eliminando le recinzioni che normalmente proteggono i cantieri. " Abbiamo portato a compimento il progetto più suggestivo dell'intera ricostruzione, siamo orgogliosi che il concorso sia stato realizzato dall'inizio alla fine – ha dichiarato il Sindaco Luigi Barbieri – Siamo stati ripagati dagli sforzi compiuti insieme al Presidente Sirica. A nome della cittadinanza esprimo tutta la nostra gratitudine al Consiglio Nazionale degli architetti e all'Ordine di Campobasso".
30 dischi luminosi dal diametro di 1 metro sparsi lungo i 15 percorsi del parco consentiranno di vedere illuminato il parco sia di giorno che di notte grazie alle lampade al led a basso consumo, intorno al bosco artificiale sta sorgendo anche un bosco naturale, cintura di verde, speranza per il futuro.
arch. Valentina Piscitelli
www.valentinapiscitelli.it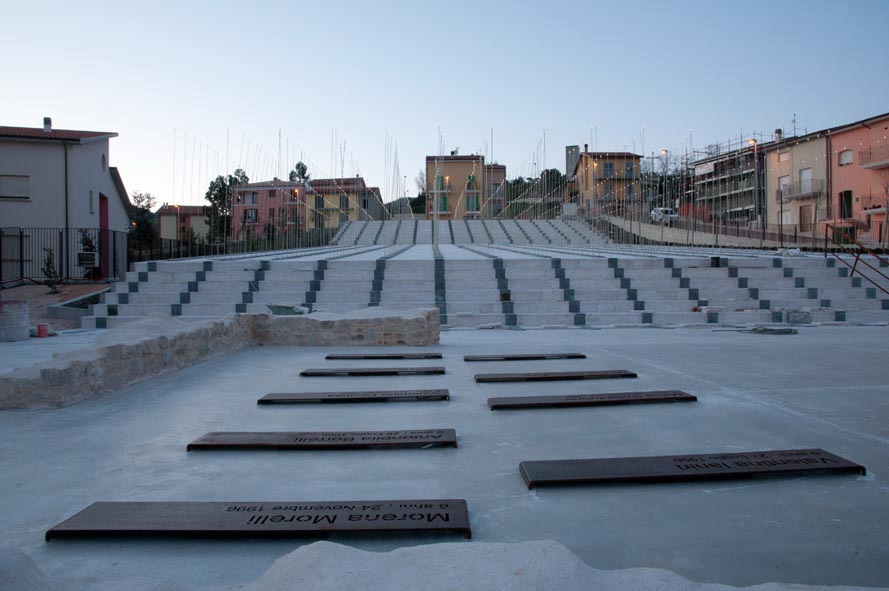 BOX
Il progetto del parco della memoria è stato esposto dal 4 al 10 ottobre all'interno del  WTCA Pavilion presso l'Expo Universale di Shanghai, nell'ambito della mostra organizzata dall'OICE. Nel Novembre 2010 è stato candidato all' European Union Prize for Contemporary Architecture Mies van der Rohe Award, uno dei più prestigiosi riconoscimenti al mondo.
Committente: Regione Molise – Ufficio del Soggetto Attuatore – Comune di San Giuliano di Puglia (CB).
Tempi: Concorso 2006 – Realizzazione gennaio 2011
Importo dei lavori: 1.2 milioni di Euro
Superficie intervento: 5.000 mq
Progettisti: SUD'ARC-H – Santo Marra (capogruppo), con Pietro Latella, Luciana Polimeni , Nieves Mestre
Manuel Leira, Vincenzo Mantuano
Per vedere tutti i progetti del concorso: http://www.parcodellamemoria.it/