SCOTLAND + VENICE ANNOUNCES KARLA BLACK TO REPRESENT SCOTLAND AT 54TH BIENNALE VENEZIA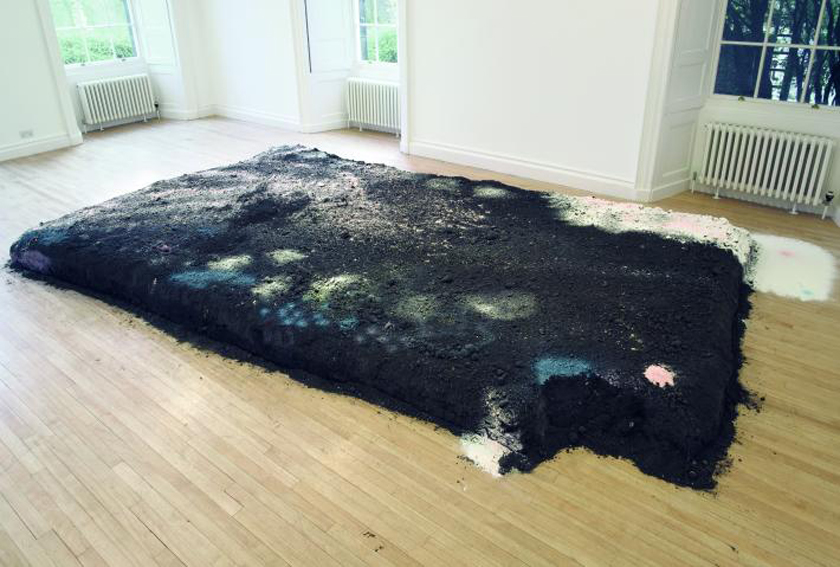 http://www.scotlandandvenice.com/
Monday 19 April 2010
Artist selected for Scotland and Venice 2011
Visual artist Karla Black has been selected to represent Scotland at the 54th International Art Exhibition – La Biennale di Venezia, the world's largest and most prestigious showcase for contemporary visual arts. Selected from an open call, the exhibition will be curated by The Fruitmarket Gallery for presentation in Venice from June to November 2011.
Visual Artist Karla Black, welcomed the decision: "I am very much looking forward to making an exhibition in the Scottish Pavillion at Venice next year" Fiona Bradley, Director of The Fruitmarket Gallery added: "The Fruitmarket Gallery is delighted to have been selected to curate Scotland and Venice 2011, and to be working with Karla Black. Karla is one of Scotland's most interesting artists, whose beautiful, thoughtful and visceral sculpture has already made an impact internationally and in Scotland. This solo presentation of her work will be part of The Fruitmarket Gallery's programme for 2011 and underlines the gallery's commitment to presenting the work of Scottish artists on an international stage, both in Edinburgh and abroad."
This will be the fifth presentation from Scotland and Venice, a partnership between the Scottish Arts Council, National Galleries of Scotland and the British Council. It builds on the critical success of previous projects which have promoted artists including Turner Prize winner Simon Starling and Turner Prize nominees, Cathy Wilkes, Jim Lambie and Lucy Skaer.
Culture Minister Fiona Hyslop said:
"Following the tremendous success of Martin Boyce's installation 'No Reflections' at the 2009 Biennale, I am delighted to see the same partners working together to ensure an equally inspirational Scottish presence in 2011.
'This is a clear demonstration of the continued growth and achievement of Scotland's visual arts sector. As the largest arts festival in the world, the Venice Biennale provides an excellent platform to showcase our talent to a global audience.
'I am confident that Karla Black's involvement will build on the success of previous years and look forward to hearing the detail of the project."
Jim Tough Chief Executive, Scottish Arts Council said:
"The Venice Biennale is the most prestigious showcase for the visual arts and we are proud to once again present a major solo show. We look forward to working closely with one of Scotland's most exciting artists and with The Fruitmarket Gallery, whose
demonstrated curatorial excellence will help build on Scotland's exceptional reputation at this international showcase.
Simon Groom, Director of Modern and Contemporary Art, National Galleries of Scotland said: We are delighted to be working with the Fruitmarket Gallery to bring the work of Karla Black to a wider audience, building on our commitment to support and promote on an international level the work of the most interesting contemporary artists emerging in Scotland.
Paul Docherty, Director, British Council Scotland said:
"As an organisation that builds cultural links for Scotland overseas, we are thrilled to be involved in Scotland's presence at the Venice Biennale, alongside exhibitions from Wales and Northern Ireland and the UK Pavilion. We believe Karla Black's work will help bring the world to Scotland and promote Scotland to the world in the stimulating international context of Venice."
Notes to Editor
· Scotland and Venice 2011 is a partnership between the Scottish Arts Council, National Galleries of Scotland and the British Council Scotland
· The first Scotland and Venice partnership project was in 2003 – at that time the partners were Scottish Arts Council and British Council Scotland. The National Galleries of Scotland joined the partnership in 2005.
· Since 2003 Wales, Northern Ireland, Scotland have developed separate exhibitions as a compliment to the British Pavilion, broadening the range of the country's representation at the Biennale.
· The artist selected for the British Pavillion is Mike Nelson. He will present a solo exhibition in the British Pavilion, which will run from June to November 2011.
Opening dates are yet to be confirmed.
· Karla Black is represented by Mary Mary, Glasgow and Galerie Gisela Capitain, Cologne.
· Black has attracted attention over recent years for her expansive floor works and hanging sculptures, created from materials that suggest both a sensory recollection of childhood: powder-paint, crushed chalk and sugar paper; and a distinct feminine association: lipstick, nail varnish and body cream.
· The artist's use of cosmetic products and other loose materials, and the processes of her art-making viscerally evoke both the body and the natural world.
The interplay between the cosmetic and surface, form and formlessness, is everpresent. Black's sculptures appear to be as much a reference to Minimal and performative practices of the late 1960s, and the anti-form works of Eva Hesse and Robert Smithson.
· A fully illustrated catalogue has just been published by migros museum, Zürich, Der Kunstverein Hamburg, Inverleith House, Edinburgh, Modern Art Oxford and JRP Ringier.
For more information or images of Karla Black's work, please contact:
Charlotte Rowland – Scottish Arts Council – E: media.office@scottisharts.org.uk – T: 0131 240 2498 – M: 07747 606 146