ARMAN AT LES BAUX-DE-PROVENCE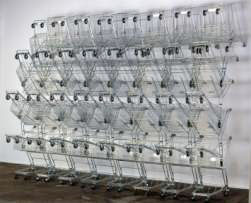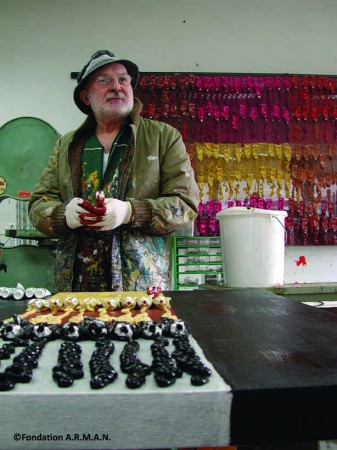 From 4th June to 16th October 2011, Les Baux-de-Provence is turning the spotlight on French artist, Armand Fernandez, who is much better known under the name of Arman. He was born in Nice in 1928 and died in New York in 2005. In autumn 2010, the Centre Pompidou staged a major exhibition of his work, which then travelled to the Tinguely Museum in Basel. Now Les Baux-de-Provence is providing an unusual approach to the artist. For the first time, visitors will be able to enter Arman's world by following a trail that takes them from studios to art works and from the artist's innermost thoughts to his creativity.
It is the atmosphere of his home and workplace that will be reinterpreted in various locations in Les Baux-de-Provence. "We wanted to recreate Bidonville, Arman's family home in the South of France, with the artist's studio and his Shooting Colours floor, the sculpture studio filled with all the everyday detritus that Arman used in his works and, finally, his drawing studio. The trail in Les Baux will show how Arman worked and give greater insight into his techniques and art," said Marion Moreau, President of the A.R.M.A.N. Foundation, the artist's daughter.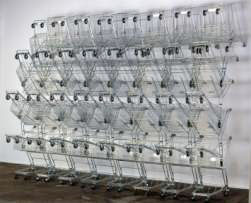 Along the way, in the Porcelet Residence – Brayer Museum, Arman's works will be displayed in all their technical diversity and rich creativity.
The visit ends in the evening with a stroll through the streets of the mediaeval town, where Arman's works will be projected onto walls.
Children's workshops will echo the artist's studios. They will help children to learn about his work by trying out certain actions and playing with everyday objects until they lose their utilitarian function, become transformed and are seen in a whole new light. It's a unique experience!
Painter, sculptor and artist famous for his "accumulations", Arman was a pioneering artist who marked the 20th century with his way of displaying items and creating with objects. Watches, dolls, cars, tools, cameras, crutches and musical instruments – anything manufactured can be used creatively.
The trail has been designed specifically for Les Baux-de-Provence by the A.R.M.A.N. Foundation to turn a gentle stroll into a learning experience, and a spot of sightseeing into fun. It will appeal to everybody – families, art lovers and visitors who have come to see the treasures of the old walled town. "We want to establish a rich, dynamic cultural life that is evident throughout the year in our community. This is not a new policy but we want to give it greater impetus. Because of this, we opened our town to Marion Moreau so that she could install her father's works and pass on a close, very personal view of his work," continued Michel Fenard, Mayor of Les Baux-de-Provence.
A trail for all ages. Definitely not to be missed!

Pass: 7 € – Discount price: 5 € (7-17 year-olds, students and groups of more than 20 people).
No charge for under7's, holders of certain cards.
www.lesbauxdeprovence.com
www.fondation-arman.ch
Tourist information desk: + 33 (0)4 90 54 34 39
tourisme@lesbauxdeprovence.com / www.lesbauxdeprovence.com
Arman at Les Baux-de-Provence
The Manville Residence, built in the Renaissance style, will house the drawing studio and the installations "La Chute des Courses" (The Trolley Cascade) and "La Grande Nuit" (Darkest Night).
The Post Tenebra Lux building (a Latin expression meaning "after the darkness, the light") will host the sculpture studio, amid the remains of the Renaissance building dating from 1571.
The old water storage tank in Les Baux-de-Provence, now an Arts Centre, will contain the painting studio and documentaries will be shown in the Media room of the building dating from 1868.
Some sixty of Arman's works will be exhibited at the Porcelet Residence – Brayer Museum, one of the most beautiful houses in Les Baux, dating from the 16th century.
In the streets
At night, some of Arman's works will be projected onto the walls of the buildings lining the narrow streets of the historic old town.
And there's more
Guided tours
Children's workshops
Meetings with the A.R.M.A.N. Foundation
Arman and the New Realists
Arman belonged to the New Realist movement. Founded in 1960, it was an artistic movement that used new materials such as detritus, industrial items or even the most insignificant objects in a manner that mocked and criticised the consumer society.
The group of artists to which Arman belonged widened the range of techniques to create a whole new artistic genre.
The A.R.M.A.N. Foundation
Set up in 2006, the A.R.M.A.N. Foundation (Arman Research Media Art Network) aims to introduce the general public to Arman's world through his works and sources of inspiration.
The A.R.M.A.N. Foundation manages a documentary collection consisting of works (5,500 proven documented pieces) and family archives (letters, photos, drawings, notes etc.).
The A.R.M.A.N. Foundation has its headquarters in Geneva.
Media contact,
Les Baux-de-Provence
Claire Novi, Press Officer
clairenovi@lesbauxdeprovence.com
presse-arman@lesbauxdeprovence.com
Tel. +33 (0) 490 972 541
+33 (0) 681 399 143
Media contact,
A.R.M.A.N. Foundation
Agence Apocope
Audrey Lautard / Dorothée David
presse@agenceapocope.com
Tel. +33 (0) 145 788 737
Project Leader,
"Arman at Les Baux-de-Provence"
Bernadette Quilici
b.quilici@wanadoo.fr
contact-arman@lesbauxdeprovence.com
Tel. +33 (0) 490 972 541
Tel. +33 (0) 615 766 407