CHILEAN PAVILION AT THE VENICE BIENNALE 2011 | FERNANDO PRATS: A NOTE ABOUT THE SISMOGRAFIAS PROJECT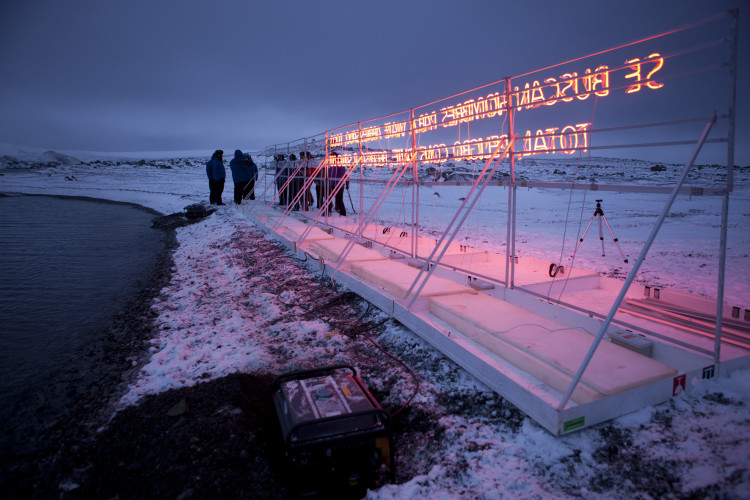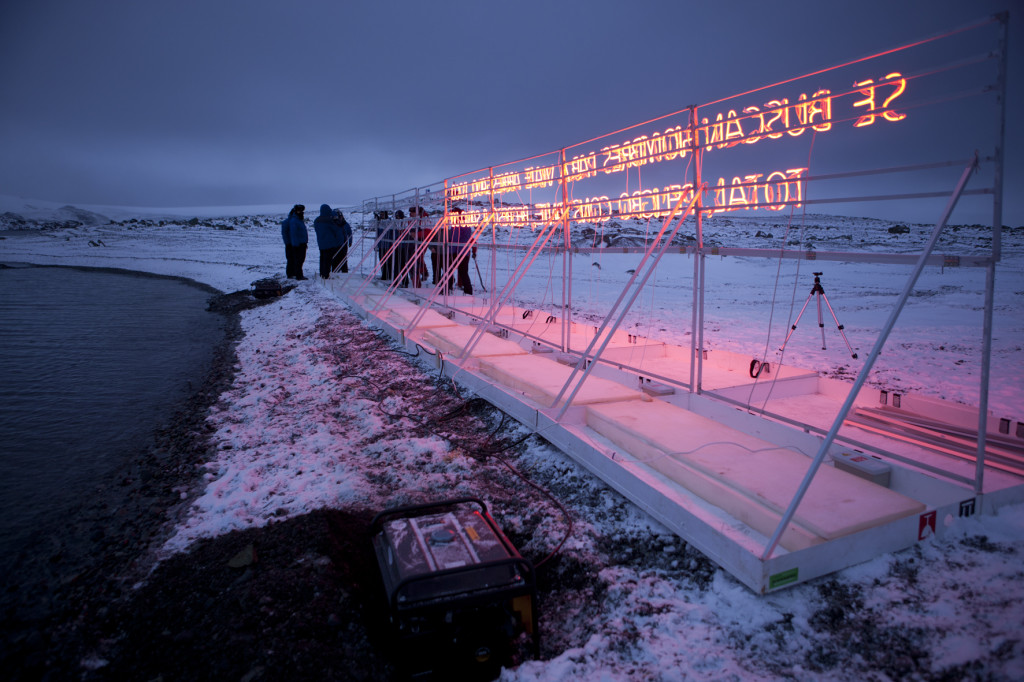 Critical Text by Fernando Castro Flórez

Fernando Prats: a note about the Sismografías project.
[Sent from Chile to the 2011 Venice Biennial].
Fernando Prats is the perfect example of the contemporary creator who is able to remain open  to the wonderful paths of painting without clutching to established dogmas or surrendering to an ultimately decorative hybridization. He resumed the conception of painting as an event with incredible lucidity and an atypical passion for dripping.
Fernando Prats works almost as an alchemist, curing with smoke the old surface of representation so that now things can be produced which are not, in any way,  anecdotal.
His work is simultaneously a different manifestation of subjectivity and a rare withdrawal, which leads me to think that the hand (the appendix that has converted us in what we are today) is becoming unessential. Fernando Prats effectively stones his paintings, he lets the branches whip them or that the doves leave the marks of the flapping of their wings on them; the photographs of his work process reveal that he even licks the smoke cured surface of the paintings in order to leave enigmatic traces, or that even worms "draw" fascinating labyrinthical lines on the fertile territory of this other incarnation of painting.
Fernando Prats wants to overcome the "painting instruments" so that the work of art can be produced in the gap between the world and earth; it is, in fact, the hermeneutic space of friction between that what is at hand and that which is kept as a treasure (in a deliberate simplification of the Heideggerian considerations on the origen of the work of art) where the truth is molded with some luck and weather permitting.
When Prats transports the plastic sheets, with which he had coated and veiled Ignacio de Loyola's mystical cave of ilumination in Manresa, to the artic glaciers , he is materializing, in an extraordinary fashion, a new aesthetic geography. His rites are primarily related with his desire to contribute to the aesthetic commotion art that, since the Aristotles era, has been typified as catharsis. When catastrophe approaches, in that moment when life (figuratively speaking) becomes unbearable a purification happens, which, undoubtedly, teaches us something. The curtain drops or the "deus ex machina" percipitates to the stage with a racket so that logical thought can assume, after the period of hoping, the conflict of what we have left. It's precisely what is left that Fernando Prats obsesses about, that which we do not know if is too much or too litle. Fortunately, rather than reiterate an aesthetization of the scatological (something manifestly normative in contemporaneity), what this creator elevates as an obscure map are the several trails of a nomad art.
Fernando Prats travels to the unknown but also towards the beginning, in his reduction to smoke of the pictorial surface he is not contented with Malevitch's desert nor does he have nostalgia for what lies behind (the Byzantium gold) but in what triggers fate, he acts so that the magical reveals itself.
The Sismografías project that Fernando Prats will present in the Chilean pavillion in the Venice Biennial establishes a dialogue between three pieces, which are, in themselves, processes of time condensation: an intervention centered around the volcanic eruption in Chaitén, an impressive series of pieces from after the tremendous Chilean earthquake in 2010 and a neon letters installation, which aims to revive the advertisement published by Shackleton when he recruited men capable of facing the antarctic trip.
Prats plans, in an extremely intense and committed way, a map of tremors and fractures of nature, which is more cruel than sublime, composing a sort of processual vanity. It isn't only a "scripture of disaster", using Blanchot's terminology, but also a manifestation of the subject as one who, in spite of all, is capable to assume an heroic position. Even if being shipwreck is the only possible adventure from the starting to the finishing, it doesn't mean that we have to commune with nihilism, on the contrary, the catastrophe forces us to start from the beginning, even if treading lightly.
Fernando Prats travels across his country with a map blurred by smoke, treading on a soil made into ash, inserting his papers into the cracks, gazing into a glacial horizon. His remarkable seismographic method demonstrates that the map is not only a representation of the territory but also that, following an extreme event, its testimony is inevitably sombre.
Fernando Castro Flórez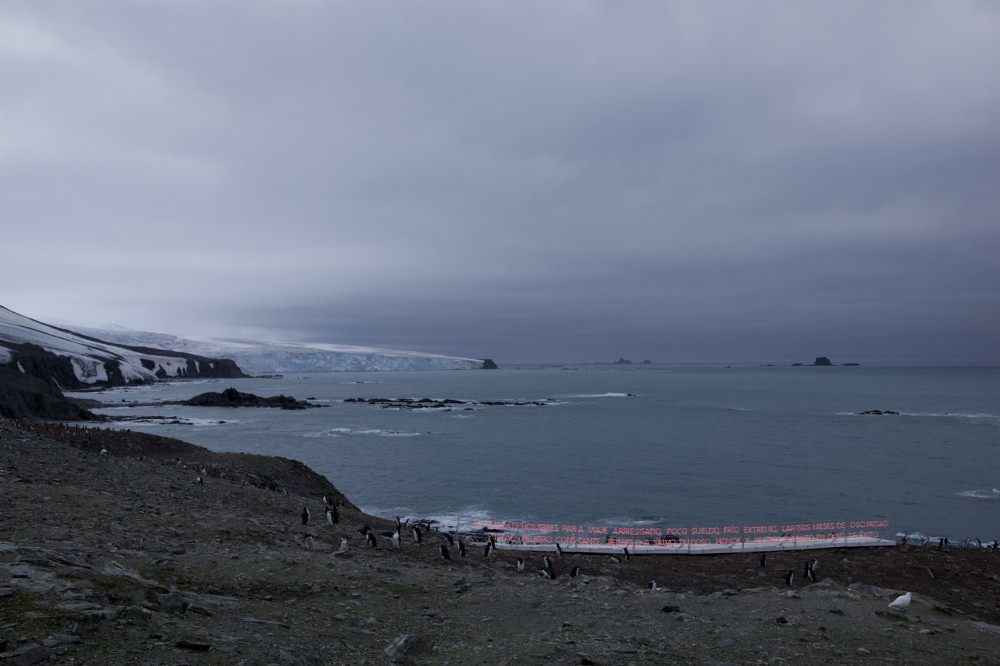 Testo Critico di Fernando Castro Flòrez
Fernando Prats è l'esempio perfetto del creatore contemporaneo capace di aprire i meravigliosi percorsi della pittura senza aggrapparsi a dogmi prestabiliti né tendere verso una ibridazione meramente decorativa. Con una lucidità incredibile, Prats recupera il concetto della pittura come azione, senza tuttavia riprendere, alla maniera manieristica, la passione per il dripping.
Fernando Prats lavora, quasi come un alchimista, affumicando l'antica superficie della rappresentazione affinché si producano cose che non siano aneddotiche.
La sua opera è, simultaneamente, una manifestazione differente della soggettività e una rara sospensione che fa pensare che la mano (questa appendice che ci ha trasformato in ciò che siamo) sia assente. Effettivamente, Fernando Prats pietrifica i suoi quadri, lascia che i rami li sbattano o i piccioni lascino lo stampo delle loro ali su di essi; le fotografie del processo creativo rivelano che arriva a leccare la superficie fumosa per lasciare enigmatiche impronte o, ancora, lascia che i vermi "disegnino" affascinanti linee labirintiche nel fertile territorio di quest'altra incarnazione della pittura.
Fernando Prats vuole superare gli "strumenti della pittura" affinché l'opera d'arte si produca nel solco fra mondo e terra; è esattamente nello spazio ermeneutico di frizione tra ciò che sta a portata di mano e ciò che è carpito come un tesoro (in una semplificazione deliberata delle considerazioni heideggeriane in merito all'origine dell'opera d'arte) che la verità prende forma quasi, fosse una sorta di manifestazione atmosferica.
Quando Prats trasporta fino ai ghiacciai artici le tele di plastica, con le quali aveva coperto e velato la grotta dell'illuminazione mistica di Ignazio di Loyola in Manresa, sta materializzando, straordinariamente, una nuova geografia estetica. I suoi riti hanno a che vedere, primordialmente, con il desiderio di fornire all'arte della commozione estetica che, da Aristotele, viene identificata come catarsi. E' quando la catastrofe si avvicina, nel momento in cui la trama della vita (figurativamente parlando) diventa insopportabile, che si compie una purificazione la quale, indubbiamente, ci insegna qualcosa. Il sipario cade e il "deus ex machina" precipita strepitando sulla scena affinché il pensiero logico assuma, dietro il tempo dell'illusione, il conflitto di quello che abbiamo lasciato. Precisamente il resto è ciò che ossessiona Fernando Prats, quello che non sappiamo se è in più o manca. Fortunatamente invece di reiterare un'estetizzazione dell'escatologico (qualcosa di chiaramente normativo nella contemporaneità), ciò che questo creatore eleva come una mappa oscura è la traccia plurale di un'arte nomade.
Fernando Prats viaggia verso lo sconosciuto ma anche in direzione al principio, nella sua riduzione a fumo della superficie pittorica non si accontenta del deserto di Malevitch né ha nostalgia di ciò che sta dietro (l'oro di Bisanzio) ma attiva la casualità, agisce perché il magico appaia.
Il progetto Sysmografias che Fernando Prats presenterà nel Padiglione del Cile alla Biennale di Venezia stabilisce un dialogo tra tre parti che sono, tra loro, processi di condensazione del tempo: un intervento in merito al disastro dell'eruzione vulcanica del vulcano Chaitén, una serie impressionante di pezzi in onore del terribile terremoto accaduto in Cile nel 2010 e un'installazione con lettere a neon che recupera l'annuncio che Shackleton pubblicò quando reclutò uomini capaci di affrontare l'avventura del viaggio antartico.
Prats traccia in maniera estremamente intensa e compromettente una mappa di tremori e fratture, della natura che è più crudele che sublime, componendo una sorta di vanità processuali. Non si tratta unicamente di una "scrittura del disastro" in termini di Blanchot, se non di una manifestazione del soggetto come ciò che è capace, nonostante tutto, di assumere una posizione eroica. Anche se tra la partenza e l'arrivo l'unica avventura possibile è il naufragio, questo non vuol dire che dobbiamo arrenderci al nichilismo, al contrario, la catastrofe obbliga a cominciare dal principio, anche se fissando solo impronte minime.
Fernando Prats ripercorre il suo paese natale con una mappa, accecato per il fumo, calpestando laddove il suolo è cenere, introducendo i suoi fogli nelle crepe, dirigendo il suo sguardo verso un orizzonte glaciale. Il suo singolare metodo sismografico dimostra che la mappa non è solo una rappresentazione del territorio, ma anche che, a seguito di un evento estremo, diventa una testimonianza inevitabilmente cupa.
Fernando Castro Flòrez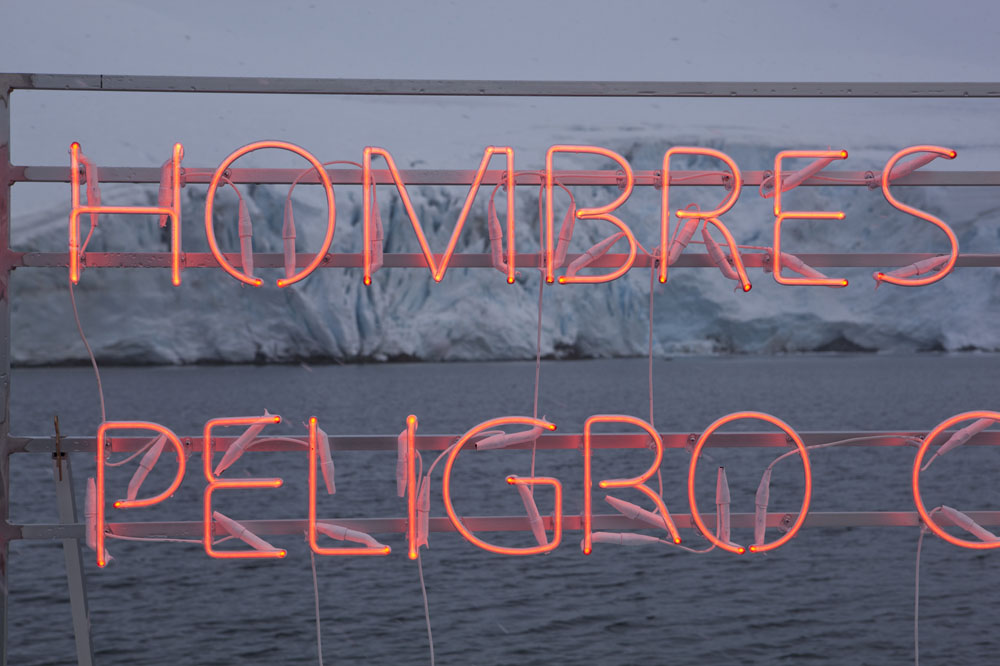 Ambitious project by artist Fernando Prats will represent Chile at the 54th International Art Exhibition -la Biennale di Venezia

Fernando Prats is the artist selected for the Chilean Pavilion at the forthcoming 54th International Art Exhibition -la Biennale di Venezia. His project "Gran Sur" (Great South) will be installed in the Arsenals of this ancient city, the most visited spot during the event, and will be in display starting on June 4th through November 27th, 2011.
The assembly consists of three art pieces: an intervention around the impact of the volcanic eruption in Chaitén (2008); a series of works alluding to the earthquake in south-central Chile (2010); and an installation in neon lettering that reproduces the advert that the Irish explorer Ernest Shackleton may have posted circa 1911, calling for men for his expedition to Antarctica.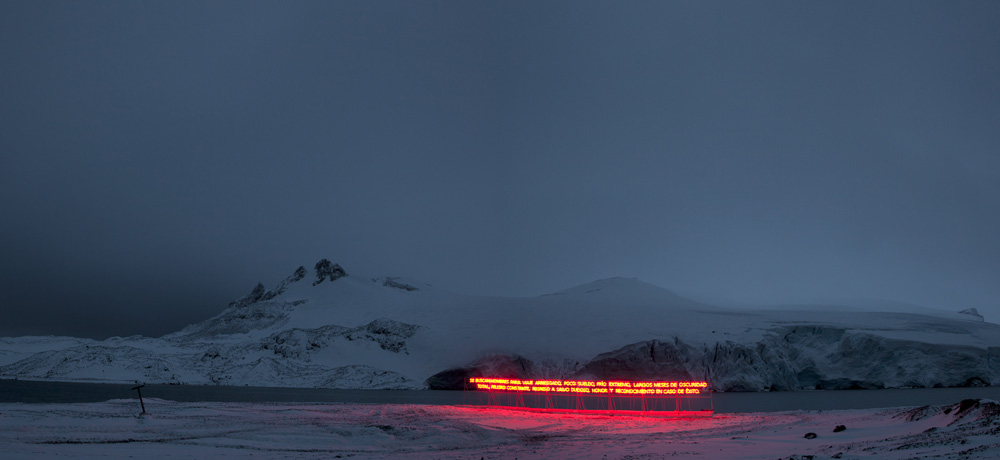 Prats produces images originating from smoke, through which he manages to sediment natural phenomena such as water propelled by a geyser or the surface of an immense glacier. His technique has been praised by notables such as the French theorist Paul Ardenne who recently included the work of Fernando Prats in the current exhibition at the Espace Louis Vuitton in Paris, highlighting him for initiating "a new way of painting".
The Chilean Pavilion at the Biennale di Venezia is a significant element within the policies of internationalization of the visual arts from Chile. In recent years, our presence has both increased and improved. The previous edition in 2009 became a milestone, featuring the work of artist Iván Navarro in the first Chilean Pavilion at the Arsenals.
Considering the importance of this international display, a joint effort was made between the National Council of Culture and the Arts (CNCA), the Ministry of Foreign Affairs and its Cultural Affairs Bureau (DIRAC), the Image of Chile Foundation, ProChile, and the Chilean Navy. Also, the Joan Prats Gallery and the Publisher Polígrafa from Barcelona have joined in as well as the Embassy of Chile in Rome.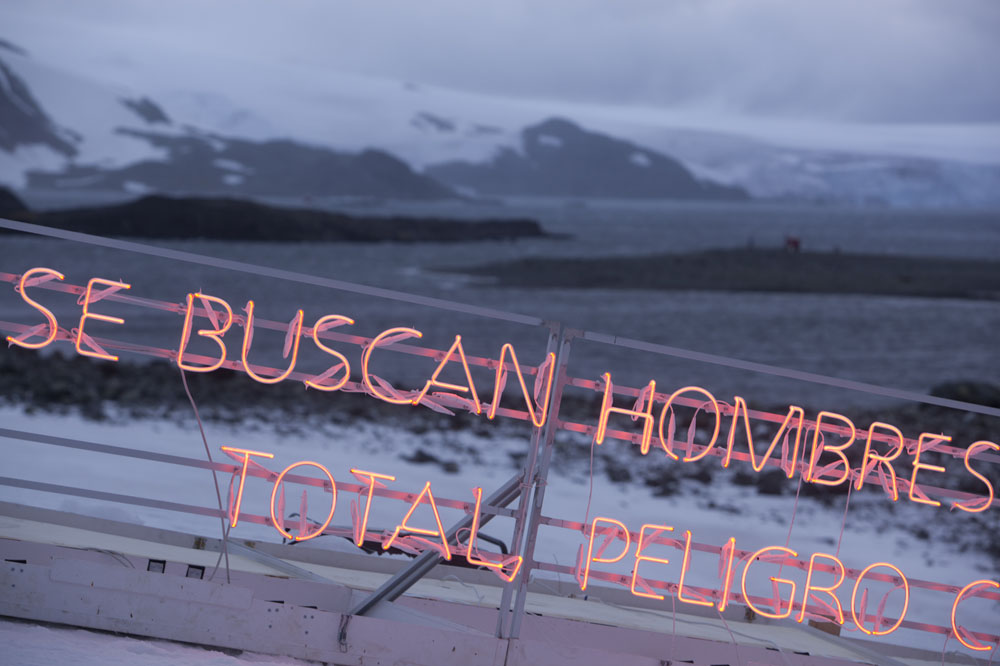 The work of Fernando Prats convinced the jury to represent Chile in this Biennial, considering both the quality and seriousness of his work and also because of his emergence into the international visual arts arena. Fernando Prats will be working with the Spanish theorist Fernando Castro Flórez as curator as well as the Chilean theorist and poet Antonio Arévalo as co-curator.
With this aesthetic proposal inspired in Chile, its geography and telluric conditions, Fernando Prats seeks to exalt the subject capable of taking a heroic stance. The "Gran Sur" project invites to reflect upon the role of geography in the identity of this country.
A central element of his exhibit in Venice will be the expedition that Prats himself carried out last March to the Antarctic territory aboard the Navy icebreaker, Almirante Viel. Commemorating the centennial of the mythical advert that the Irish explorer Ernest Shackleton would have posted in The Times, Prats installed on Elephant Island the text of said advert:
"Men wanted for hazardous journey. Small wages. Bitter cold. Long months of complete darkness. Constant danger. Safe return doubtful. Honour and recognition in case of success".
These words anticipate both the heroism as well as the eventual shipwreck will be later placed in the facade of the Chilean Pavilion at the 54th International Art Exhibition -la Biennale di Venezia.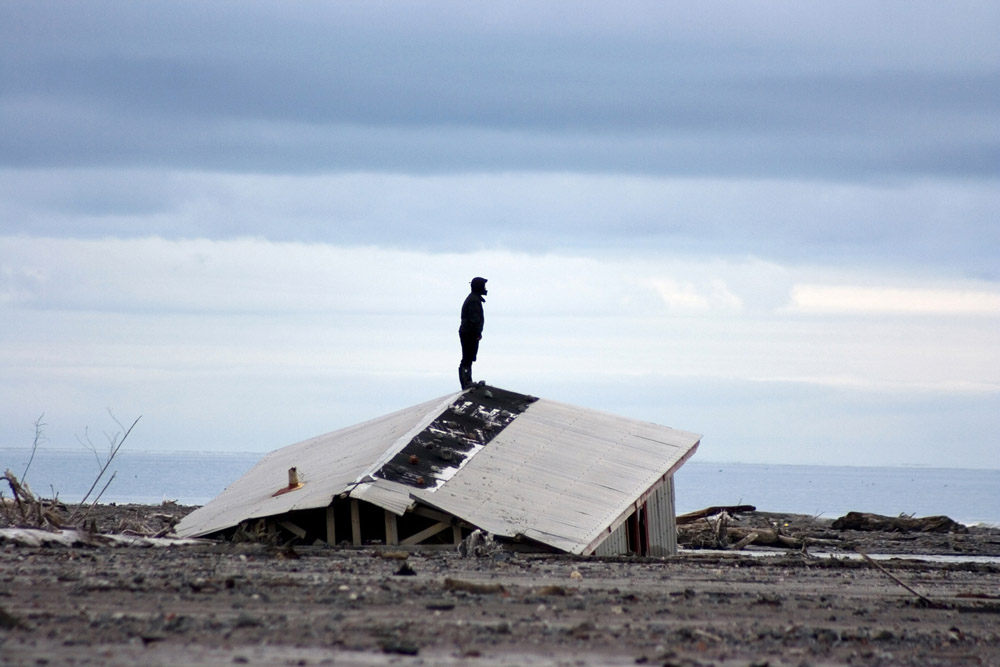 Testo di Antonio Arevalo
La necesidad de seguirle hablando al mundo.
La Bienal de Venecia del año 1993, fue  memorable. Se presentó como una gran panorámica  interdisciplinaria, con  45 participaciones nacionales a las que se agregaron  homenajes a Francis Bacon, John Cage y Peter Greenaway. Bajo la magnífica pretensión de un  título como "Puntos Cardinales del arte" fue posible articular un conjunto  de 15 muestras suplementarias que fijaban las coordenadas de la escena artística de entonces. Cabe destacar en este contexto la  importancia que tuvo  el Pabellón de Alemania,  cuyo pavimento fue completamente convertidos en escombros  por Hans Haacke.  Ese año, la Bienal  dirigida por  Achille Bonito Oliva,  significó dar un salto trascendental en la historia de las grandes reseñas, que en vez de imponer la visión de un único curador o de un team curatorial, propuso un  modelo abierto,  en  que distintos puntos de vista   pusieron en evidencia la necesidad de una situación en que coexisten y conviven fragmentos   culturales de diversa procedencia. Todo esto contribuyó al desarrollo de un pensamiento móvil,   que permitió el estudio de complejas  relaciones entre  representación política y migración del deseo, en formatos que pusieron  en valor prácticas fronterizas que revelaron ser decisivas en los años venideros
Ese año, también, marcó a muchos de nosotros.
El arte chileno había tenido una presencia  esporádica en diversas ediciones de la bienal, siendo huésped del pabellón del Instituto Italo Latino-Americano.  A excepción de Alfredo Jaar, artista ,  arquitecto,  film-maker,  que había sido invitado a participar en la sección "Aperto" en la versión de  1986, nuestra participación no estuvo exenta de indecisiones y obstrucciones institucionales.
En esa ocasión, Alfredo Jaar  interrogó  las posibles interacciones entre  arte y  contexto socio-político, abordando cuestiones relacionadas con las emergencias humanitarias, la migración, la exclusión social y la violación de los derechos humanos y civiles. Su obra se concentró sobre todo en situaciones que la conciencia tiende a ignorar, poniendo en crisis  la retórica con que los medios tienden de manipular y transmitir la  información. Su obra es una pieza de convicción para la correlación entre  ética y estética,  exigiendo de las prácticas de arte   un rol activo y socialmente responsable en la crítica de la cultura.
A diferencia de Brasil, Uruguay y Venezuela, Chile nunca tuvo un  pabellón propio.  Sin embargo, la necesidad de disponer de un pabellón autónomo orientó el pensamiento de nuestras autoridades culturales, pudiendo en el año 2001 montar una hipótesis cuyos efectos fueron decisivos para las decisiones que posteriormente deberíamos tomar. .
Harald Szeemann dirigió esta edición trayendo una mayor representación de artistas de Asia y Europa del Este, favoreciendo la presencia de un gran número de artistas jóvenes, expandiendo el programa en varios espacios del  recién restaurado  edificio del Arsenal.  En esa 49° edición de Bienal de Arte de Venecia, nuestro país  participó por primera vez con  un espacio propio frente a los Arsenales (la Tethis, hoy sede de prestigiosas muestras).  Allí tuvimos el privilegio de   presentar   "About cages", la emblemática video instalación de Juan Downey (Santiago, 1940 – Nueva York, 1993).
Desde sus inicios como artista Juan Downey nos aportó el discurso de una arquitectura flexible y transcultural, que lo ubica como un  importante artista de la vanguardia neoyorquina de los años setenta, amigo entrañable de Gordon Matta-Clark.  Promotor de un  pensamiento lúcido sobre las transmigraciones técnicas de los medios y de los efectos conceptuales  de sus materialidades, desarrolló una reflexión de valor inestimable acerca de nuestra propia construcción de lugar, en el arte contemporáneo. Esto le valió (post mortem) una mención de honor de parte del jurado internacional.
Ahora bien: resulta significativo que en  2009, para la 53ª versión de la bienal,  nos haya representado un artista como Iván Navarro, que pertenece a una generación de artistas nacidos en los años setenta y cuya formación se iniciara en los noventa, en el marco de una densa y compleja transición de regreso a la democracia. En este sentido, habiendo atravesado su infancia por la dictadura militar,  Iván Navarro es un digno heredero de la erudición artística  y del método de trabajo, elaborado  tanto por Juan Downey como por Alfredo Jaar.   Continuidad de un claro hilo conductor, donde la ritualidad cotidiana que convive con el "shock cultural" de una sociedad tardo-capitalista de contradicciones extremadamente comprimidas, logra sublimar la inmediatez y forjar un idioma ético.
Residente en Nueva York hace ocho años, este artista es  un importante referente de la generación de los 90, que ha logrado consolidar una carrera internacional a pasos agigantados. Conocido por sus instalaciones con luces fluorescentes, transformando muebles y objetos de uso doméstico en dispositivos formales de significación diversa, Navarro es reconocido mundialmente por interpelar a los discursos oficiales y recrear aspectos que contribuyen a reflexionar sobre nuestra historia reciente.
Cada vez más se ha hecho  evidente que Chile se ha puesto  como objetivo  impulsar una política que proyecte con fuerza a sus artistas visuales favoreciendo su reconocimiento  en la escena  internacional. Se hizo evidente al cabo de un tiempo la  necesidad de contar con un pabellón autónomo.
Esta es una de las razones por que hoy todos los esfuerzos  hayan sido puestos a disposición del artista chileno radicado en Barcelona Fernando Prats, para que instale con el máximo de rigor   su obra en la Bienal de Venecia. Como bien sostiene la curadora general de la bienal, Bice Curiger, Venecia es uno de los Foros mas importantes para la difusión y la reflexión sobre el desarrollo actual del arte. No podíamos, entonces, asistir sin tomar decisiones de gran compromiso.  ILUMInacion pone literalmente el acento en la importancia de esta función de faro que   irradia señales de autoreflexión y de autocrítica del propio mundo del arte en la construcción de las nuevas coordenadas mundiales.  Las cuestiones ligadas a la defensa de   identidades frente  a la manifestación de crisis migratorias ponen en tensión las consideraciones acerca de qué puede ser entendido como patrimonio, en una época en que la geografía ha adquirido una importancia capital en la cultura. Fernando Prats es un artista que ha hecho del territorio y de la producción de paisaje una superficie de intervención decisiva,  recuperando las huellas catastróficas de la naturaleza, moldeando el carácter y modelando las esperanzas diferidas de  comunidades severamente perturbadas.
Con el nombre de "Gran Sur", Fernando Prats exhibe  los  inquietantes indicios de la potente realidad de nuestra geografía, como es el caso  de un terremoto y la erupción de un volcán, sobre soportes que abren caminos a una superación de los instrumentos de la pintura. Trabajar las superficies de humo implica regresar a la edad de las cenizas. Fernando Prats  se  define como un artista-sismógrafo, que recoge en sus acciones el registro de los movimientos invisibles de las capas subterráneas del deseo. Cada una de las manifestaciones telúricas de las que hizo registros, provocó enormes modificaciones en el territorio del país, obligando al desplazamiento de centenares de personas. Pero además, sella el montaje con  una sorprendente instalación en que reproduce un texto  en neón, que despliega el anuncio que el explorador irlandés Ernest Shackleton habría publicado, alrededor de 1911, buscando el enganche de hombres para su expedición a la Antártica. Es una propuesta extrema para una empresa extrema, que no  solo revela los alcances del espíritu de aventura, sino  que define también la dimensión metafórica del artista como viajero y expedicionario que entiende el territorio como  reserva poética:
"Se buscan hombres para viaje arriesgado, poco sueldo, frío extremo, largos meses de oscuridad total, peligro constante, regreso a salvo dudoso, honor y reconocimiento en caso de éxito".
Este texto, montado en la fachada del Pabellón Nacional de Chile en la 54ª Bienal de Venecia,   expone –como  un augurio-, nuestra  necesidad de seguirle hablando al mundo.
Antonio Arévalo  –  Roma Abril 2011.
Position the cursor on the images to view captions, click on images to enlarge them.
Posizionare il cursore sulle immagini per leggere le didascalie; cliccare sulle immagini per ingrandirle
Arte e Mercato in Cile
ProChile. Settore di Esportazione di Arte.
Il calendario di fiere e biennali in tutto il mondo, riflette un aumento del consumo di arte e un collezionismo crescente. Esiste la convinzione che l'inversione del mercato d'arte sia solida quanto quello immobiliare. Dopo il decennio scorso nel quale si parlava di crisi in merito all'offerta e al volume delle vendite, negli ultimi anni il respiro degli investitori, delle case d'asta, delle gallerie è risorto generando condizioni favorevoli per il mercato internazionale d'arte. Le nicchie specifiche puntano a pittura, fotografia e installazioni.
Il mercato d'arte è andato crescendo dalla metà del 2001. I prezzi delle opere d'arte contemporanee sono arrivati a un livello molto alto, fenomeno incrementato tanto dai collezionisti tradizionali quanto da una nuova classe di ricchi acquirenti. Un numero sempre maggiore di multimilionari e gerenti di fondi di inversione di rischio, sta investendo denaro nel mercato dell'arte.
Il Cile sta crescendo in quest'ambito. Si stanno creando un'offerta e una domanda per il mercato d'arte nel Paese; l'incremento della popolazione, la crescita economica, l'aspettativa migliore di vita, la creazione di nuove scuole d'arte, l'apertura di musei e centri culturali, fanno pensare a dei buoni pronostici per quanto riguarda il mercato d'arte cileno.
Tra i punti di forza del settore c'è il fatto di poter contare su artisti di qualità, con opere che possono presenziare in qualsiasi circuito internazionale. L'esperienza del Cile nelle precedenti edizioni della Biennale di Venezia, dimostra esattamente questo. Analogamente, si percepisce un riconoscimento dell'arte cilena negli stessi circuiti, che è necessario consolidare.
Inoltre, questo tipo di arte comporta un alto componente per l'immagine internazionale del Paese. Nel 2007 in Cile si iniziò un lavoro coordinato, derivato dall'inquietudine delle gallerie cilene e dall'interesse del settore pubblico per dare risposta ai segnali del mercato internazionale, a causa della necessità di inserire il Paese nei circuiti mondiali dell'arte.
Fu allora che prese forma una tavola rotonda per appoggiare l'internazionalizzazione delle arti visuali, dove sono presenti istituzioni come la Corporazione dell'Aumento della Produzione, il Consiglio Nazionale della Cultura e delle Arti, la Direzione degli Affari Culturali del Ministero degli Esteri e ProChile, l'agenzia di promozione delle esportazioni cilene.
E' proprio questo lavoro a permettere che quest'anno il Cile conti un'altra volta con un Padiglione alla Biennale d'Arte di Venezia, con l'opera di Fernando Prats, un artista di gran qualità.
FERNANDO PRATS
FERNANDO PRATS was born in Santiago de Chile in 1967. He lives and works in Barcelona since 1990. Graduate in painting in Escola Massana Barcelona in 1993, degree in Arts in Universidad de Chile in 1996 and post-graduate studies at Universitat de Barcelona in 2000.
He has been showing on the international art scene for the last ten years. He participated in the Second Bienal de Canarias, Pintura-Timanfaya-Los Hervideros, 2009; the Trienal de Chile, Sismografía de Chile, 2009 and in Exposición Universal del Agua, Agitación, Zaragoza 2008. He will represent Chile in the 54 Biennale di Venezia.
He has shown, among many others, at Espai Quatre, Casal Solleric, Palma de Mallorca, Spain; Galeria Joan Prats – Artgràfic, Barcelona, Spain and IVAM, Valencia, Spain. His work has been seen also at International art fairs like Art Cologne, Arco Madrid and Art Basel.
Some important installations, performances and actions: 03:34:17. (UTC-3) 27 de Febrero 2010. Talca, Curepto, La pesca, Rancura, Iloca, Duao, Constitución, Cobquecura, Pelluhue, Dichato, Talcahuano & Lota, Chile, action held days after the earthquake in Chile, 2010; Gran Sur, Valparaiso: Intervenciones, Valparaíso, Chile and Casa de América, Madrid, 2008; Action Steam-Pinturas, New York, 2007; Agitación, Géiser del Tatio, Salar de Atacama and Chuquicamata, Chile, 2006; Del Cardener a la Antàrtida, between Catalonia and the Chilean Antarctic base, 2001-2003; Hacia el Polo Sur, Kunst-Station Sankt Peter Köln, 2003; Deambulatoris, Vic's Cathedral, Spain, 2000; Cripta, Cicle Pandemónium, Espai 13, Fundació Joan Miró, Barcelona, 1995.
Since 1992 he has been awarded with several prizes and has received scholarships from different institutions: John Simon Guggenheim Memorial Foundation Scholarship for his career, 2006-2007; artist in residence at the Kunst Station Sankt Peter Köln, 2002-2003; Presidente de la República scholarship of the Government of Chile, 1997-2000.
Upcoming projects: Gran Sur will be installed in the Chilean Antarctic continent in Isla Elefante; Alquimia in Fundació Joan Miró, Barcelona and Elsewhere in Espace Culturel Louis Vuitton, Paris.