CARLITO CARVALHOSA MAKES HIS NORTH AMERICAN MUSEUM DEBUT AT MoMA WITH THE MONUMENTAL INSTALLATION SUM OF DAYS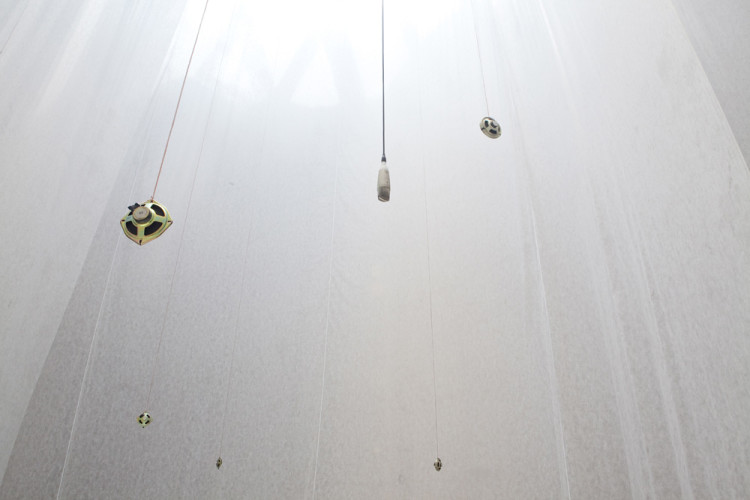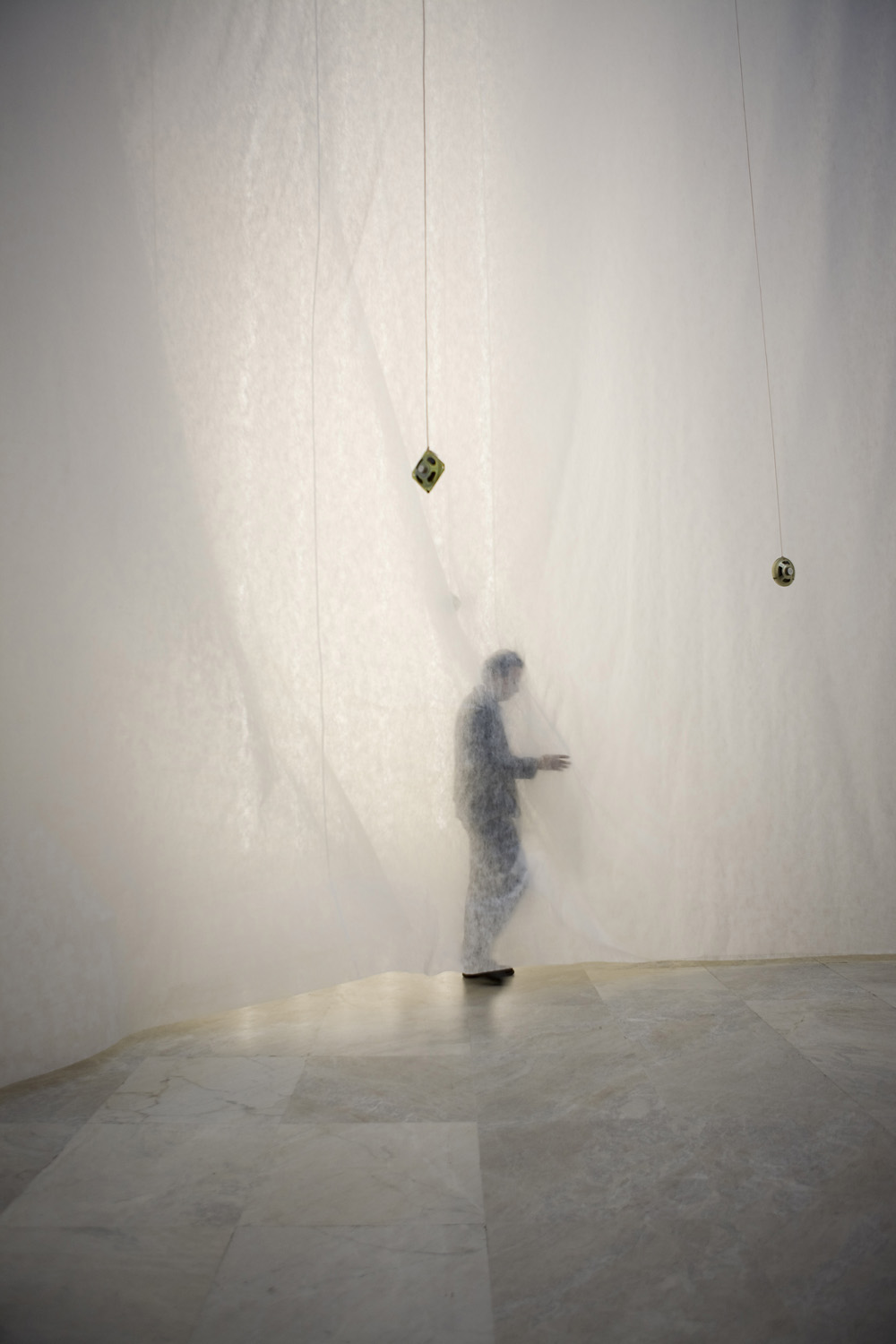 A Construction of Translucent Materials, 60 Feet in Height, Will Fill the Marron Atrium
Carlito Carvalhosa: Sum of Days
August 24–November 14, 2011
The Donald B. and Catherine C. Marron Atrium
NEW YORK, June 27, 2011—The Museum of Modern Art presents Carlito Carvalhosa: Sum of Days, a large-scale environmental and participatory sound installation that will be on view in MoMA's Donald B. and Catherine C. Marron Atrium, from August 24 to November 14, 2011. Constructed from soft, white, translucent material that hangs 60 feet from the ceiling to the floor, this monumental, voluminous installation takes the shape of an elliptical labyrinth through which Museum visitors are invited to walk. Sum of Days marks the North American museum exhibition debut of Carlito Carvalhosa (Brazilian, b. 1961), one of Brazil's most celebrated contemporary artists. The exhibition is organized by Luis Pérez-Oramas, The Estrellita Brodsky Curator of Latin American Art, and Geaninne Gutiérrez-Guimarães, Curatorial Assistant, Department of Drawings, The Museum of Modern Art.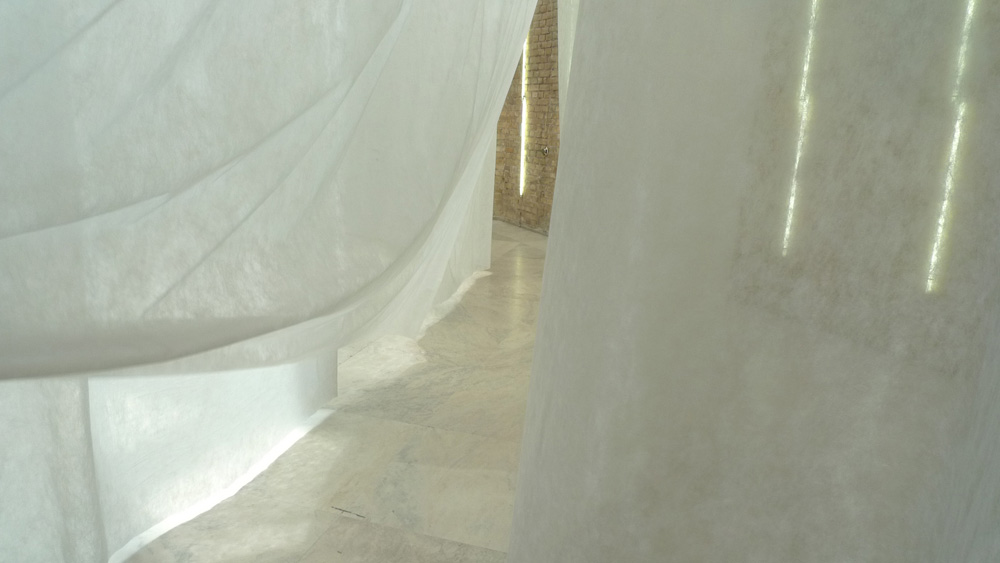 The structure of Sum of Days interrupts the defined limits of the surrounding architectural space, allowing an experience of total immersion while suspending the usual parameters of spatial reference known to visitors. The labyrinth of fabric incorporates a system of microphones that hang from various heights and record the day's ambient noise, which is played back the following day through several speakers. Each day a new recording will gradually superimpose the one from the previous day, thus creating a unique sound installation each day of the exhibition. Adding yet another element of sound will be musical performances chosen and performed by American composer Philip Glass and by members of his musical ensemble. The performers will present original compositions by Glass or by other ensemble members, and play from within the installation for approximately 60 to 90 minutes during public hours between September 8 and November 10. The performances will occur on a weekly basis, with specific performance times to be announced via MoMA's Twitter account (@MuseumModernArt) on the day of the performance. Together, the accumulation of daily ambient sound and musical performances will constitute an immaterial layering of time—an auditory memory of the accidental noise inherent to everyday experience.
Sum of Days was previously on view at the Pinacoteca do Estado de São Paulo, Brazil, from July 31 to November 7, 2010.
About the Artist
Carlito Carvalhosa (b. São Paulo, Brazil, 1961) lives and works in Rio de Janeiro. He studied at the Faculty of Architecture and Urbanism of the University of São Paulo from 1980 to 1984, and was a member of the group Casa 7 throughout the 1980s. Carvalhosa has exhibited in various significant Brazilian venues such as the Museu de Arte Moderna de São Paulo; Paço Imperial, Rio de Janeiro; Museu de Arte Moderna do Rio de Janeiro; Gabinete de Arte Raquel Arnaud and Galeria Millan, São Paulo; Galeria Silvia Cintra, Rio de Janeiro; Museu de Arte Moderna da Bahia, Salvador; Palácio da Aclamação, Salvador; Fundação Eva Klabin, Rio de Janeiro; and the Pinacoteca do Estado de São Paulo. In the fall of 2011 an 18,000-square-foot installation by Carvalhosa will constitute the opening exhibition of the new building of the Museum of Contemporary Art in São Paulo. Major publications about the artist's work include Carlito Carvalhosa (published in 2000 by Cosac & Naify, with texts by Rodrigo Naves, Alberto Tassinari, and Lorenzo Mammì) and Nice to Meet You (scheduled for July 2011 publication by Edizione Charta, Milan, with texts by Luis Pérez-Oramas, Paulo Herkenhoff, Arto Lindsay, Paulo Venancio Filho, Daniel Rangel, Beatriz Bracher, Juliana Monachesi, and João Bandeira). For more information, visit the artist's website at www.carlitocarvalhosa.com.
Position the cursor on the images to view captions, click on images to enlarge them.
Posizionare il cursore sulle immagini per leggere le didascalie; cliccare sulle immagini per ingrandirle.
SPONSORSHIP: The exhibition is generously supported by Mr. and Mrs. Joseph J. Safra. Additional funding is provided by The Contemporary Arts Council of The Museum of Modern Art, Ms. Cleusa Garfinkel, Regina Pinho de Almeida, and an anonymous donor.
WEBSITE:
The exhibition will be accompanied by an original interactive website that enables visitors to explore Sum of Days and to peruse interpretive texts. The site will launch on August 24, 2011. Further details will be made available closer to that date. MoMA.org/carlitocarvalhosa
No. 47
Press Contact:
Paul Jackson, (212) 708-9593, paul_jackson@moma.org
Margaret Doyle, (212) 408-6400, margaret_doyle@moma.org
Public Information:
The Museum of Modern Art, 11 West 53 Street, New York, NY 10019, (212) 708-9400, MoMA.org
Hours: Wednesday through Monday, 10:30 a.m.–5:30 p.m. Friday, 10:30 a.m.–8:00 p.m. Closed Tuesday
SUMMER HOURS JULY 1—SEPT. 3: Sunday through Wednesday, 10:30 a.m.-5:30 p.m.
Thursday through Saturday, 10:30 a.m.-8:30 p.m. (except Saturday July 9, the Museum closes at 5:30 p.m.)