INFERNAL EDEN IN DISTANT GALAXIES BY VINCENZO CECCATO – RO.MI. CONTEMPORARY ART | ROME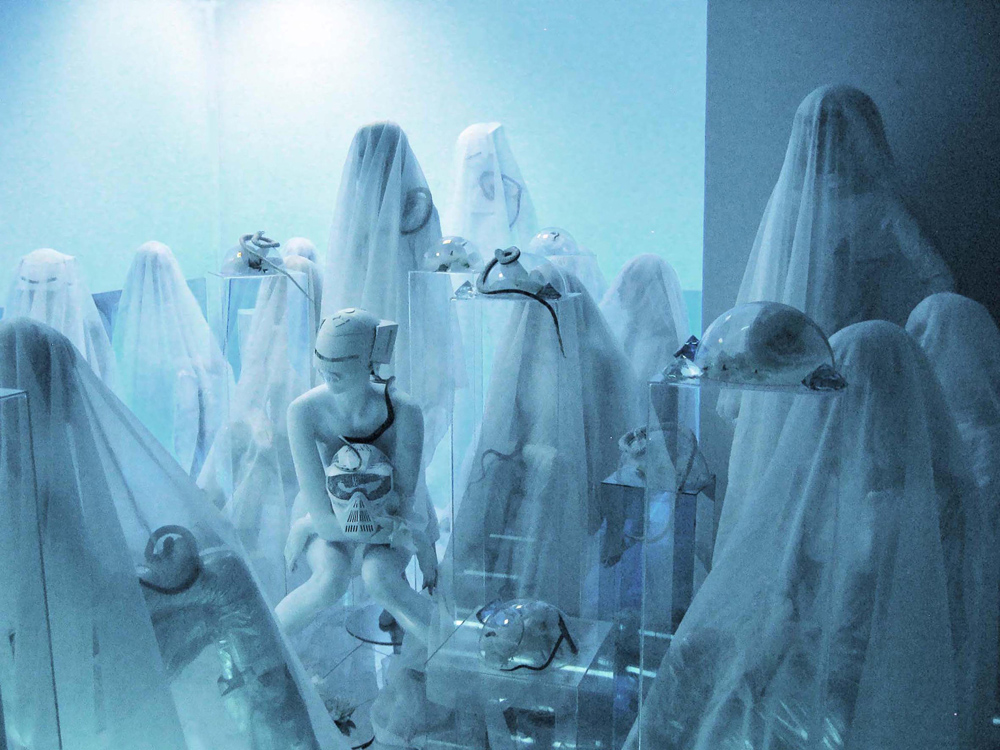 INFERNAL EDEN IN DISTANT GALAXIES
Installation by Vincenzo Ceccato
The latest theories of physics and cosmology on the basis of relativity 'of quantum mechanics and supersymmetry more and more' advanced urges the theory of existence of multiple dimensions of space and other universes (many worlds theory).
Also in this light the mythical garden (Eden) to which I allude the work, may be reinterpreted and updated so radically different implementing a demystifying operation: no more mythical place, fabulous, legendary, but real places, reincarnated in all of the cosmos, and the residence in the universal all spacetime where we are included.
Therefore assimilated entire universe or more universes, governed by physical  laws which  knowledge is  constantly evolving. An Eden be no more 'unrealistic as a place steeped in mythological happiness, but incarnate in the vertigo cosmic dimensions, in its complex laws.
One size abyssal, hence the term "hell" (hell as the abyss, a place below, in different cultures) that occurs in the title. In this perspective is a drop the old religious dogma, cultural, philosophical, handed down for millennia. The only answers to the "hellish" cosmic mechanisms may be only now that the scientific research is so 'to take over if' the 'demonic' liability inherent in the biblical "knowledge of good and evil".
These considerations inspired the installation that, symbolically, he tries to translate into certain feelings and images with specific language art concepts integrating the various scientific hypotheses.
From October 8 to November 12, 2011
Hours: daily except holidays from 16.30 to 20
RO.MI. Arte contemporanea
Via Vetulonia, 55-00183-Roma
www.romiart.net – romi.art@fastwebnet.it – Tel. +39  338 8097446 – +39 06 5115425

in adesione alla settima giornata del Contemporaneo indetta da AMACI

Infernali Eden in remote galassie
Installazione di Vincenzo Ceccato

Le ultime teorie  di fisica e cosmologia, sulla base della relatività, della meccanica quantistica e supersimmetria avanzano sempre piu' insistentemente l'ipotesi dell'esistenza di molteplici dimensioni spaziali e di altri  universi (teoria dei molti mondi).
Sotto questa luce anche il mitico giardino (Eden) a cui allude l'opera, può quindi essere reinterpretato ed attualizzato in modo radicalmente diverso attuando un'operazione demistificante: non piu' luogo mitico, fiabesco, leggendario, ma luogo reale, reincarnato nella totalità del cosmo, la cui dimora é l'universale spaziotempo in cui tutti noi siamo inseriti.
Assimilato perciò all'universo intero o a più universi, governati da leggi fisiche la cui conoscenza è in costante evoluzione. Un Eden quindi non più irrealisticamente inteso come luogo mitologico pervaso di felicità, ma incarnato nelle vertiginose dimensioni cosmiche, nelle sue complesse leggi.
Una dimensione abissale, da cui il termine "infernale" (inferno come abisso, luogo inferiore, secondo varie culture) che ricorre nel titolo dell'opera. In questa prospettiva vengono  a cadere i vecchi dogmi religiosi, culturali, filosofici, tramandati da millenni. Le sole risposte agli "infernali" meccanismi cosmici possono venire ormai solo dalla ricerca scientifica che viene così ad assumere su di sé la "demoniaca" responsabilità insita nella biblica "conoscenza del bene e del male".
Da queste considerazioni trae spunto l'installazione che, simbolicamente, cerca di tradurre in immagini determinate sensazioni e concetti integrando col linguaggio specifico dell'arte le diverse ipotesi scientifiche.
Dall' 8 ottobre al 12 novembre 2011
Orario: 16,30-20 tutti i giorni escluso festivi

RO.MI. Arte contemporanea
Via Vetulonia, 55-00183-Roma
www.romiart.net – romi.art@fastwebnet.it – Tel. +39  338 8097446 – +39 06 5115425