LUIGI ONTANI – THE LIVING BOXES / LE SCATOLE VIVENTI – CASTELLO DI RIVOLI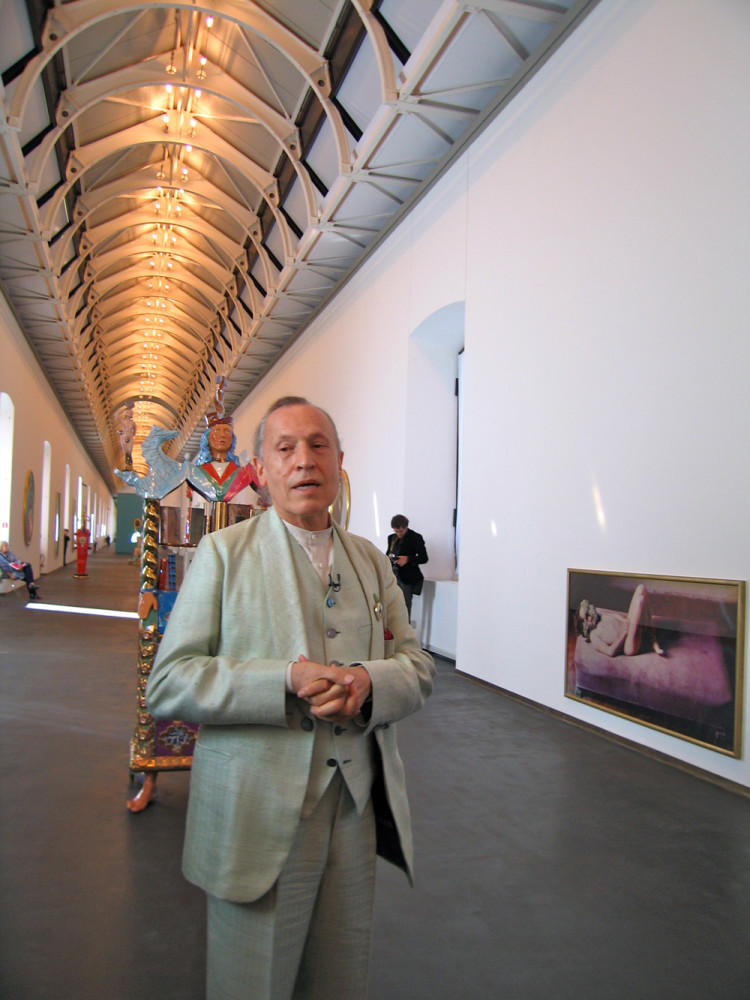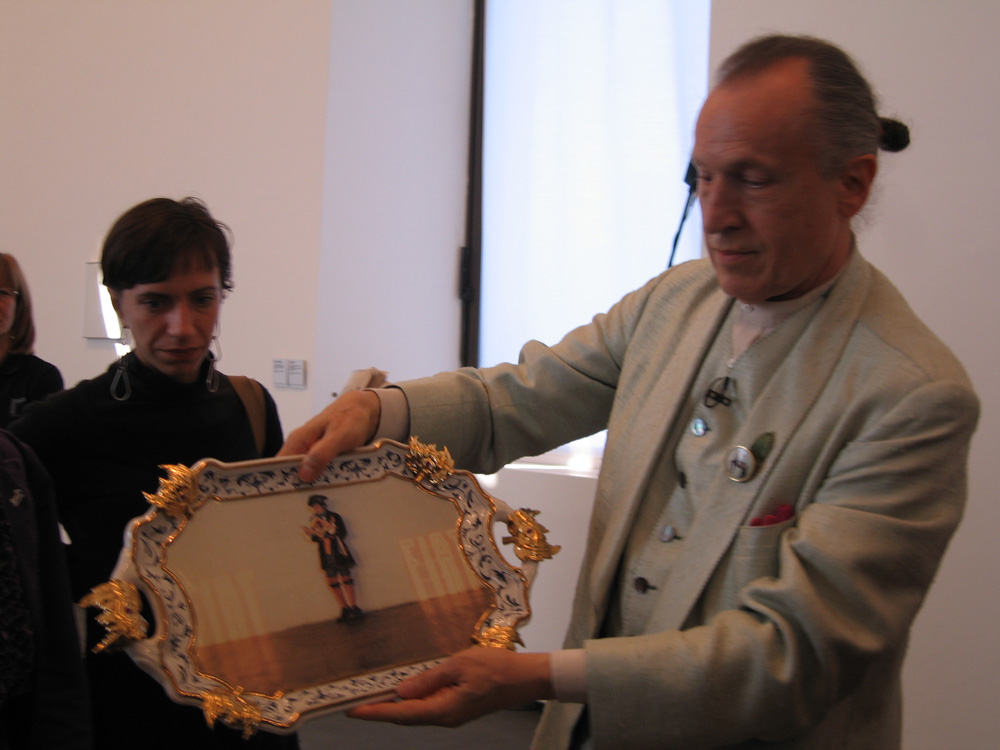 THE LIVING BOXES / LE SCATOLE VIVENTI
Racconti italiani / Italian tales
LUIGI ONTANI
RivoltArteAltrove
Saturday 9 October 2011 – 15 January 2012
As part of the Le scatole viventi / The living Boxes project, the Castello di Rivoli is pleased to present a one-man exhibition by Luigi Ontani: RivoltArteAltrove.
Eclectic and inventive, a pioneer of performance and video art, Luigi Ontani (Grizzana Morandi-Bologna, 24 November 1943) has explored a number of expressive media and numerous themes, from cultured quotations to popular culture. Through the appropriation of a vast repertoire of symbols and visual signs, and resorting to the world of childhood and a playful, free-ranging imagination, Ontani builds a veritable universe of his own of which he is himself the author and actor. The exhibition is formed of a broad range of works that reveal and reconstruct the Italian artist's entire creative process: from the historic series of photos with applied watercolour, realised in India in the 1970s, which includes his Acquaiolo (Water-bearer) and Davide e Golia (Davide and Goliath), both of 1976, and his more recent lenticular light-boxes, such as Nara Garuda Singh, 2002.
The selection also includes some of the ceramics herms, a number of colour photographs, including Pinocchio and Dante, which look forward to the theme of cultured re-reading and transvestism, the wooden masks made in Bali, and Millearti (1985), a historic work of papier-maché. The exhibition will also display some watercolours, photographs called Grottesche, and  some new works inspired by the city of Turin, made especially for the occasion.
The exhibition, which has been planned with the artist himself, will in spring be hosted at the Kunsthalle in Berne.
.-.-.-.
LE SCATOLE VIVENTI / THE LIVING BOXES
Racconti italiani
Un congegno espositivo corale, a più velocità, dedicato alla storia dell'arte italiana e alla storia del Castello di Rivoli
A cura di Andrea Bellini
9 ottobre 2011 – 29 aprile 2012
Il progetto Le scatole viventi rientra in un piano di ripensamento del funzionamento stesso della struttura museale. Si parte da un assunto di base: l'attuale crisi, per quanto indesiderabile e drammatica, può rappresentare un'opportunità per esplorare nuove funzioni e nuove vocazioni del museo. Il Castello di Rivoli, di fronte a questa emergenza, intende sviluppare partecipazione delle comunità locali. Si deve cogliere questa opportunità per trasformare il museo in un luogo di aggregazione, in uno spazio di produzione di idee e concetti inediti. Un museo veramente contemporaneo non può essere un semplice contenitore di opere, ma deve sapersi porre come un congegno intellettuale al servizio al servizio del suo pubblico.
Le scatole viventi rappresentano un inedito congegno espositivo: si tratta di una sorta di mostra in perenne trasformazione, un evento corale costruito su una idea di "discorso" e di "racconto" attorno all'arte contemporanea. L'idea è quella di portare in Manica Lunga (uno degli spazi più curiosi del museo, una sorta di immenso corridoio largo 6 e lungo 146 metri), circa 20 casse "chiuse" contenenti opere d'arte provenienti dalla collezione del Castello di Rivoli, ma anche da lacune collezioni private torinesi. Le casse verranno allineate nello spazio espositivo, all'incirca una ogni 4 metri. Una volta al mese verrà chiesto a diversi importanti personaggi del mondo dell'arte e della cultra di scegliere alcune casse, che sarano quindi "aperte". Gli ospiti commenteranno durante una serata-evento le opere scelte, allestite nella Manica Lunga, creando nuovi racconti e legami tra i lavori. Parallelamente, la prima parte dello spazio espositivo sarà dedicata ad una "stanza d'artista", allestita con lavori preziosi o mai esposti di uno o più artisti "invitati", personalità significative legate alla storia dell'arte italiana, e di Torino in particolare. L'idea è quella di mettere in relazione le "stanze d'artita" con le opere della collezione, in una sorta di gioco di specchi il cui intento è quello di muovere il pubblico verso una maggiore conoscenza della storia dell'arte del nostro paese ma anche della storia del Museo e del suo territorio. SI tratta di un lavoro di approfondimento storiografico, completamente inedito dal punto di vista delle modalità. Il museo deve saper generare incontri e racconti sempre nuovi.
Tra gli artisti invitati figurano personalità del calibro di Luigi Ontani e Pietro Gilardi, mentre tra gli "ambasciatori", per citarne solo alcuni, ricordiamo Andrea Cortellessa, Achille Bonito Oliva, Gianni Vattimo e Tommaso Trini.
Position the cursor on the images to view captions, click on images to enlarge them.

Posizionare il cursore sulle immagini per leggere le didascalie; cliccare sulle immagini per ingrandirle.