MAURIZIO CECCATO: DEAF, DUMB AND CONTAGEOUS * MAURIZIO CECCATO: SORDO, MUTO E CONTAGIOSO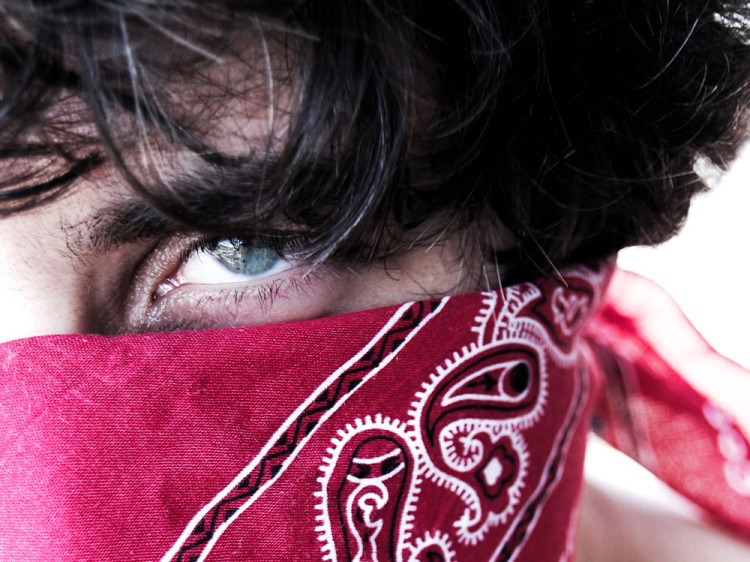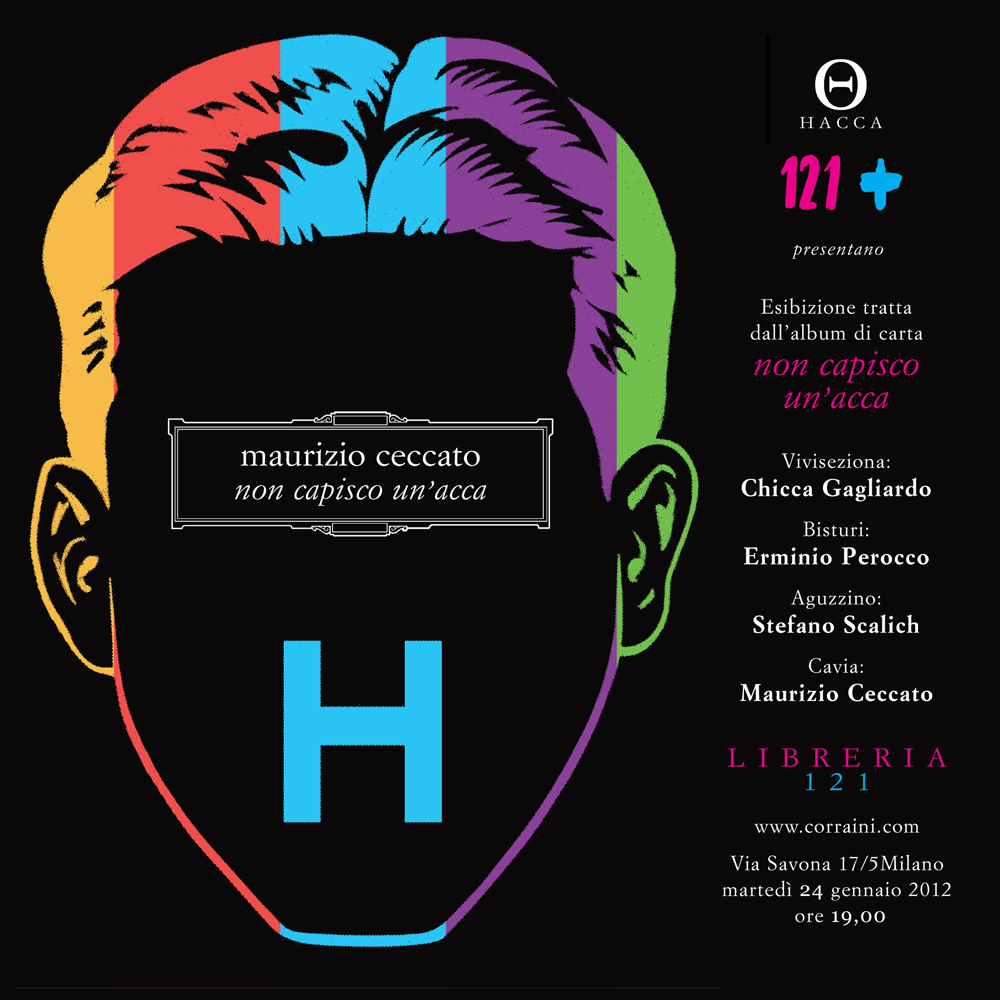 Milan, January 24th, 2012
Non capisco un'acca by Maurizio Ceccato
Libreria 121 – Via Savona 17/5 – 20144 Milano | ph. +39 02 36584119 | 121@corraini.com |www.corraini.com
Hacca Publisher – Via F. Grifoni, 27 – 62024 Matelica (Mc) Italy – 0737.783733 – fax 0737.343116 – www.hacca.it   – Download depliant pdf
Text by Stefano Scalich
MAURIZIO CECCATO: DEAF, DUMB AND CONTAGEOUS * MAURIZIO CECCATO: SORDO, MUTO E CONTAGIOSO
Life is strange but the alphabet can be even stranger, at times. If you're not Italian you maybe didn't know H, the so-called "acca": its sound is nonexistent and yet its overall purpose is paramount, in that it sets words (and mostly meanings) apart from each other separating order from chaos. When the latter happens, Italians have a saying: Non capisco un'acca, a typical catchphrase meaning "Sounds nonsense to me".
In short: the Italian H is deaf and dumb.
Maurizio Ceccato's illustrated book Non capisco un'acca plays with this concept delivering a flamboyant mix where of chaos and order rule the house (of course with an H) and all the while the reader's eyes get more and more lost in a sonic wilderness, where 39 nursery rhymes drone without end obsessively jamming over a gazillion of acca.
Sounds nonsense to you?
Think it over.
In a world where Damien Hirst happens to be dead and Maurizio Cattelan is also dead, it is not so unfitting that Maurizio Ceccato is dead: in Italian, of course.
Back to order and chaos. And back to Ceccato's book, too.
Both gained premiere showcasing time at Corraini' 121+ bookstore on Tuesday January 24th, 2012, when someone attended a situationistic reading much like a creativity epidemic. Someone spoke about Copywriting meets Art direction. Someone saw the following, either in the crowd or pestering the Author (with an H, right)…
Chicca Gagliardo, journalist
Erminio Perocco, creative director
Giulio Passerini, publicist
… anyone was struck by the H-bomb: the dumb-bomb, that is.
 Stefano Scalich – Nonfiction Editor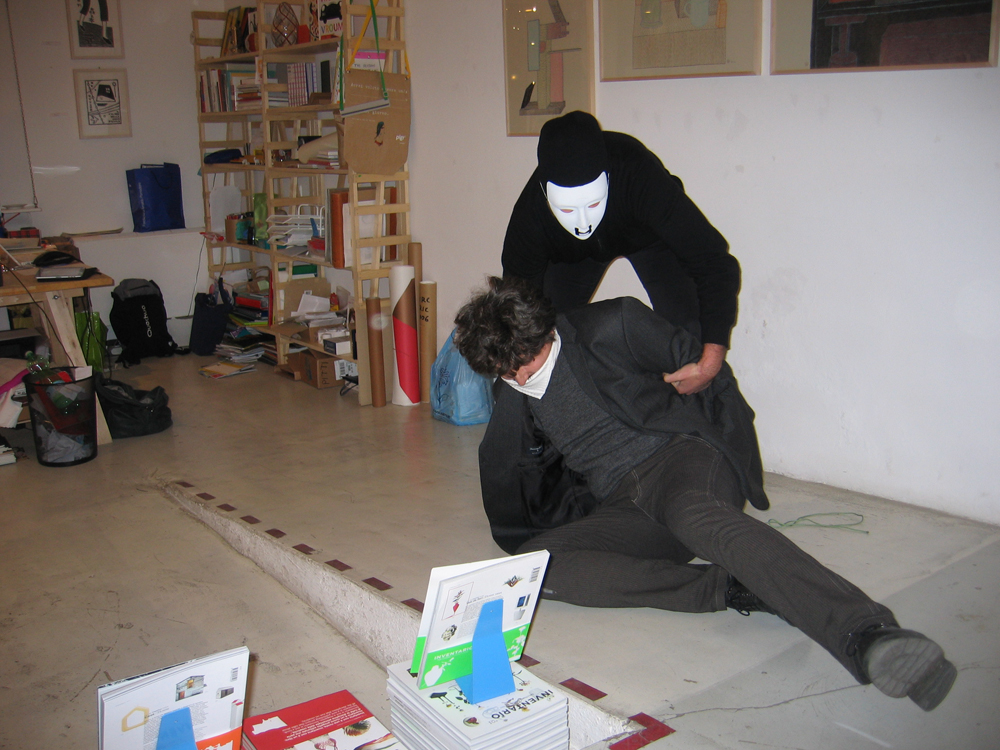 Maurizio Ceccato, nato a Roma nel 1970, è (stato) graphic designer, illustratore ed art director tra i migliori del panorama nazionale ed internazionale. Dice(va) di sé in una sua breve autobiografia. 'Ho partecipato alla Grande Estrazione Occidentale del 1970… e sono uscito con il numero 14 di aprile. Ho imparato a leggere, scrivere e disegnare con i fumetti. A diciott'anni inchiostro pornosaghe, strisce per bambini, cartoni per la pubblicità, manga all'amatriciana. Vestito da illustratore, graphic designer e art director collaboro con diverse case editrici e periodici nazionali ed esteri [il manifesto, Avvenimenti, l'Espresso, Lettere, Fazi Editore, Arcana, Ponte alle Grazie, Lain, Hacca, l'Unità, Payot & Rivages, El torcer nombre, Belio magazine, Drome magazine, Teatro di Roma, Elliot edizioni]. Nel 2007 nasce IFIX srl, società di project design. Fondatore e spacciatore di «B comics» fucilate a strisce, virus a fumetti di intrattenimento radicale. Editore della rivista-libro WATT – senza alternativa'.
maurizio ceccato – art director | designer
www.ifixweb.it – www.maurizioceccato.it – 347 9238275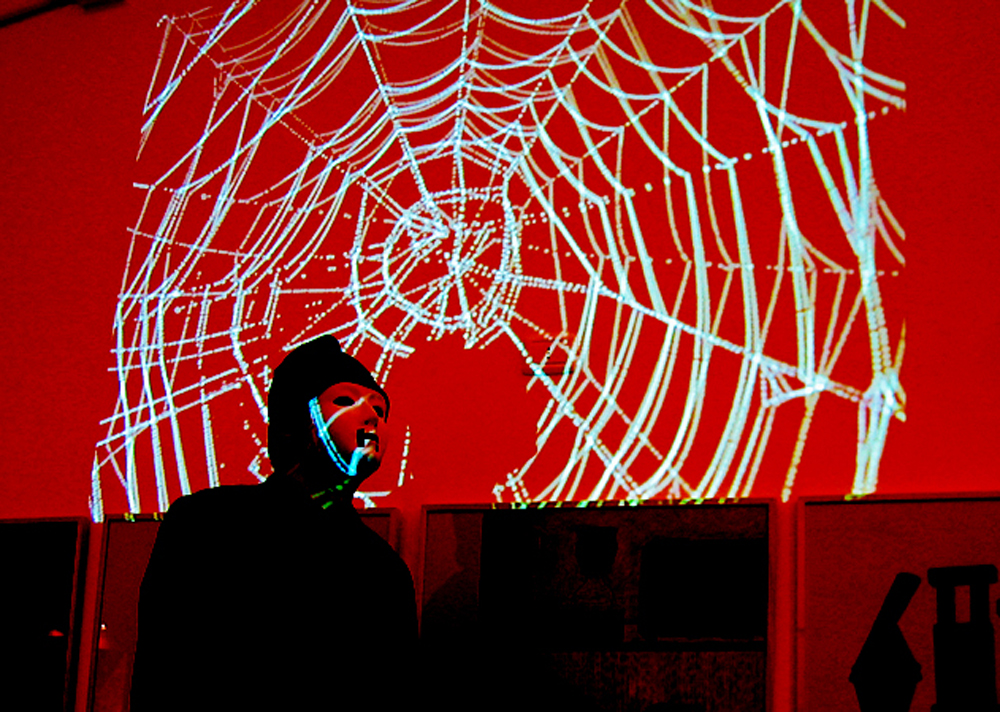 Testo di Stefano Scalish
MAURIZIO CECCATO: DEAF, DUMB AND CONTAGEOUS * MAURIZIO CECCATO: SORDO, MUTO E CONTAGIOSO
La vita è strana ma talvolta l'alfabeto sa essere vieppiù strano. I lettori italiani di questo articolo avranno forse già capito la ragione dell'annunciata stranezza: la H è infatti la lettera muta, oggetto non-identificato nell'universo dei suoni eppure ingrediente chiave per chiunque desideri distinguere le parole (e soprattutto i significati) e dunque separare l'ordine dal caos. Ma qualora anche si presentasse quest'ultima eventualità, i lettori italiani potranno sempre esclamare: Non capisco un'acca.
Ecco l'identikit della H in estrema sintesi: sorda e muta.
Ecco spiegato anche il motivo per cui il libro illustrato di Maurizio Ceccato Non capisco un'acca gioca con il suddetto concetto innescando una sequela di esplosioni creative con ordine e caos che si accapigliano (con l'acca, chiaramente) mentre gli occhi del malcapitato lettore si perdono in una foresta di suoni, generata da 39 filastrocche dominate da un'improvvisazione continua sul bisillabo accacome in una jam session.
Non capite un'acca?
Cercate di capire, allora.
Questo è un mondo in cui Damien Hirst è dato per morto e in cui persino Maurizio Cattelan è analogamente dato per morto; non risulterà del tutto sconveniente, perciò, confessare che persino Maurizio Ceccato è morto: in italiano, ovviamente.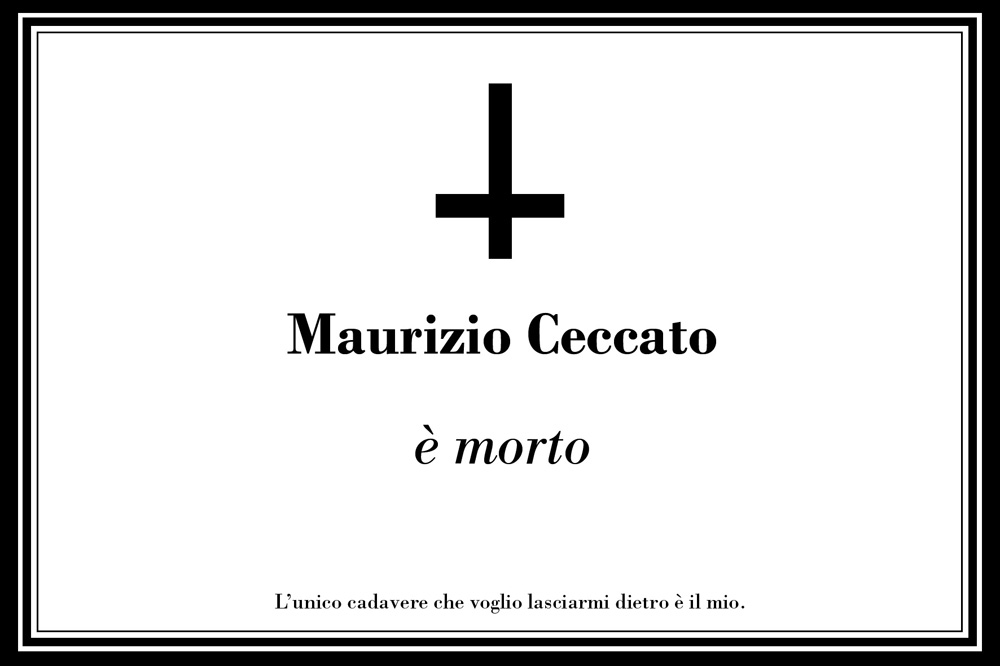 E allora finiamo in bellezza con la commistione di ordine e caos. Meglio ancora, finiamo con il libro di Ceccato: del resto, ordine e caos elibro si sono trovati tutti insieme alla libreria Corraini 121+ di Milano nella serata di martedì 24 gennaio 2012, dando vita a un reading tanto situazionista quanto creativo. Tra i presenti, c'è chi ha parlato di incontro tra Copywriting e Art direction. Altri, sempre tra i presenti, hanno visto figure losche (con l'H) accanirsi (con l'acca) sul malcapitato autore…
Chicca Gagliardo, giornalista
Erminio Perocco, direttore creativo
Giulio Passerini, ufficio stampa
… il Bollettino dei Dispersi attesta che tutti, presenti e autori ma anche semplici passanti, sono stati colpiti dalla bomba H: la bomba muta, per servirvi.
 Stefano Scalich – Nonfiction Editor
Position the cursor on the images to view captions, click on images to enlarge them. 

Posizionare il cursore sulle immagini per leggere le didascalie; cliccare sulle immagini per ingrandirle.