ANTHONY MCCALL – FIVE MINUTES OF PURE SCULPTURE – HAMBURGER BAHNHOF – BERLIN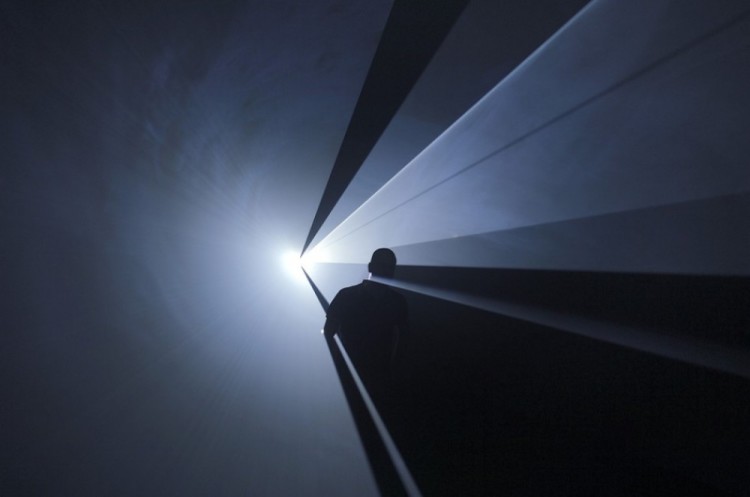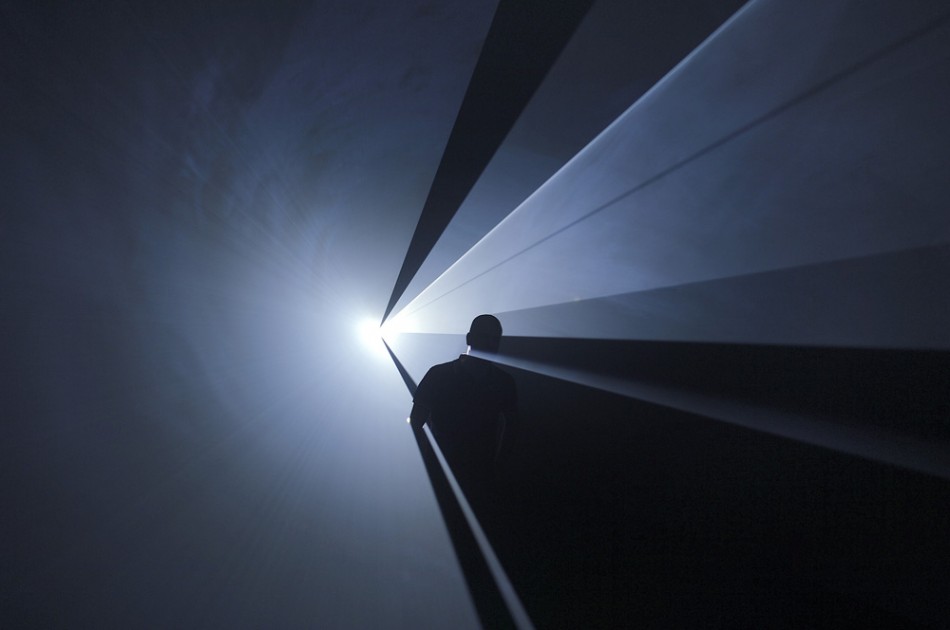 Hamburger Bahnhof – Museum für Gegenwart – Berlin
Fri 20 April – Sun 12 August 2012
Anthony McCall.
Five Minutes of Pure Sculpture
Press conference 19 April 2012, 11 a.m.
Anthony McCall (born 1946 in St Paul's Cray, England) became known at the beginning of the 1970s for his unique light installations, the so-called solid light films. Hamburger Bahnhof is presenting the largest exhibition of his work to date. A selection of his works from the past ten years will be shown in the historic central hall of the museum. The spacious former railway station with its numerous windows will be transformed for the duration of the exhibition into a cinema space (black box), filled only with haze and veils of light.
McCall has developed a signature technique for his work: animated lines, drawn in white on black, are projected into a room filled with fine haze (originally smoke and dust) so that the two-dimensional drawings are articulated as seemingly tangible, sculptural forms in real space. After moving to New York (where he still lives) in 1973, the artist began this series with the influential film Line Describing a Cone and then continued to develop the concept in installations like Long Film for Four Projectors (1974). Originally inspired by the filmic avant-garde around the London Film-Makers' Co-op, from the very beginning the artist turned cinema on its head, slowed it down, and created a fully traversable, populist space. Thus, his works exist at the borders of cinema, sculpture and drawing. The works are ephemeral, yet they seem tangible and physical. Projected horizontally through the space onto the wall, or – as in his most recent works – from the ceiling to the floor, they engulf the viewer in singular, slow-moving cones of light.
After a break of twenty years, McCall began to examine these works again in the early 2000s. New technology like computer animation and digital projection allowed him to reformulate his conceptual ideas and expand his formal vocabulary. He went on to create a whole, new series of works; Doubling Back from 2003 was his first new solid light film. Here two curving lines pass slowly through one another, faintly reminiscent of a breaking wave. The double projection Leaving (2009) is the only work to date to use sound: noises (ambient sound) from the New York West Side Highway and shipping traffic from the Hudson River accom-pany the two transforming shapes on the wall.
The horizontal works are still reminiscent of the viewing situation in the cinema, where the projector beam is cast lengthwise onto the screen. The vertical projections made since 2005, however, shine light from the ceiling and can be circumnavigated by the viewer, thus moving more fully into the sphere of sculpture.. Here too, McCall uses organic, sinuous lines; many of the works also make direct reference to the body, as illustrated by titles like Between You and I (2006) and Meeting You Halfway (2009). Despite his conceptual and formal rigour, McCall always creates an open, public space where viewers can move around unhindered, interact with the works, communicate with each other or simply just stroll around.
Catalog: Anthony McCall. Five Minutes of Pure Sculpture. Soft cover, 31 x 23.5 cm, 96 pages, 70 illustrations color/black and white.
Language: German/English. Published by Verlag Walther König.
The exhibition was made possible by the Verein der Freunde der Nationalgalerie.
Sponsor: Tretford, Monopol
Saturday 21 April 2012, 6 p.m. Artist talk with Anthony McCall.
Press contact: Katharina von Chlebowski – Theresa Lucius
Phone +49 (0)30 26394880 Fax +49 (0)30 263948811 – presse@freunde-der-nationalgalerie.de
Hamburger Bahnhof
Invalidenstrasse 50-51, Berlin
tue-sun 10am-6pm
Position the cursor on the images to view captions, click on images to enlarge them. 

Posizionare il cursore sulle immagini per leggere le didascalie; cliccare sulle immagini per ingrandirle.