SARIEV CONTEMPORARY, BULGARIA – START UP – ROMA CONTEMPORARY 2012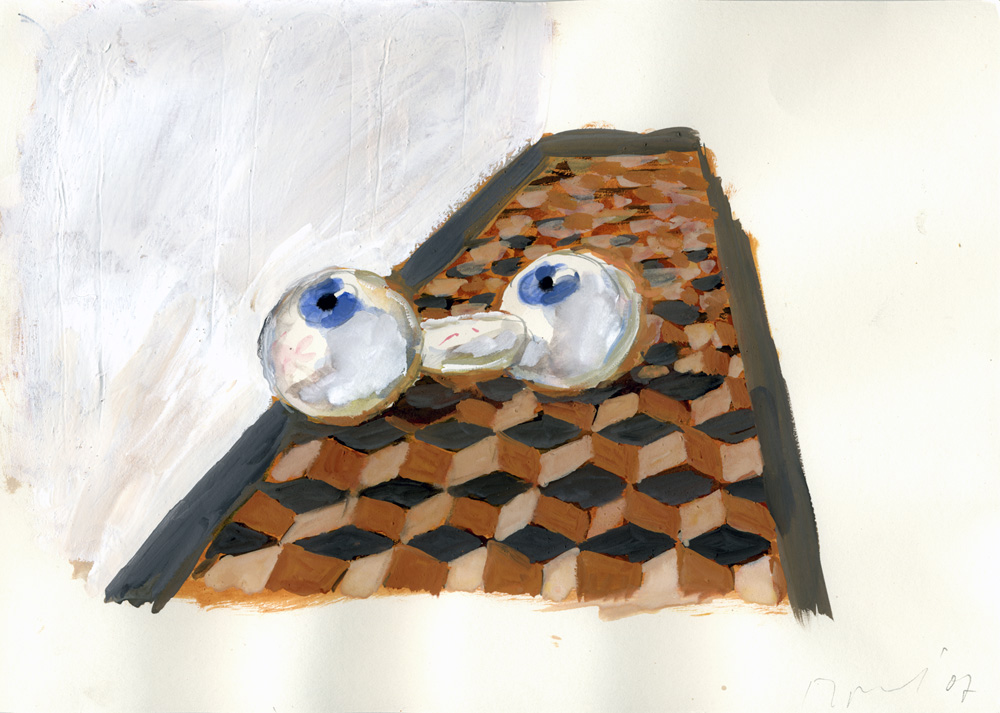 Sariev Contemporary, Bulgaria
START UP
curated by Luca Cerizza
Pavilion C, Stand 12
Artists presented: Stefania Batoeva, Pravdoliub Ivanov, Lubri
Roma Contemporary Art Fair 2012
24-27 May 2012
MACRO Testaccio (ex Mattatoio)
Piazza Orazio Giustiniani – 00153 Roma RM – www.romacontemporary.it
Sariev Contemporary has the pleasure to present three Bulgarian artists at the international art fair Roma Contemporary between May 24 and 27, 2012 in the section START UP. This section is reserved to young, cutting-edge galleries whose program is devoted to emerging talents and new expressive languages. Participation in START UP is upon invitation or selection by the curator Luca Cerizza. For this project Sariev Contemporary chose to present three of its artists – different by age, means of expression and subject matter: Pravdoliub Ivanov, Lubri and Stefania Batoeva. With the co-operation of the Bulgarian Cultural Institute in Rome the artists will be present during the forum Roma Contemporary.
Stefania Batoeva was born in 1981 in Sofia and lives in London. She graduated from the Architectural Association School of Architecture, London. Since 2009 she has been actively present on the Bulgarian art scene, and has taken part in a number of prestigious international shows such as "Art Box", (2010) at the Macedonian Museum of Contemporary Art, Thessaloniki; "Photo I – Photo You" at Calvert 22 Gallery, London. In 2009 she won the "Gaudenz B.Ruf" Award, she was nominated for the "Baza" Award in 2010 and 2011, and shortlisted for the M-tel Award in 2011.
Pravdoliub Ivanov was born in 1964 in Plovdiv. He lives and works in Sofia. He graduated from the National Academy of Fine Arts, Sofia, Bulgaria, institution at which he is a teacher now. In 1995, he became a Founding Member of the Institute of Contemporary Art – Sofia. His works were shown at the biennials in Istanbul (1995), Sidney (2004) and Berlin (2006) and took part in Bulgaria's national presentation at the 52nd Biennial of Contemporary Art in Venice – "A Place You Have Never Been Before", curated by Vessela Nozharova (2007). Pravdoliub Ivanov works are part of collections such: ERSTE Bank, Austria; European Investment Bank, Luxembourg; European Patent Office, Munich; private collections of René Block, Berlin, Nedko Solakov and Slava Nakovska Collection, Sofia and Vehbi Koc Foundation, Istanbul.
Lubri was born in Sofia in 1977. His first solo exhibition – Boys Don't Cry – was presented at Pistolet Gallery in Sofia, in 2007. He has also taken part in Photonic moments, Ljubljana, Slovenia, 2007; The Month of Photography in Vienna and Persona, the Institute of Contemporary Art, Sofia, 2010. He was presented by Sariev Contemporary within the platform Background: Young Artists 2011 and until then represented by the gallery. His photographs have appeared in Future Images, by M. Cresci and R. Stern; in Vice Magazine; in One Magazine's Selected Works and Fantom magazine, New York.
Sariev Contemporary was founded by Katrin Sarieva and Vesselina Sarieva in 2004 in Plovdiv, the second largest city in Bulgaria. The gallery's mission is to establish itself in the form of a commercial gallery for contemporary art in Bulgaria and to promote Bulgarian contemporary art. The presented artists are internationally recognized Bulgarian authors; who are representative of the art of transition in the 1980's and 1990's in Bulgaria; young artists in the beginning of their career. Since its foundation the gallery has maintained an annual exhibition "Background: Young Artists". The need for creating a context for contemporary art in Bulgaria motivates Sariev Contemporary founders to establish two other organizations, independent, but closely connected to the idea of the gallery – Open Arts Foundation, 2007 and a coffee house with library – artnewscafe, 2008. Since the beginning of 2011 in partnership with curators and art critics Sariev Contemporary and Open Arts Foundation have organized two annual para-platforms – an educational course – "Introduction to Contemporary Art" and the first international event for contemporary art collectors in Bulgaria – Collectors' Forum.
Kindly supported by Istituto Bulgaro di Cultura
Position the cursor on the images to view captions, click on images to enlarge them. 

Posizionare il cursore sulle immagini per leggere le didascalie; cliccare sulle immagini per ingrandirle.