BUCHAREST BIENNALE 5, 2012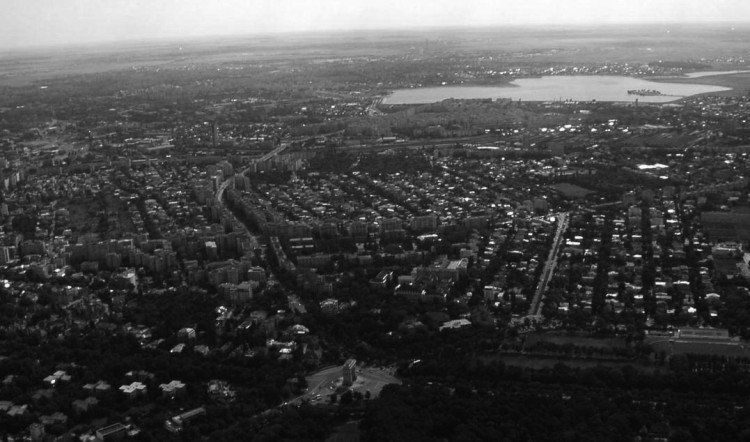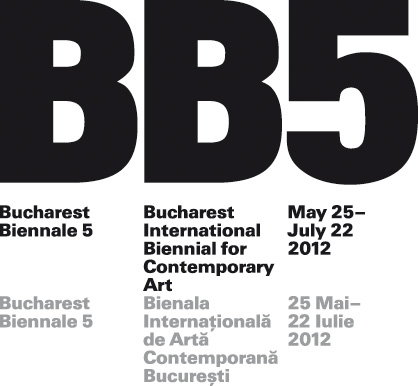 BUCHAREST BIENNALE 5
TACTICS FOR THE HERE AND NOW
25 May – 22 July 2012
PARTICIPANTS
Abbas Akhavan (IR/CA) – Marina Albu (RO) – Haris Epaminonda (CY/DE) – Klas Eriksson (SE) – Ruth Ewan (UK) – Aurelien Froment (IE/FR) – Ciprian Homorodean (RO/BE) – Iman Issa (EG/USA) – Janice Kerbel (CA/UK) – Jill Magid (USA) – David Maljkovic (HR) – Marina Naprushkina (BY/DE) – Ahmet Ogut (TR/NL) – Vesna Pavlovic (RS) – Anahita Razmi (DE) – Wael Shawky (EG/FR) – Alexandre Singh (FR/USA) – Mounira Al Solh (LB/NL) & Bassam Ramlawi (LB) –  Rinus van de Velde (BE)
CURATOR
Anne Barlow (born in Glasgow, Scotland) is Executive Director of Art in General, New York, a non-profit organization that supports artists through the commissioning of new work and an international residency exchange program. From 1999-2006, Barlow was Curator of Education and Media Programs at the New Museum, New York, where she oversaw its educational and public programs, conceived of and developed Museum as Hub (a global network initiative that connected the museum with art partners in Cairo, Eindhoven, Mexico City and Seoul), organized inter-disciplinary roundtables with leaders in the fields of the visual arts, architecture, and design, developed the museum's Digital Culture Programs, and curated numerous exhibitions and performances.
Barlow received her M.A. in the History of Art from the University of Glasgow, Scotland. Prior to moving to New York, Barlow was Curator of Contemporary Art and Design at Glasgow Museums, where she managed its contemporary art collection, exhibitions, residencies and commissions programs. Independently, she collaborated on the exhibition Copy It, Steal It, Share It at Borusan Art Gallery, Istanbul, and guest-curated film and media projects for the International Film Festival Rotterdam, the Netherlands, and Threshold Artspace, Scotland. Barlow has published for organizations including: Liverpool University Press/Tate Gallery Liverpool; the Henry Moore Institute, Leeds, United Kingdom; the Edith Russ House for Media Art, Oldenburg; the New Museum; and Art in General. She recently co-organized Art in General's international residency/exchange symposium "What Now?", and has participated in lectures and discussions at organizations including: the Royal College of Art, London; Centre for Contemporary Art, Warsaw; MUMOK, Vienna; The Cooper Union for the Advancement of Science and Art, New York; New York University; ARCOmadrid, for Latitudes' Professional Encounters; Tate Modern, London; and the Sharjah Art Foundation. Barlow lives and works in New York.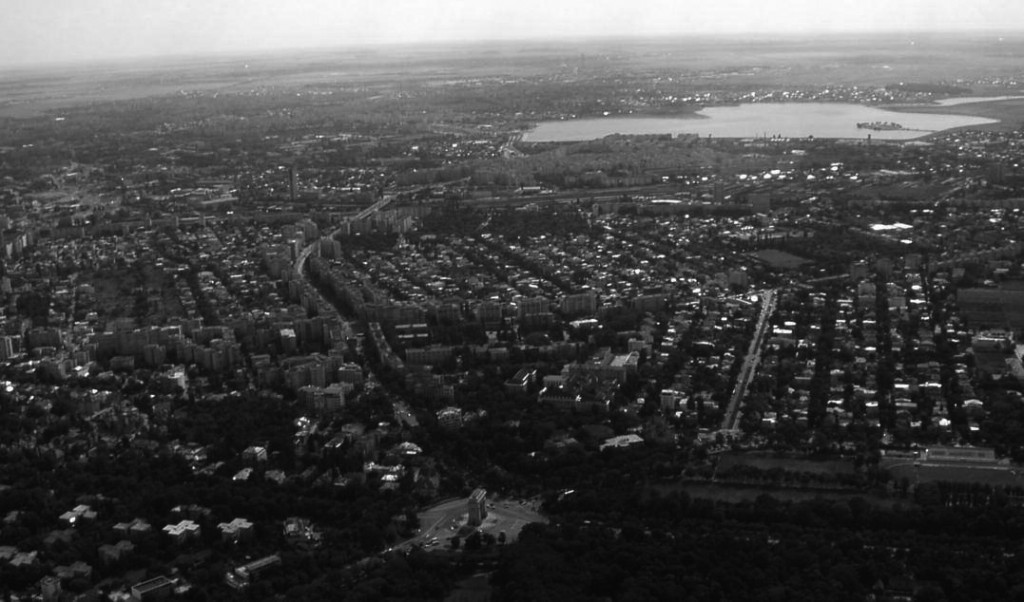 LOCATIONS / VENUES
Each of the locations chosen for the BB5 are justified by their history, socio-political involvement, but also by the topographical location (details on www.bucharestbiennale.org):
. PAVILION – centre for contemporary art and culture (also the BB5 info-point)
. Institute for Political Research – University of Bucharest
. Make A Point – cultural center
. Alert Studio – artist-run space
. Casa Presei Libere – the former communist house for press
. Cinema Union – movie theatre
. Nana – local restaurant
. Tabu – women magazine
. Zeppelin – architecture magazine
. Vice – lifestyle magazine
ANNE BARLOW, the appointed curator of BUCHAREST BIENNALE 5 will hold a press conference to reveal the list of the participant artists, the venues and new details about the concept of BUCHAREST BIENNALE 5, Bucharest International Biennial for Contemporary Art.
BUCHAREST BIENNALE 5. Tactics for the Here and Now, produced by PAVILION – journal for politics and culture, will take place between May 25 – July 22, 2012, under the curatorship of Anne Barlow (UK/USA).
www.bucharestbiennale.org
www.pavilionmagazine.org
www.pavilioncenter.org
Bucharest Biennale promotes awareness and dissemination of the culture, particularly in the fields of the arts, by means of exchanges and cultural cooperation within Europe and beyond and is looking for strategies that would develop mutual understanding and offer insights from different perspectives.
We are interested in the link between creative practice and social development, in the links between the local, European and global contexts.
Our programs promote the exchange of art and ideas through the staging of contemporary arts and work globally and locally, bringing together an international vision of art and cross-cultural exchange with a commitment to the community involvement and the enrichment of Bucharest's cultural resources.
We assume the urge of a dialogue with the public, of a platform for artists as much as the need of reinventing new forms of artistic expression and encourage curators to make a large selection of artists who would represent best the European unity into diversity.
BB aims to resolve the twofold problems of tradition and modernity, past and present, localism and global village, it strives to attain a balanced status between its aesthetic/artistic quality and popularity by overcoming the feeling of estrangement that the general public has towards the contemporary arts.
The Biennale is building a strong partnership between Bucharest – which is more than a city, it is a symbol of how political can be reflected in every aspect of life – and the Western Europe; it links to an universal problem – that does not take into consideration the geographical or historical context – the problem of resistance in daily life, of details and living as a way of living. BB is a structure able to transform the City itself into an ongoing workshop- cum-field of action.
Fundamentally, European culture has been the result of exchange – sometimes peaceful, other times violent – that have taken place between neighboring societies and between different social groups within a given state. These horizontal and vertical forms of cultural exchange occurred in many different manners: through imitation, assimilation, dissimulation, appropriation, through either mutual understanding or hegemonic dominance.
We would like to operate in a way that demonstrates sensitivity and competence in dealing with the "others" as the "alter" from different cultural backgrounds.
BB aims to encourage creativity of artists, public access to culture, the dissemination of art and culture, inter-cultural dialogue and knowledge of the history and cultural heritage of the European and extra-European people.
Its general purpose is to engender a shared cultural area by bringing people together while preserving their national and regional multiplicity and diversity.
BUCHAREST BIENNALE is powered by ARTPHOTO Asc., a cultural and non-profit NGO, publisher of PAVILION – journal for politics and culture www.pavilionjournal.org