VAPORETTO DELL'ARTE – VENICE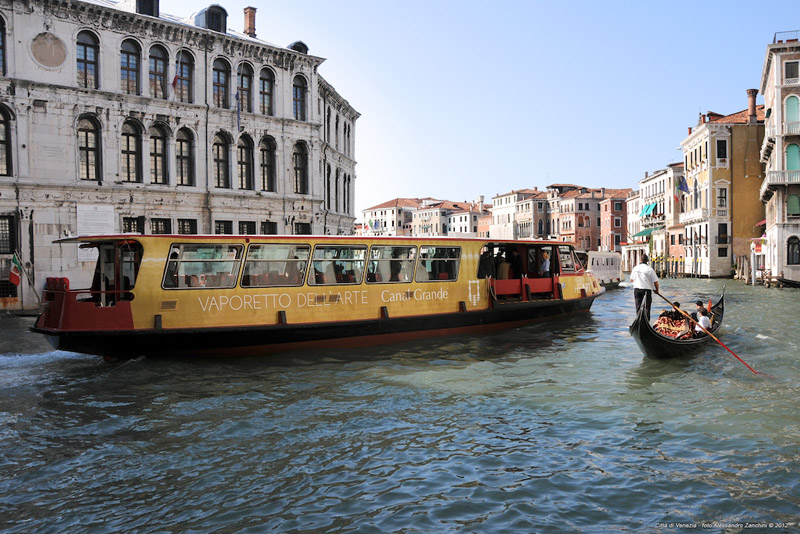 Tomorrow first trip of the new Art Vaporetto: press conference on board
Tomorrow, May 30th, at 5 p.m., the "Art Vaporetto" will leave from the Santa Lucia boat station for its firs trip along the main cultural sites in Venice. On board there will a press conference where the Mayor of Venice, Giorgio Orsoni, together with the deputy mayors for Mobility and Tourism, Ugo Bergamo and Roberto Panciera, and the presidents of Actv (the local transport company) and Vela (the company in charge of the ticketing service), Marcello Panettoni and Alessandro Moro, will launch the new boat line, that will start its regular journeys on Friday, June 1st.
Journalists interested in following the event are kindly requested to register by sending an e-mail to giovanna.benvenuti@communitygroup.it or calling the numbers +39 0422 416111 or +39 346 9702981.
Venice, May 29th 2012
.-.-.
Demain le "Vaporetto de l'Art" débute le long du Grand Canal
Demain, Mercredi 30 mai, le "Vaporetto de l'Art" à 17h lèvera l'ancre de l'embarcadère de la Gare (Ferrovia) pour son voyage inaugural le long du Grand Canal. Pendant le trajet la nouvelle ligne de navigation dédiée aux passionnés de l'art, opérative du 1er juin, sera présentée pendant une conférence de presse avec le Maire de Venise, Giorgio Orsoni, l'adjoint à la Mobilité et aux transports, Ugo Bergamo, l'adjoint au Tourisme, Roberto Panciera, le président du Actv, Marcello Panettoni, et le président de Vela, Alessandro Moro.
Pour être admis à bord, les journalistes intéressés doivent s'accréditer auparavant envoyant un courriel à giovanna.benvenuti@communitygroup.it ou appelant le +39 0422 416111 ou le +39 346 9702981.
Venise, le 29 mai 2012
.-.-.
Domani, mercoledì 30 maggio, il "Vaporetto dell'Arte" salperà dall'approdo di Santa Lucia (Ferrovia) alle ore 17 per il suo viaggio inaugurale: durante il percorso, si terrà una conferenza stampa a bordo, per presentare la nuova linea di navigazione che sarà operativa da venerdì 1 giugno.
Interverranno il sindaco di Venezia, Giorgio Orsoni, gli assessori comunali alla Mobilità e al Turismo, Ugo Bergamo e Roberto Panciera, nonché i presidenti di Actv, Marcello Panettoni, e di Vela, Alessandro Moro.
Gli operatori dell'informazione interessati a salire a bordo possono accreditarsi inviando una mail a giovanna.benvenuti@communitygroup.it o telefonare ai numeri +39 0422 416111 o +39 346 9702981.
Venezia, 29 maggio 2012