SUCCÈS DE L'EXPOSITION « MATISSE. PAIRES ET SÉRIES » AU CENTRE POMPIDOU – PARIS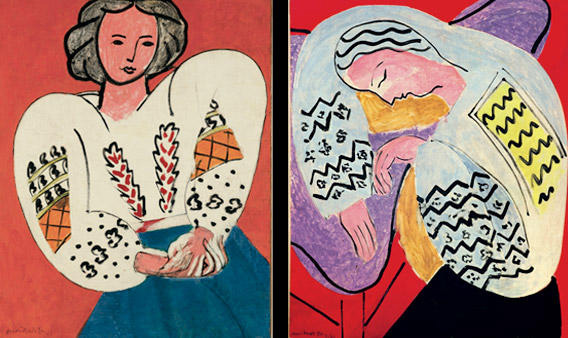 SUCCÈS DE L'EXPOSITION « MATISSE. PAIRES ET SÉRIES » AU CENTRE POMPIDOU 495 000 VISITEURS
www.centrepompidou.fr
L'exposition « Matisse. Paires et séries » vient de fermer ses portes et se classe comme la sixième exposition la plus fréquentée du Centre Pompidou.
Depuis le 7 mars, près de 495 000 visiteurs, soit, une moyenne de 5490 visiteurs par jour, ont découvert une sélection inédite de chefs-d'oeuvre provenant des plus prestigieuses collections publiques et privées dans le monde. Soixante peintures, dont quatre grands papiers gouachés découpés, ainsi qu'une trentaine de dessins, réunis et parfois confrontés pour la première fois depuis l'époque de leur création.
Pour offrir au public, très nombreux, les meilleures conditions de visite, les horaires d'ouverture avaient été étendus et des nocturnes proposées jusqu'à 23 h.
Après le succès des expositions « Alexander Calder, les années parisiennes » – 473 800 visiteurs, « Kandinsky » – plus de 700 000 visiteurs en 2010, « Soulages » en 2011– plus de 502 000 visiteurs, « Edvard Munch, l'oeil moderne » en 2012 – près de 487 000 visiteurs, et avant l'ouverture de l'exposition-événement « Salvador Dalí » en novembre prochain, le succès de « Matisse. Paires et séries » témoigne de l'engouement du public pour les grandes monographies proposées par le Centre Pompidou.
L'exposition « Matisse. Paires et séries » sera présentée du 14 juillet au 28 octobre 2012 à la National Gallery of Denmark, Copenhague et du 4 décembre 2012 au 17 mars 2013, au Metropolitan Museum of Art, New York.
.-.-.
A LANDMARK EXHIBITION: "MATISSE. PAIRES ET SÉRIES" 7 MARCH – 18 JUNE 2012
Presenting an outstanding selection of masterworks assembled from the most important public and private collections across the world, this exhibition will examine a distinctive aspect of Matisse's art: his repeated explorations of the same subject through different treatments – for him a way of exploring art itself. Expressed in variations of framing, draughtsmanship, brushwork and colour, this formal alternation is a recurrent feature of the artist's work.
The exhibition will feature some sixty paintings, including four large gouache cutouts, and thirty or so drawings, some brought together for the first time since their creation. It covers the whole of Matisse's artistic career, from 1899 to 1952, the major periods being represented in chronological order, from the pointillism he experimented with in the summer of 1904 (with two versions of Luxe, Calme et Volupté, here juxtaposed in a rare opportunity for direct comparison) to the ambitious paper cutouts of the 1950s (with the famous Nu bleu series of 1952), taking in on the way the renowned Thèmes et variations series of drawings on paper, a kind of conceptual culmination of the procedure. The exhibition will be particularly illuminating in bringing to bear the tools of historical, critical and technical analysis on the genesis of the works displayed, this examination of pairs and series revealing the line of development of Matisse's work as a whole, with its ruptures, reversals and breakthroughs. It shows too the degree to which Matisse's work prompted and nourished the development of modern painting, endlessly posing the questions of representation, of realism, and of the relationships between drawing and colour, surface and volume, interiority and exteriority. Developing new formal solutions, putting into question his own, earlier advances, Matisse was a profound student of form.
The exhibition will afterwards travel to the Statens Museum for Kunst, Copenhagen (14 July – 28 October 2012) and the Metropolitan Museum of Art, New York (4 December 2012 – 17 March 2013).
Éditions du Centre Pompidou will publish a catalogue, Matisse. Paires et séries, edited by Cécile Debray, curator at the Musée National d'Art Moderne and curator of the exhibition.