LIGHT: INSTALLATIONS BY BRUCE MUNRO – LONGWOOD GARDENS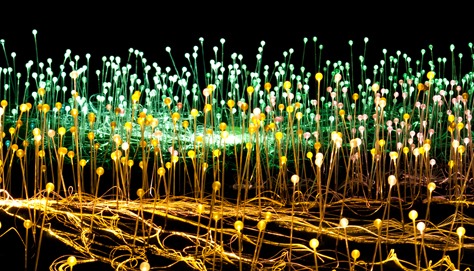 Exhibition features the work of UK light artist Bruce Munro
Light at Longwood Gardens – http://light.longwoodgardens.org/
March 12, 2012, Kennett Square, PA . . . Longwood Gardens, one of the world's great display gardens, has commissioned UK light artist Bruce Munro to present a debut, garden-wide exhibition, Light: Installations by Bruce Munro, June 9-September 29. This is Munro's first garden installation in the US and will showcase never-before-seen views of Longwood at night. Tickets are on sale now and can be purchased at www.longwoodgardens.org.
Light will feature seven large-scale outdoor installations, two installations within Longwood's grand 4-acre Conservatory, and a small collection of illuminated sculptures in Longwood's historic Music Room
"Longwood Gardens is thrilled to host Bruce Munro's first large-scale exhibition in the U.S.," said Paul Redman, Director. "His imaginative works will enchant and amaze our guests with their beauty and ingenuity," said Redman, "but also inspire them to see and experience gardens in a whole new way."  "What also appealed to us about Bruce's work is its focus on low-energy output and a sensitivity to the landscape," said Redman. "Bruce shares Longwood's commitment to sustainable practices."
Installation highlights include Forest of Light, which invites guests to wander through a serene forest of 20,000 illuminated stems reminiscent of blooming flowers. Longwood's undulating Meadow plays host to the Water Towers, a collection of 69 symmetric towers that create a glowing maze of light that changes hues to music. In Waterlilies in Bloom, Munro pays homage to Longwood's iconic waterlily platters and sets his shimmering interpretations to float on the Large Lake. Nearby, the 6,000 stem installation Field of Light beckons visitors toward its enchanting glow.  Arrow Spring artfully mixes horticultural splendor and bees wax candles to create a meandering hillside stream.
Inside the Conservatory, the Orangery is adorned with six grand Snowball Chandeliers suspended from the towering ceiling. Each chandelier is more than nine feet in diameter and formed by 127 perfectly uniform glass balls. Light Shower rains more than 1,600 drops of twinkling lights over the flooded Fern Floor, creating a magical reflection that intensifies the luminous shower. Finally, the Music Room will feature a small collection of illuminated sculptures and models created by Munro.
"The unmatched beauty of Longwood Gardens inspired me in so many ways," said Munro. "Creating works that speak to the landscape but also enhance the natural beauty of the Gardens was an exciting artistic challenge," said Munro. "I hope that guests will see in these works the beauty of melding light and the landscape to become one."
This will be Munro's first opportunity to create installation art works in the USA. His previous work in the US involved participating in Contemplating The Void, a group show at the Guggenheim Museum, and he will be part of a 2012 show about contemporary glass design at the Pratt Manhattan Gallery. To date, his best-known installations are CD Sea at Long Knoll and Field of Light at The Eden Project in Cornwall, UK. His work has also been shown at the Victoria & Albert Museum in London and Salisbury Cathedral.
Ticketing and Hours
Light: Installations by Bruce Munro is included in Gardens Admission. Timed Tickets are required for Gardens Admission and can be purchased online at www.longwoodgardens.org. Admission prices are $18 for adults, $15 for seniors (ages 62 and older) and $8 for ages 5-18 (or with valid student ID). Ages 4 and under are free.
Longwood is open from 9 am–11 pm Wednesday–Saturday and 9 am–6 pm Sun–Tuesday from June 9-Sept 1. Beginning September 2 –September 29, Gardens hours are 9 am–9 pm, Wednesday–Saturday and 9 am – 5 pm, Sunday–Tuesday.
Bruce Munro
British artist Bruce Munro was born in 1959 and completed a BA in Fine Arts at Royal Western Academy (Bristol Polytechnic). Shortly thereafter he moved to Australia to begin his career and the natural light and environment there proved a lasting inspiration to his work. In 1992 he returned to near the city of Bath in South West England, to set up a studio and settle with his family.
Munro has been commissioned to make large decorative pieces for corporate clients such as the Royal Institute of Chartered Surveyors in London's Parliament Square, for The Royal Society, Liberty & Co and Great Ormond St. Hospital. But his heart lies in the large-scale art installations, for which he is gaining an impressive international reputation. Munro's work has been shown at the Victoria & Albert Museum in London as well as in the windows of the fashionable Harvey Nicholls department store in Knightsbridge. In early 2011 his Light Shower and Water-Towers installations at the 13th century gothic Salisbury Cathedral drew international praise, and he was subsequently invited to exhibit at the Biennale Kijkduin in The Hague, opened by HM Queen Beatrix of the Netherlands. 'Light is my passion. I always carry a sketchbook and everything that touches my life goes into it. Making sculptures and lights from these jottings is what I do, and my only ambition is to do more!' For more information on Bruce Munro and his work, see www.brucemunro.co.uk
Longwood Gardens
In 1906, industrialist Pierre S. du Pont (1870-1954) purchased a small farm near Kennett Square, PA, to save a collection of historic trees from being sold for lumber. Throughout his life, Mr. du Pont indulged his passion for gardening, turning his farm into a magnificent horticultural showplace.  Today, Longwood Gardens is one of the world's great horticultural displays, encompassing 1,077 acres of gardens, woodlands, meadows, fountains and a 4.5 acre conservatory. It is also home to an impressive array of horticulture education programs for all ages and levels of interest. The Gardens also have long-served as the backdrop for showcasing top performing artists. Since Pierre du Pont first welcomed his good friend John Philip Sousa to the Conservatory Gardens in 1922, Longwood has hosted some of the finest artists from various performing genres, including Martha Graham, Van Cliburn Medalists, Symphony Orchestras, Grammy-winners and more. Longwood Gardens is located on Route 1 near Kennett Square, PA and is open daily. Admission is $18 for adults; $15 for seniors (age 62 and older) and $8 for ages 5-18 (or with valid student ID). Ages 4 and under are free. For more information on the gardens and its programs, visit www.longwoodgardens.org.