LGB + BDP = LBGDBP – OTTO ZOO – MILAN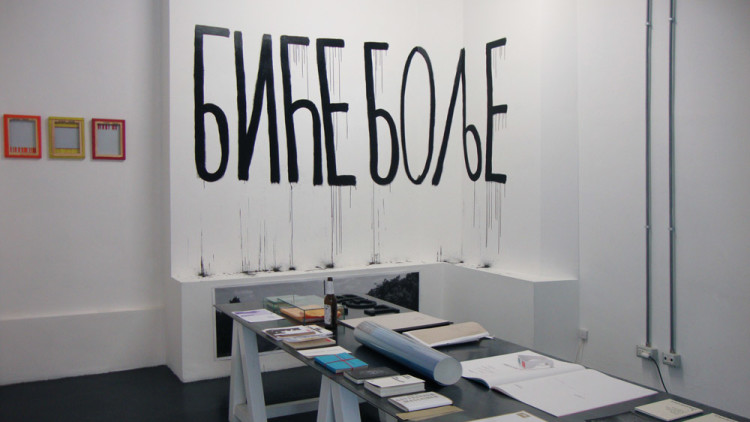 Empty by Darko Dragičević

Every day, at least for a second I step out from the apartment.
Sometimes I go to buy the flowers. At first I always pay the attention at the white flowers and if I don't find them too beautiful, then I decide to get something else, but always in a combination with white.
What I love the most are the white spaces. They remind me of traquillity and organization, preciseness and cleanness. Like the white box of a brand new Martin Margiela's ring.
In the white I can see the structures. Walls, every single line.
When I think about white I think about 'The Repulsion' by Roman Polanski. That is my white. White, long legs of Catherine Deneuve, white sink where she puts them to wet her ankles with the white foam.
When I step out from white I get into the grey. In between I can see a photography with two empty beer bottles on the floor by German artist Michael Riedel.
Berlin is grey. My feelings in Berlin are grey.
Grey is the color of my footsteps on the pavement and the color of my pats on Berlin facades. Grey is the color of my growing disinterest, mild absence.
Grey are enlarged birds I'm keeping in a small resolution.
Grey is the hole on the wall. The hole in the asphalt. Like somethning undefined.
Like Catherine and me sitting in a living room with overexposed white windows while the sounds from the outside are coming in.
Grey are the first four floors in the Hans-Otto-Strasse 32, while the last two are black because the lights are almost always off.
Black is when I stop on the stairs to get some air.
Black when I open the door, turn on the light from the evening lamp and step in the black room where the echoes of Bohren & der Club of Gores music can be heard.
Black when I pour the red wine in the long glass, looking at the china figurines and once again waiting to get back to the white.
Darko Dragičević  –  contact@darkodragicevic.net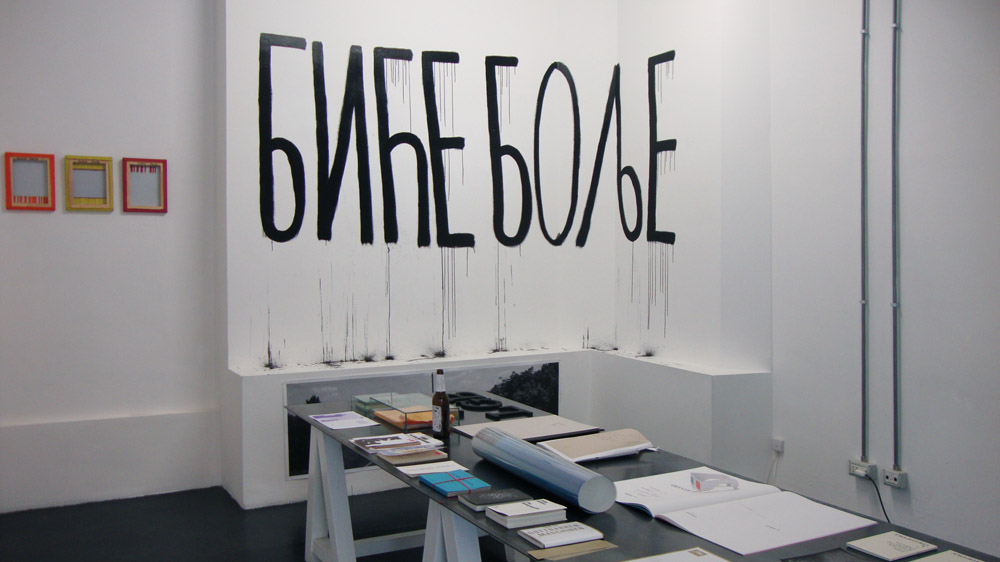 LGB + BDP = LBGDBP
A project by Broken Dimanche Press and The LGB Group
OTTO ZOO: Via Vigevano 8 – 20144 Milan 
Tel. +39 02 36535196 – info@ottozoo.com – www.ottozoo.com/
From September 20 to 29, 2012 – Tuesday-Saturday, 2-9 pm
Start Weekend: Friday 21: until 9 pm / Saturday 22: 12 am – 8 pm / Sunday 23: 12 am – 7 pm
OPENING: THURSDAY 20 SEPTEMBER, 7 PM
OTTO ZOO, for the 2012 edition of Start Milano Art Weekend, presents the first Italian event of Broken Dimanche Press, in collaboration with The LGB Group.
Broken Dimanche Press, with an emphasis on beautiful books, invigorating content and outstanding design, is at the forefront of experimental art publishing. Co-founded by writer John Holten and journalist Line Madsen Simenstad and currently based in Berlin, BDP has been making books, objects and visual art projects since 2009. A self-declared fiction, BDP has been in the business of intervening in the real world with gestures that revolve around books and related projects. One such being The Readymades, a novel by John Holten which tells the story of The LGB Group.
The LGB Group first formed in Belgrade in 1995 by the artists Djordje Boji!, Aleksandar Gojkovi! and Milo" Lubarda. The group has most recently shown work in The Armory Show 2012 with Gallery D.O.R., Brussels and in Altes Finanzmat, Berlin. They have also carried out interventions in Motto, Berlin and Gallery 1857, Oslo. After officially ceasing to make new artwork, their legacy and work have been discussed this summer in David Zwirner Gallery, New York by philosopher and critic Aengus Woods and John Holten.
For BDP's first event in Italy at OTTO ZOO, John Holten and Serbian artist Darko Dragičević will present a selection of visual artwork by The LGB Group that charts the history of the group's relationship with BDP. This presentation exhibits the relationship between the publishing house and the group and their shared history, and includes the BDP full catalogue, Charlemagne prize winning book You Are Here, limited editions, original works and collector items.
For further information: Gabriele Naia, gabriele@ottozoo.com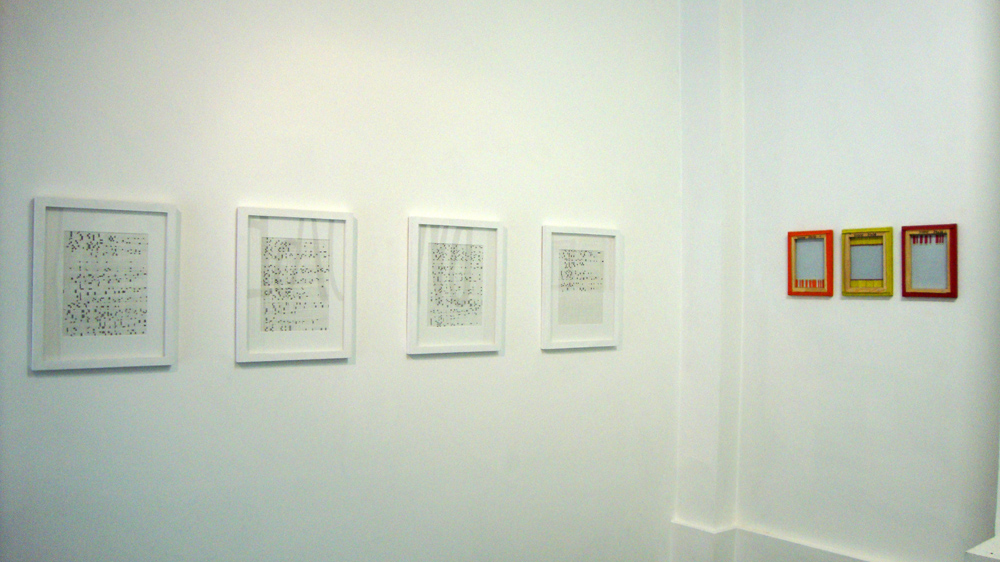 LGB + BDP = LBGDBP
A project by Broken Dimanche Press and The LGB Group
OTTO ZOO: Via Vigevano 8 – 20144 Milano
Tel. +39 02 36535196 – info@ottozoo.com – www.ottozoo.com/
Dal 20 al 29 settembre 2012 – martedì-sabato, 14–19
Orari Weekend Start: venerdì 21: 14-21 / sabato 22: 12-20 / domenica 23: 12-19
INAUGURAZIONE: GIOVEDÌ 20 SETTEMBRE, ORE 19
OTTO ZOO presenta LGB + BDP = LBGDBP, il primo evento italiano di Broken Dimanche Press, in collaborazione con il collettivo artistico LGB Group, in occasione del weekend Start Milano (dal 20 al 23 settembre). La mostra prosegue fino al 29 settembre.
Broken Dimanche Press (BDP) è un eccellente esempio di sperimentazione nell'ambito dell'editoria artistica. Fondata a Berlino nel 2009 dallo scrittore irlandese John Holten e dalla giornalista svedese Line Madsen Simenstad, questa casa editrice indipendente produce libri, oggetti ed eventi che uniscono la letteratura alle arti visive.
Prodotto di fiction per sua stessa definizione, Broken Dimanche Press sviluppa i suoi progetti partendo dalle modalità espressive dei libri e dalle loro possibili relazioni e interazioni con il mondo dell'arte, lavorando sui labili confini che le separano e che separano la finzione dalla realtà. Uno dei risultati più interessanti della sua produzione è The Readymades, un romanzo di John Holten che ripercorre la storia di LGB Group.
LGB Group è stato creato a Belgrado nel 1995 dagli artisti Djordje Bojić, Aleksandar Gojković e Miloš Lubarda. Recentemente ha esposto all'Altes Finanzmat di Berlino e alla galleria D.O.R. di Bruxelles, con la quale ha partecipato anche all'Armory Show 2012. Ha inoltre realizzato dei progetti presso la Motto Gallery di Berlino e la 1857 Gallery di Oslo.
Dopo aver cessato la produzione artistica, l'esperienza del collettivo è stata analizzata e discussa lo scorso luglio alla galleria David Zwirner di New York dal filosofo e critico Aengus Woods e da John Holten.
In occasione dell'evento presso la galleria OTTO ZOO, John Holten e l'artista serbo Darko Dragičević proporranno una selezione dei lavori di LGB Group che traccia le fila della storia che unisce quest'ultimo a Broken Dimanche Press. Oltre alla mostra, verrà presentato l'intero catalogo editoriale di Broken Dimanche Press (compreso You are here, la raccolta di saggi e interventi vincitrice del Charlemagne Prize), edizioni limitate, lavori e oggetti da collezione.
Per maggiori informazioni: Gabriele Naia, gabriele@ottozoo.com
Position the cursor on the images to view captions, click on images to enlarge them. 

Posizionare il cursore sulle immagini per leggere le didascalie; cliccare sulle immagini per ingrandirle.