ANRI SALA IN CONVERSATION WITH CHRISTINE MACEL – PUNTA DELLA DOGANA – VENICE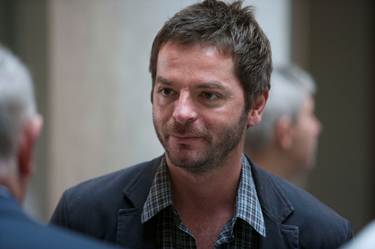 Thursday October 4, 2012, at Punta della Dogana, 6pm
Christine Macel, chief curator at the Centre Pompidou in Paris, meets Anri Sala, one of the protagonists of the exhibition "Voice of Images" with the video: Uomoduomo, 2000.  In Uomoduomo, he records the sleep of a hunched man, visibly old and weak, possibly homeless, on a bench of the cathedral of Milan, the Duomo. His jolts and abrupt movements indicate a troubled sleep. Stolen nocturnal images: at the back of the screen, the movements of the Cathedral's indifferent visitors strike the viewer of this brief video, a kind of contemporary haiku.
Born in 1974 in Albania, Anri Sala began his artistic education in Tirana before completing his studies in France. He has been selected to represent France at the next Venice Biennale. A student at the Fresnoy, the National Studio of Contemporary Arts located in Tourcoing, Anri Sala quickly chose to privilege video as his main medium. His productions tend towards the discrete recordings of half-secret, half-marginal realities, to which the moving image gives a fragile existence, simultaneously documentary and enchanted.
His work has been exhibited in some of the most important museums of contemporary art and in major international exhibitions such as the Venice Biennial (2003 and 2001 when he won the first prize for young artist), and biennials in Sydney (2004), Istanbul (2003), Sao Paulo and Berlin (2002), Tirana (2001), Yokohama Triennale (2001) and Manifesta 3 in Ljubljana (2000).
.-.-.-.
Giovedì 4 ottobre 2012, alle ore 18.00 a Punta della Dogana, Christine Macel, curatrice al Centre national d'art et de culture Georges Pompidou, incontra Anri Sala, uno degli artisti protagonisti della mostra "La voce delle immagini", curata da Caroline Bourgeois e dedicata alle immagini in movimento della Collezione François Pinault.
Anri Sala ha cominciato gli studi d'arte a Tirana (Albania) e li ha completati in Francia, paese che rappresenterà alla prossima Biennale di Venezia.L'artista privilegia il video come forma espressiva e le sue produzioni sono registrazioni discrete di realtà segrete o marginali alle quali l'immagine in movimento assegna un'esistenza fragile, al tempo stesso documentaria e incantata. In mostra a Palazzo Grassi è presentata l'opera Uomoduomo (2000) che riprende il sonno di un uomo visibilmente fragile e anziano, forse senza fissa dimora, curvo sul banco della cattedrale di Milano. I suoi sussulti, i movimenti bruschi, tradiscono un sonno agitato. Immagini rubate, a modo loro notturne: è il passaggio indifferente degli altri, sullo sfondo dell'immagine, a colpire lo spettatore di questo video di breve durata, sorta di haiku contemporaneo.
Anri Sala, nato in Albania nel 1974, vive e lavora in Francia. Il suo lavoro è stato esposto in alcuni tra i più importanti musei d'arte contemporanea internazionali e all'interno di grandi eventi espositivi come le biennali di Venezia (2003 e 2001 quando vince il primo premio per artista giovane), e biennali di Sidney (2004), Istanbul (2003), Sao Paulo e Berlino (2002), Tirana (2001), Yokohama Triennale (2001) e Manifesta 3 a Ljubljana (2000).
In occasione dell'incontro, il Dogana Café, gestito da VyTA Boulangerie italiana, resterà aperto al pubblico sino al termine dell'appuntamento.
L'incontro è aperto gratuitamente al pubblico, sino a esaurimento posti. Tutte le informazioni sugli appuntamenti sono aggiornate sul sito www.palazzograssi.it.
L'iniziativa fa parte del calendario di appuntamenti promossi dalla François Pinault Foundation che, a cadenza mensile, ospita speciali incontri aperti al pubblico con gli artisti le cui opere sono presentate nelle mostre "Elogio del dubbio" a Punta della Dogana e "La voce delle immagini" a Palazzo Grassi. Oltre alle tradizionali conversazioni tra l'artista e intellettuali, critici, curatori, direttori di istituzioni del mondo dell'arte, l'iniziativa quest'anno si rinnova con nuove formule e proposte, come workshop e concerti, e testimonia ancora una volta la volontà di Palazzo Grassi e Punta della Dogana di essere luoghi di incontro e di scambio, aperti al pubblico più vasto.
Prossimi appuntamenti:
15/16/17 novembre        Workshop con Johan Grimonprez a Palazzo Grassi
Lunedì 26 novembre    Hassan Khan in conversazione con Andrea Lissoni a Punta della Dogana
Martedì 27 novembre   Concerto "Superstructure" di Hassan Khan al Teatro Fondamenta Nuove
Paola C. Manfredi Studio
Via Marco Polo 4 – 20124 Milano
Tel. + 39 02 87238004 – Fax + 39 02 87238014 – press@paolamanfredi.com
Follow us on
Facebook   Paola C. Manfredi Studio
Twitter       @PCMstudio