PARIS PHOTO 2013 – GALERIES NATIONALES DU GRAND PALAIS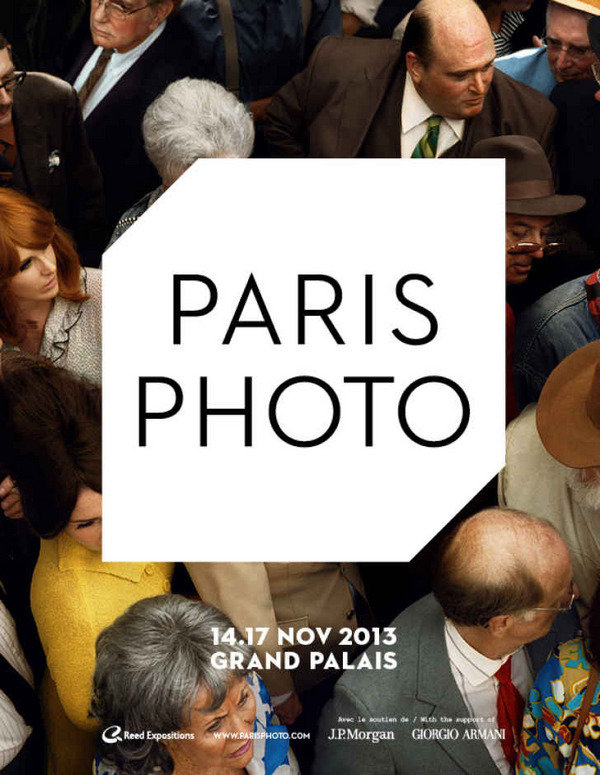 For its 17th edition, Paris Photo selected 136 French and international galleries coming from 24 countries. Paris Photo is a unique occasion to discover in the heart of the capital the best photography from the 19th century till today.
This has been a particularly productive year for Paris Photo, which held its first American fair in 2013 at the Paramount studios in Los Angeles, drawing a crowd of more than 13,500 visitors.
Still surfing the wave of this resounding international success, Paris Photo 2013 will be hosting 136 galleries this year at the Grand Palais (including 28 newly selected participants), and 28 publishers specializing in photography books.
Artists, galleries, collectors, professionals, enthusiasts and inquisitive minds will gather once again this fall to enjoy an ambitious, high-level program that emphasizes the diversity and quality of the artists and works presented by participating gallery owners.
The "Private Collection" exhibit introduces visitors to the pioneering role played by private collectors who, driven by their own passion and perseverance, gather masterpieces and develop new approaches. We are pleased to be hosting a selection of works from Harald Falckenberg's collection showcasing his perspective on the medium of photography.
The "Recent Acquisitions" exhibit presents the new photography collections from three international institutions. This year, it will feature the Instituto Moreira Salles from Rio, with Brazilian photography that captures transformations in the urban landscape; the Art Gallery of Ontario in Toronto, offering a set of Arnaud Maggs photographs and a series on photography practices; and the Museum Folkwang from Essen, covering photographic representations of historic events, with a focus on the recent crisis in Egypt.
Echoing that theme, the "Open Book" exhibit taken from Martin Parr's collection will present a set of Protest Photo Books, photography pamphlets covering uprisings from the second half of the 20th century to today.
Finally, Paris Photo is also a friendly forum that promotes discussion and reflection. To recognize the vitality of the photography book sector, the Paris Photo Book Awards will be given once again to winners from a selection of 30 books published over the past 15 years. Meanwhile, Nicolas Bourriaud, Director of the Ecole Nationale Supérieure des Beaux-Arts in Paris, has invited participants in the "Platform" to give talks, interviews, debates, and performances.
To cap off the many new experiences offered by the show itself, our official partners will also contribute to the program: Giorgio Armani with its Acqua#4 exhibit; J.P. Morgan with a selection of works from the JPMorgan Chase Art Collection; Marion Gronier with an exhibit produced by BMW Art and Culture; Cédric Gerbehaye's exhibit presented by Leica; and finally, the SFR Jeunes Talents exhibit.
Join us for this highly-anticipated major event, followed by Paris Photo Los Angeles from April 25 to 27, 2014 at the Paramount Pictures Studios.
JULIEN FRYDMAN Director of Paris Photo
Official partners:
Giorgio Armani
For its support of the "Recent Acquisitions" exhibition
J.P. Morgan
For its support of the "Private Collection" exhibition
Press contact:
Claudine Colin Communication – Marika Bekier Tel: +33 (0)1 47566474 E-mail: parisphoto@claudinecolin.com
Justin Conner Fitz & Co +1 212 627 1455 x233 Justin@fitzandco.com
Reed Expositions France: 52-54, Quai de Dion-Bouton, 92806 Puteaux Cedex –France
Paris Photo is organized by Reed Expositions France
Opening: November 13, 2013 (by invitation only)
Opening hours on the 13th of November.
– 12h – 17h: VIP opening (VIP badges only)
– 17h – 19h: professional afternoon(invitation only)
– 19h – 21h30: public opening(invitation only)
Grand Palais
Avenue Winston Churchill Paris 8e
Thu-Sat November 14-16th 12:30 – 8:00 pm
Sun November 17th 12:30 – 7:00 pm