DRAWING NOW PARIS – 8TH EDITION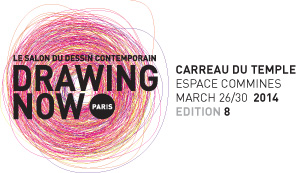 DRAWING NOW PARIS – the contemporary drawing art Fair in Paris – is the first contemporary fair exclusively dedicated to drawing. For its 8th edition, the Fair settles in the heart of Paris, from Wednesday, March 26th to Sunday, March 30th 2014; at the new Carreau du Temple and the Espace Commines for FRESH, a space dedicated to young galleries. The Fair settles in the heart of the Marais, the Parisian artistic place by excellence! The new Carreau Du Temple will be a space of reference in the culture world.
Our independent selection committee – made of personalities of the art world – will select close to 80 international galleries, they will present their best artists in the contemporary drawing field.
On Friday, March 28th, a DRAWING NIGHT – for the first time – will come to punctuate the week with events at the Carreau du Temple and the Espace Commines, in the institutions of Le Parcours – the route – and in galleries.
The purpose of Le Parcours is to bring together the modern and contemporary art drawing exhibitions held in museums, art centres, foundations, selected galleries and private venues in Paris and around France in a friendly partnership.
DRAWING NOW Paris proposes a complete programme of TALKS, Interviews with artists and a video programming to present all the facets of the contemporary drawing through the look of experts and artists.
Facebook | www.drawingnowparis.com
CARREAU DU TEMPLE
2 rue Eugène Spuller – 75003 Paris