A STITCH IN TIME – VIVA ITALIA – DAVID MEDALLA – STUDIO.RA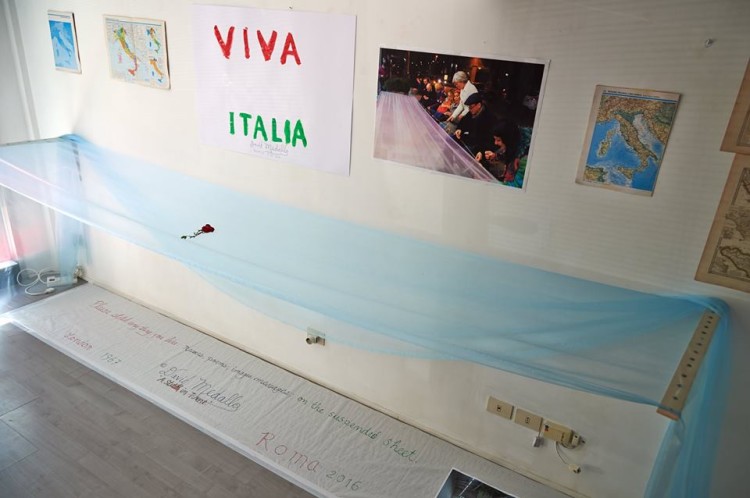 A stitch in Time – Viva Italia
Exhibition, performance participatory art work
by David Medalla
Opening: 1st May 2016
1.05. 2016 – 29.9.2016
Studio.ra – Via Bartolomeo Platina 1F – Roma
"A Stitch in Time, è un progetto partecipativo di David Medalla, iniziato nel 1967 su teli di cotone bianchi, e proposto nei successivi decenni in varie versioni in diverse parti del mondo, come: Documenta 5, Kassel, 1972, Survey of the AvantGarde in Britain, Gallery Hose, London, 1972, Art meeting Place, Covent Garden, London 1974, ed ancora un'altra versione, a South Hill Park, Braknell, nel 1982, fino ad arrivare ai tempi nostri.
A Stitch in Time, in un meraviglioso velo azzurro, il 1° maggio 2016 è arrivato a Roma, presso Studio.ra, durante l'Opening della IX London Biennale, fondata e diretta da Medalla con Adam Nankervis, Coordinatore Internazionale.
Medalla propone per la prima volta nella capitale, il suddetto lavoro partecipativo con dedica all'Italia, accompagnandolo con la musica lirica risorgimentale del Nabucco di Giuseppe Verdi, l'elegante scritta patriottica "VIVA ITALIA" da lui stesso dipinta solennemente su un grande cartoncino bianco e con cartine geografiche antiche e moderne del nostro "Belpaese".
A Stitch in Time è un ponte sospeso nella totalità, una linea interminabile, un'amaca, un lungo tavolo imbandito per tutti, una pergamena che evoca i papiri egiziani.  A Stitch in Time, nella sua delicata trasparenza celeste come il mare pulito dei sogni, è un inno alla vita, il dono contenente un nuovo concreto messaggio d'amore per Roma e per l'Italia con il suo Mediterraneo, "mare nostrum" di tutti i migranti nel loro rischioso peregrinare in cerca di speranza in una nuova vita.
Questa struttura di 5 metri, definita melodica da David, rimarrà a Studio.ra  fino al 29 settembre 2016, a disposizione dei fruitori per continuare a cucire pensieri, fissare nomi, poesie, immagini. Dopo l'estate inizierà la mobilità, il cambiamento che prenderà forme diverse durante un viaggio inesauribile nello spazio e nel tempo, in altre città italiane".
Presentation by Raffaella Losapio – founder & director of Studio.ra
https://www.1fmediaproject.net/2016/05/21/a-stitch-in-time-universale-di-david-medalla-nei-colori-dellarcobaleno/