YUN HYONG-KEUN: FIRST INTERNATIONAL RETROSPECTIVE – PALAZZO FORTUNITY – VENEZIA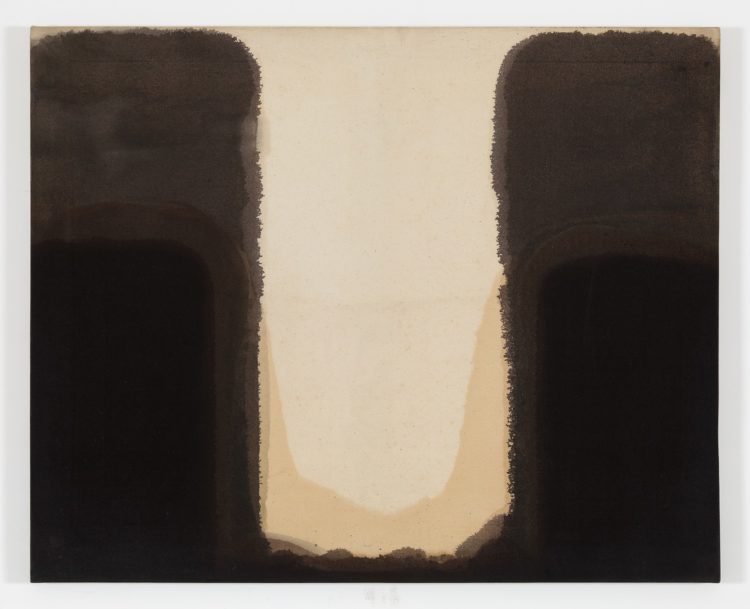 Yun Hyong-keun: First International Retrospective
Palazzo Fortuny, Venice
11 May – 24 November 2019
Curator: Kim Inhye, National Museum of Modern and Contemporary Art, Korea
A collaboration between National Museum of Modern and Contemporary Art, Korea (MMCA) and the Civic Museums of Venice (MUVE) with the support of the Korea Foundation.
#YHKFortuny
On the occasion of the 58th edition of the Venice Art Biennale, a major retrospective of Korean artist Yun Hyong-keun (1928 – 2007) will be presented at Palazzo Fortuny by the MMCA (National Museum of Modern and Contemporary Art, Korea) and MUVE (Civic Museums of Venice). One of the most significant Korean artists of the twentieth century, Yun became associated with the influential Dansaekhwa movement: a monochromatic style of painting that appeared in Korea in the 1960s and 70s.
The exhibition will be the first international retrospective show of the artist since his death in 2007 and follows a critically-acclaimed exhibition of his work at MMCA Seoul. The show will focus on Yun's extraordinary life and work and will present 55 of Yun's works that span his entire career. One of the highlights of the exhibition will be a meticulous reproduction of Yun's atelier which will include outstanding works by other artists (Kim Whanki, Jeon Roe-jin and Choi Jongtae), which Yun had in his studio. While recognising his role in the development of Dansaekhwa, this retrospective aims to examine Yun's work in its own right and from a new perspective.
Curated by Kim Inhye, from the MMCA, this exhibition is filled with dark and poignant paintings that magnificently capture the shattered national psyche of the time, highlighted by the heart-breaking works that Yun furiously painted in the wake of the Gwangju Massacre (May 1980). Most notably, the displays feature a wealth of personal materials, including early drawings, a large archive of photos, and strikingly honest excerpts from Yun's private journals.
Based on traditional elements of Korean beauty and aesthetics, Yun's canvasses simply and gracefully intertwine individuality and contemporary relevance, never losing the sense of refined modern sophistication which extends its influence across borders and into the rest of the world. His approach is particularly attuned to the nature of Venice: a city "suspended between water and sky", where the always uncertain boundary between land and water determines the shape of the city. Similarly, this theme is fundamental in Yun's approach to the canvas: his dense and firm brushstrokes are juxtaposed and overlaid with the pigment that bleeds out from the margins of the solid forms.
Twelve years after his death, this exhibition explores Yun's life and art with unprecedented range and depth – through diverse materials and displays – bringing to life many details and perspectives that have not yet received adequate attention. Yun Hyong-keun, who has thus far been known primarily within the context of the Dansaekhwa movement in Korea, will be re-explored within the wider context of an international art history.
To coincide with the exhibition there will be a printed catalogue available for purchase in English and Italian, published by Hatje Cantz.
About the artist
Born in 1928 in Cheongju, North Chungcheong Province, Yun Hyong-keun lived through one of the most traumatic periods of Korean history, suffering great misfortune related to Japanese colonial rule, the Korean War, and the post-war dictatorship. Yun's hardships began in 1947, shortly after he entered Seoul National University (SNU), when he was arrested and expelled for joining the campus-wide protests against the US Army Military Government's role in establishing the school. Then in 1950, just after the outbreak of the Korean War, the South Korean government began arresting and executing so-called "dissenters" and political opponents who had been blacklisted (often for trivial or fabricated reasons) as part of the "Bodo League" (or "National Rehabilitation and Guidance League"). Because of his prior arrest at SNU, Yun was detained and set to be executed by a firing squad, before he miraculously escaped with his life at the last moment.
After surviving this brush with death, he found himself trapped in occupied Seoul where he was forced to work for the North Korean army. When this "collaboration" was discovered in 1956, Yun was incarcerated for six months in Seodaemun Prison. In 1973, Yun was teaching art at Sookmyung Girls' High School, when the school granted admission to an unqualified student with connections to the head of the Korean Central Intelligence Agency, the highest power of the time. Yun criticised this unethical practice, which resulted in another arrest and imprisonment for violating anti-communist laws.
Yun was incarcerated four times and was once faced with near-certain death, simply for standing up for his beliefs. Only after surviving these harrowing incidents did Yun fully commit himself to making art, in 1973 when he was 45 years old.
From the moment he dedicated himself to painting, Yun clearly established his own distinct artistic world which he called the "gate of heaven and earth". In the quintessential series of works that he began in the 1970s, Yun used a wide brush to apply thick blocks of black paint to canvasses of plain cotton or linen. The paint was not actually black but made up of slightly different mixtures of the same two colours: blue (representing "heaven") and umber (representing "earth"). From their production method to their final appearance, these paintings are simple, genuine, and organic. Gazing into them, viewers are bombarded with different sensations, like looking at an ancient tree that has withstood the ravages of weather, or the rafters of a Korean traditional house, or a patch of soil that is fragrant with fertility. With these seemingly offhand works, Yun succeeded in translating the humble, comfortable, and solid values of Korean traditional aesthetics into the lexicon of international contemporary art.
The artist's work began to be recognised first in Japan in 1970s when Muramatsu Gallery (1976) and Tokyo Gallery (1978) invited him for his solo show. And when the South Korean government started to 'open' the country to the world in the 1990s, Yun's works started to be introduced to Europe and the U.S. The inherent physicality of his works impressed artists such as Donald Judd, who invited Yun to exhibit at his spaces on Spring Street in New York and in Marfa, Texas (Chinati Foundation) in 1993 and 1994.
Since then, his work has been the subject of solo exhibitions at prominent institutions worldwide, including Stiftung für Konkrete Kunst, Reutlingen, Germany (1997); Musée d'Art moderne et contemporain de Strasbourg (2002); and Art Sonje Museum, Gyeongju, Korea (2002). Among recent gallery solo shows: Simon Lee, London (2018), David Zwirner, New York (2017), Axel Vervoordt Gallery, Antwerp (2016), Blum & Poe, New York (2015), PKM Gallery, Seoul (2015). He has participated in recent group exhibitions held at National Museum of Modern and Contemporary Art, Seoul (2015); Gyeonggi Museum of Modern Art, Korea (2013); and Daegu Art Museum, Daegu, Korea (2011). His work was included in the São Paulo Biennale in 1969 and 1975; the 46th Venice Biennale in 1995; and the Gwangju Biennale in 2000.
Work by the artist is represented in permanent collections internationally, including the Chinati Foundation, Marfa, Texas; Fukuoka Art Museum, Fukuoka; Leeum, Samsung Museum of Art, Seoul; M+ Museum, Hong Kong; National Museum of Modern and Contemporary Art, Korea, Tate Modern, London; Art Institute of Chicago, Chicago and Glenstone, Potomac.
About Dansaekhwa
The movement experimented with the physical properties of painting and prioritised technique and process in the 1960s. The scarcity of materials following the Korean War (1950-1953) and the country's relative isolation from the international art world led the artists to construct their own sets of rules and structures in relation to abstraction.
About Kim Inhye (b.1974)
Curator, MMCA (National Museum of Modern and Contemporary Art, Korea)
She graduated from the Department of Art History at Seoul National University, and received her PhD degree with the thesis on Lu Xun's (魯迅, 1881-1936) Woodcut Movement: Between Art and Politics. Since 2002 she has been working for the National Museum of Modern and Contemporary Art (MMCA) Korea, curating or co-curating various exhibitions like Cubism in Asia: Unbounded Dialogues (2004-2005, co-organised with the Japan Foundation, National Museum of Modern Art Tokyo, and Singapore Art Museum), Realism in Asian Art (2009-2010, co-organised with National Gallery Singapore), Tell Me Tell Me: Australian and Korean Art 1976-2011 (2011-2012, co-organised with Museum of Contemporary Art Sydney) and Deoksugung Project (2012). She also curated many research-based retrospective exhibitions of Korean modern artists such as Park Hyunki (2015), Yoo Youngkuk (2016) and Yun Hyong-keun (2018). Her speciality is the Korean modern art history in context of Asian art development.
MMCA
Since 1969, the National Museum of Modern and Contemporary Art (MMCA), Korea has established itself as one of the country's leading art institutions, making its mark on the history of Korean 20th century art. Through an operating system that has developed among the museum's four venues, beginning with Gwacheon in 1986, then Deoksugung in 1998, Seoul in 2013, and Cheongju in 2018, MMCA has actively contributed to the development of art and culture in Korea. Now more than 2.4 million people visit MMCA's four venues every year, enjoying permanent collection exhibitions selected from more than 8,000 pieces of museum's collection, and various special exhibitions which theme ranges from Korean to international art.
Facebook, Instagram, Twitter, Youtube: @mmcakorea