THE CONTEMPORARY ARTS CENTER HOSTS LONDON BIENNALE SATELLITE EVENT IN LAS VEGAS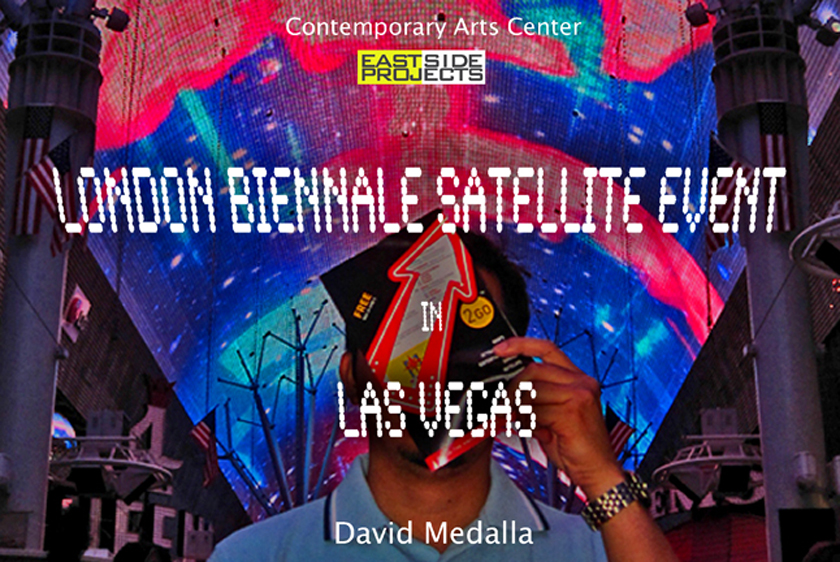 The Contemporary Arts Center Hosts London Biennale Satellite Event in Las Vegas
6 August 2010
107 East Charleston Boulevard, Suite 120 Las Vegas, Nevada 89104, USA
Call for Participation
(Las Vegas, August 2nd, 2010)
The London Biennale is a do-it-yourself event, founded by David Medalla, which started as a small artists' community loosely based in London. Through the years, the biennale has evolved and is no longer restricted to London but playing an active part around the world through simultaneous satellite events in places like Paris, Rio de Jainero, Rome, Berlin, New York, Boston and now in Las Vegas.
The London Biennale Satellite Event in Las Vegas, with the support of CAC East Side Projects, is a one night impromptu performance coordinated by Jevijoe Vitug. The event will be held at East Side Projects' space and in front of the CAC gallery on First Friday, August 6, between 6 to 9 pm.
People who wish to participate in the event may bring their own "eros arrow" made from everyday materials, execute an impromptu for less than five minutes and donate your arrow to East Side Projects' wall installation.
Eros arrow is the event emblem based from the arrows of Eros, the god of love. According to David Medalla, arrows of Eros signify love, movement and direction and could signify different things for each and every artist.
About the artist:
London Biennale founder David Medalla is a Filipino international artist based in London. He is a pioneer of kinetic art, participatory art and live art whose works have been shown globally which includes important contemporary art exhibitions such as Harald Szeemann's exhibition 'Live in Your Head: When Attitudes Become Form' (1969), DOCUMENTA 5 in Kassel, Germany (1972), 'Flux Attitudes' exhibition at the New Museum, New York (1993), 'L'Informe' curated by Yves-Alain Bois and Rosalind Krauss at the Centre Pompidou, Paris (1996/97), 'Life/Live' curated by Hans-Ulrich Obrist at Musee d' Art Moderne de la Ville de Paris (1996/1997), Out of Actions: Between Performance and the Object, 1949-1979 organized by Paul Schimmel at the Museum of Contemporary Art, Los Angeles and 2nd Johannesburg Biennale, South Africa curated by Okwui Enwezor (1998).
East Side Projects is a monthly two-week project organized by Contemporary Arts Center Las Vegas encouraging all contemporary artists working in any media. It is located at the gallery's front window space facing Charleston Boulevard.
Impromptu performance
Date: First Friday, August 6, 2010 6-9pm
Location: East Side Projects
Front window space
Contemporary Arts Center Las Vegas
107 E. Charleston, Suite 120, Las Vegas NV 89104
Links:
http://www.londonbiennale.org/
http://www.facebook.com/group.php?gid=133005571321
http://www.lasvegascac.org/
http://lasvegascac.blogspot.com/
CONTACT:
Jevijoe Vitug, Project Coordinator
Email: jevitug@yahoo.com
Wendy Kveck, Director
Contemporary Arts Center Las Vegas
Gallery: (702) 382-3886
Mobile: (702) 869-9002
E-mail: wendylvcac@gmail.com
About the Contemporary Arts Center
The Contemporary Arts Center (CAC) is a non-profit 501(c)3 art organization dedicated to presenting new, high quality, visual, and performing art, while striving to build, educate, and sustain audiences for contemporary art. The CAC strives to provide a place where artists can learn about best practices, test new ideas in the public arena, and connect with fellow artists within and beyond our own community.
The Contemporary Arts Center was voted winner "Best of Las Vegas 2010" Art Gallery, by the staff of the Las Vegas Review-Journal.
The Contemporary Arts Center was founded in 1989 and is a recipient of the 30th annual Governor's Arts Award for Leadership in Organizations. The Nevada Arts Council and the Governor's Office presented these honors in March 2010 for outstanding and enduring contributions to Nevada through artistic achievement and service to the arts.
Gallery Hours and Admission: Gallery hours are Tuesday through Saturday 12:00 noon to 5:00 pm and by appointment.  First Friday of each month 6:00 pm to 10:00 pm. Admission is free and donations to the Contemporary Arts Center are accepted.
General Information: The Contemporary Arts Center is located in The Arts Factory at 107 East Charleston Boulevard, Suite 120.  For information on the CAC and it's programming, please visit the website www.lasvegascac.org or contact via telephone at 702-382-3886 or via e-mail at wendylvcac@gmail.com.