INSTALLATION BY RYAN GANDER, GUGGENHEIM | NEW YORK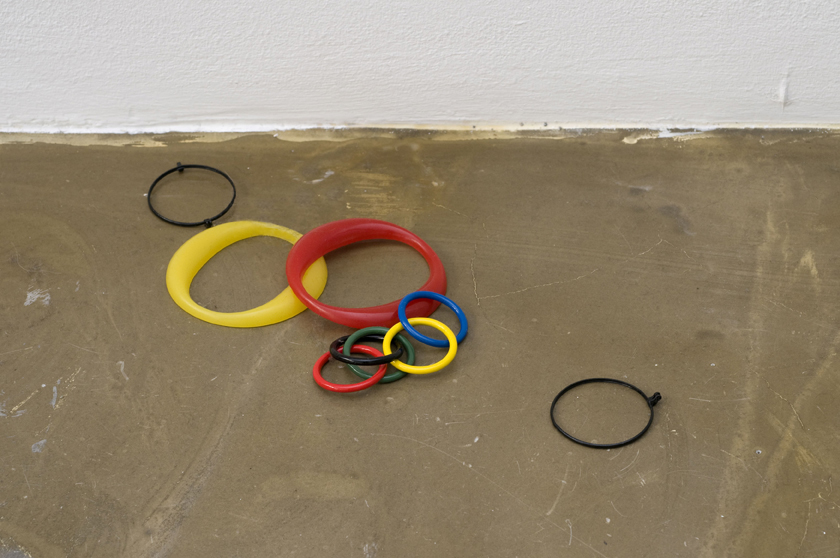 Intervals: Ryan Gander
October 1, 2010–January 9, 2011
Venue: Solomon R. Guggenheim Museum
1071 Fifth Avenue, New York
Location: Aye Simon Reading Room, Rotunda Level 2
www.guggenheim.org
(NEW YORK, NY – July 9, 2010) – From October 1, 2010, to January 9, 2011, the Solomon R. Guggenheim Museum will present Intervals: Ryan Gander, the third installment of its contemporary art series designed to reflect the spirit of today's most innovative practices. For his Intervals project, Ryan Gander (b. 1976, Chester, United Kingdom) has created a new, site-specific installation for the museum's Aye Simon Reading Room.
Organized by Katherine Brinson, Assistant Curator, this exhibition is presented in conjunction with the Public Art Fund's commission of a major new sculpture by Gander, The Happy Prince, on view beginning September 15, 2010, at Doris C. Freedman Plaza, Fifth Avenue and 60th Street.
From the utopian ambitions of the modernist movement to the overlooked details of daily experience, Gander's work ranges across a dizzying spectrum of forms and ideas. His meticulously researched projects–which have included such diverse conceptual gestures as an invented word, a chess set, a television script, and a children's book–engage familiar historical narratives and cultural paradigms only to unravel their structures and assumptions, presenting elusive scenarios that abound with interpretive potential.
In the Intervals installation for the Aye Simon Reading Room, a small library and study space located on Rotunda Level 2, visitors will encounter a scene of apparent catastrophe that relates to Gander's ongoing exploration of the schism between the Dutch artists Piet Mondrian (1872–1944) and Theo van Doesburg (1883–1931). These friends and creative collaborators severed their relationship in 1924 due to van Doesburg's belief in the diagonal line as a valid element in abstract art, which conflicted with Mondrian's insistence on a reductive visual language consisting of only gridded horizontals and verticals. Gander imagines this artistic dogmatism provoking a violent struggle between the two men that sends them crashing through a stained-glass window in the home of Frank Lloyd Wright, the architect of the Guggenheim Museum. In a mysterious temporal and spatial discontinuity, the debris from this accident has landed in the Reading Room, showering fragments of glass and lead over the books about Wright's life and work that are customarily available in the space. Accompanying this relic from the annals of art history is an artifact that has been transported to the museum from the New York of the future: a $25 coin, representing the inflated worth of a contemporary quarter by the year 2027, that has been glued to the floor in reference to a classic practical joke.
Ryan Gander and Public Art Fund
Public Art Fund presents a new commission by Ryan Gander entitled The Happy Prince, on view in Doris C. Freedman Plaza at the southeast corner of Central Park, September 15, 2010–April 10, 2011. Drawing inspiration from Oscar Wilde's beloved children's story, Gander will transform the final moments of the tale–the scene of the fallen statue–into a lyrical sculpture reminiscent of a romantic ruin. Using a sophisticated casting process with glass-reinforced concrete, the artist depicts the scene of the fallen statue at life size, but unlike the fragments of an actual ruin, Gander's work is one single, massive form. The Happy Prince is Gander's first public art commission in the United States. The artist will also launch the fall 2010 Public Art Fund Talks series with one of his celebrated Loose Associations presentations on Thursday, September 16, at 6:30 pm at The New School's John Tishman Auditorium. In a narrated PowerPoint presentation, the artist will string together a series of images, memories, facts, and histories in an engaging and often comedic, hybrid performance-lecture.

About Ryan Gander
Ryan Gander lives and works in London. He received his BA from Manchester Metropolitan University, United Kingdom (1999) and undertook post-graduate studies at Jan van Eyck Akademie, Maastricht, Netherlands (2000) and Rijksakademie van beeldende kunsten, Amsterdam (2002). Gander's work has been widely exhibited internationally, including recent solo presentations at Haus Konstruktiv, Zurich (2010); Villa Arson–Centre national d'art contemporain, Nice (2009); Museum Boijmans Van Beuningen, Rotterdam (2009), South London Gallery (2008); Ikon Gallery, Birmingham, United Kingdom (2008); and Stedelijk Museum, Amsterdam (2007). Group exhibitions include Production Site: The Artist's Studio Inside-Out, Museum of Contemporary Art, Chicago (2010); Chasing Napoleon, Palais de Tokyo, Paris (2009–10); Space as Medium, Miami Art Museum (2009–10); and The Generational: Younger than Jesus, New Museum of Contemporary Art, New York (2009) as well as Wouldn't it be nice . . . Wishful thinking in art and design, Somerset House, London (2008); Museum für Gestaltung, Zurich (2008); and Centre d'art contemporain, Geneva (2007). The Intervals exhibition and the Public Art Fund program mark Gander's first solo institutional presentations in New York.

About Intervals
Fast-paced and modest in scale, Intervals is an experimental series launched in spring 2009 that allows the museum to respond quickly to innovations and new developments in contemporary art as they arise. Conceived to take place in the interstices of the museum's exhibition spaces, in individual galleries, or beyond the physical confines of the building, the program invites a diverse range of artists to create new work for a succession of solo presentations.
The exhibition series is funded by the generous contributions of the Intervals Leadership Committee. Chaired by Young Collectors Council member Jeremy E. Steinke, the group comprises high-level Guggenheim members who are committed to the realization of Intervals projects and who enjoy a privileged insight into the curatorial processes behind them.
About the Solomon R. Guggenheim Foundation
Founded in 1937, the Solomon R. Guggenheim Foundation is dedicated to promoting the understanding and appreciation of art, primarily of the modern and contemporary periods, through exhibitions, education programs, research initiatives, and publications. Currently the Solomon R. Guggenheim Foundation owns and operates the Guggenheim Museum on Fifth Avenue in New York and the Peggy Guggenheim Collection on the Grand Canal in Venice, and also provides programming and management for two other museums in Europe that bear its name: the Guggenheim Museum Bilbao and the Deutsche Guggenheim in Berlin. The Guggenheim Abu Dhabi Museum, a museum of modern and contemporary art designed by architect Frank Gehry, is scheduled to open in 2013.
Admission: Adults $18, students/seniors (65+) $15, members and children under 12 free. Admission includes audio tour.

Museum Hours: Sun–Wed, 10 am–5:45 pm; Fri, 10 am–5:45 pm; Sat 10 am–7:45 pm. Closed Thurs. On Saturdays, beginning at 5:45 pm, the museum hosts Pay What You Wish. For general information call 212 423 3500 or visit guggenheim.org.