LUCIA ROMUALDI, WORK VARIATION _K10_NEWPORT 33, MUSEO H.C. ANDERSEN | ROMA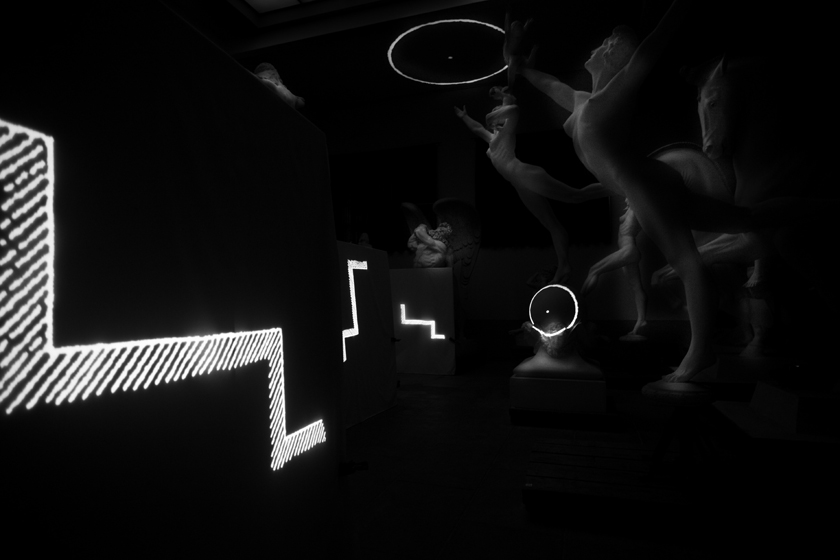 GALLERIA NAZIONALE D'ARTE MODERNA
Museo Hendrik C. Andersen – Via P. S. Mancini, 20 – Roma
Lucia Romualdi
WORK VARIATION _K10_NEWPORT 33  (variazione op.K10°_n Newport )
Light's score by optical machianry (partitura di luce per macchinari ottici) 2010
Ivan Fedele, due notturni con figura – electrophones and piano concerto, 2010
Giornata del Contemporaneo, Sabato 9 ottobre 2010 dalle 19.00 alle 24.00
Text by Vittoria Biasi – Art historian
The eyes and the soul slip into disappointment when the luminous trace of a falling star crosses the sky and it is swallowed up by the endless dark.  The space void the light that is soothed by tradition entrusting the bright passage with the fulfilment of a desire. At all times the phenomenon fascinates for its mysterious conceptual loveliness. This extreme language of light is close to the art for art's sake, just as I defined it during the exhibitions for light since 1996. The poetical concept of the eyesight of art is far off the poetics that arouses the exhibitions around the artist's eyesight. The artist that measures himself against the eyesight of art seeks the heart, the beat of place that turns out in luminous signs.  Lucia Romualdi's exhibition  WORK VARIATION _K10_NEWPORT 33 (Variazione opera _K10_Newport33) –  Galleria Nazionale d'Arte Moderna – Museo Andersen,  Roma,  9 October 2010,  Giornata del Contemporaneo –  is a pathway of luminous evocation,  presentation of rhythm, luring the eyes in a sort of mimic signal  with the peculiarity of a luminous stroke,  in numerical intermittence, sequenced by the oars theory  in the ancient vessels.
The Andersen's Museum has been studio and home of Norwegian artist Hendrik C. Andersen where earlier Lucia Romualdi put down the light score talking with the gessoes exhibited alongside the gallery.
From the end of 1980s on, the artist gave all to the search of the concept of score, expression, tongue of  "time" category,  liable of variations, lowest oscillations. Lucia Romualdi  fixes a pattern of light among minimal signs, basic geometry related with liquidity.  The geometrical figures, the numeric means, the music of Ivan Fedele's – electrophones and piano concerto of two nocturnes with figure – are tuned in to the U.S. Newport tide, place beloved by Andersen.  Few digital screenshots of  SORTANT DU PORT (Louis Lumière, 1895) on double screen, slow motion, attend the notion of  gesture and  temporality.
Music, light, projection enter the room creating an extension of gesso's movement that seems like they want to achieve the arcaicity of  evidence.  The luminous geometries are projected on the ceiling, to the base of some gessoes or on surfaces covered with white canvas. The dimensions of white wings comply with the numerical-proportional theory  managing the project. The black and white projection  privileges the sea sight, rhythmic flow witnessed by the white statues. They are the engine of movement that organizes the thought. The artist with his eyesight of art look for the code of  transcendence,  of the redemption of  the idea locked  in the form of time through an act absolute and complete.
Vittoria Biasi
Translated by Salvatore Rollo at salvatore_rollo@fastwebnet.it