SOTHEBY'S – AUCTIONS SALES | CONTEMPORARY ART – TOTAL €13.7m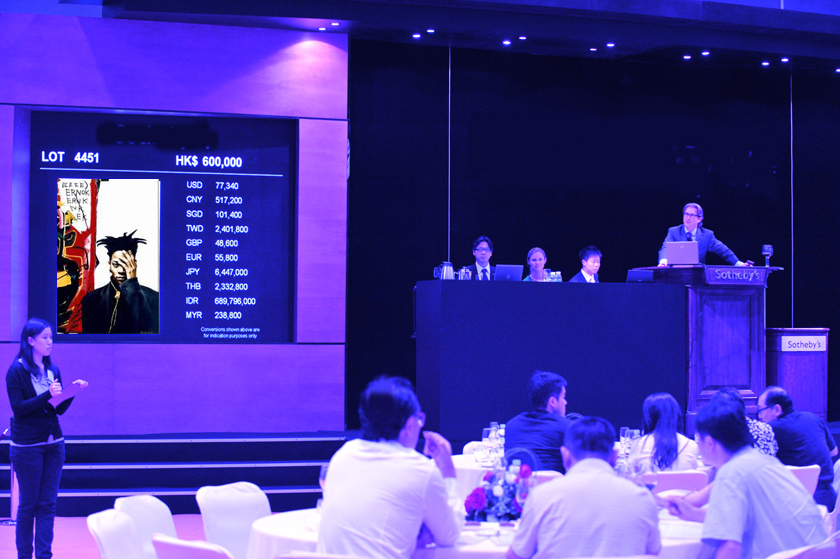 Contemporary Art
Total €13.7m
an iconic canvas by Jean-Michel Basquiat – €2.4m
world record prices for
Emil Schumacher: Solluk – €480,750
Josef Sima: Fall of Icarus II – €288,750
Paris 7 December 2010 – Sotheby's Evening Sale of Contemporary Art totalled €9.3m, led by Jean-Michel Basquiat's iconic Water-Worshipper (1984) at €2,416,750. This magnificent painting echoes Basquiat's Haitian origins, combining personal cultural memories with the evocation of oppressed minorities in the Americas.
The second highest price in this first session, €1,352,750, went to Jean Dubuffet's monumental sculpture Métalogie aux Turbulences (1971) from his celebrated Hourloupe cycle, with its flat expanses of red, blue, white and black – a contrasting approach to his earlier works, with texture banished in favour of compartmentalized surfaces of flat colour, an approach Dubuffet also used for paintings and installations.
The sale posted world record prices for two European artists: Germany's Emil Schumacher – €480,750 for his Solluk (1962); and Czech artist Josef Sima – €288,750 for Fall of Icarus II (1959), evoking the famous myth "like a luminous whirlwind disintegrating earthly matter, transformed into light as if during a cosmic catastrophe" (Frantizek Smejkal).
Meanwhile the Day Sale on December 8 saw the international art market confirm the current demand for sculptures by Robert Indiana and César. Robert Indiana's celebrated sculpture Love from 1966, in a version made in 1998, posted the session's top price of €228,750. César's impressive automobile compression Shock Red 165, shown at the Cartier Foundation in 2008 and from his famous 1998 series of monochrome compressions made from Fiat cars, sold in line with the high estimate for €202,350.