CATERINA DAVINIO – SERIAL PHENOMENOGIES / FENOMENOLOGIE SERIALI | CAMPANOTTO 2010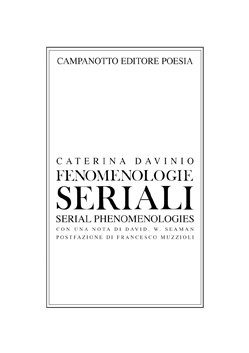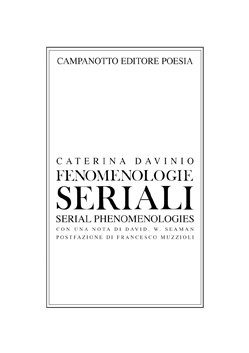 BOOK: Fenomenologie seriali / Serial Phenomenologies
AUTHOR: Caterina Davinio
PUBLISHER: Campanotto – YEAR: 2010
DESCRIPTION: Poems 1999-2008, with parallel English text. English translation by Caterina Davinio and David W. Seaman. Afterword by Francesco Muzzioli. With a critical note by the translator: David W. Seaman.
The latest book by Caterina Davino, a selection of poems from 1999 to 2008, divided into two sections: Serial Phenomenologies 1999-2003 and Squeeze 2004-2008. With a concluding poem written in 2003: The Rustle of Paper. Many texts collected in this volume have appeared over the years in Italian and international magazines and anthologies and are here presented with some unpublished poems of the same series.
The volume contains a critique by Francesco Muzzioli, one of the most careful scholars of Italian avant-garde and professor at the University of Rome Sapienza, who wrote in the afterword:
"the author "cuts out" for herself […] her own space within the realm of poetic and artistic experimentation today. And today, in spite of all taboos, poetry is able to confront the lyrical schemes of the past, and has learned to produce an abrasive lyric, not consoling, minimal in metrics too, which appears here deconstructed and conducted by little rhythmic nuclei. Minimal, but not minimalist, because it does not offer refuge and easy compensation, but jagged fragments, pointed splinters".
"the 'word' as a problem, changes itself into the matrix of a series of poetic trials, in which poetry – by virtue of the fact of being an abnormal text and using all those modern keys, from disorientation to fragmentation, from dislocation to astigmatism, and in particular, as we will see, the cutting images – assumes the exploratory capacities that become more and more diverse, but always acute and cruelly inexorable".
The book has a parallel English text, drawn by the author in collaboration with the American translator David W. Seaman, who writes in his note on the work carried out together with Davinio:"[…] might be a psychological dissection performed in a landscape painted by Yves Tanguy and Salvador Dalí. Lightning flashes across a leaden sky while the poet's voice speaks intently of her gradual dessication. […] This collection of poems by Caterina Davinio is an invitation to read and reread, silently and aloud. It rewards the reader with fascinating lines and jarring phrases that bring fresh and dangerous enjoyment to the practice. Be alert, all who enter here".
As a key of her research, the author writes, in fact: "Broken syntax and minimal use of words – epiphany in empty space, a story fragment that continues elsewhere – subversive punctuation, discourse torn apart by the biological intensity of desire, of weeping, of limits, of the ambiguity of meaning, these promise a sense that remains unspoken and imminent", and also: "The sickness of love and poetry, serial phenomena to lend scientific interest to, numbered in order, an estranged observatory of disorienting and extreme passions".
Caterina Davinio was born in Foggia in 1957, lived in Rome, her adopted city, from 1961 to 1996, where, after graduating in Italian Literature, she worked in contemporary art and new media poetry as a writer, curator and theorist. Among the better-known Italian artists abroad, for her multimedia and virtual events created on-line and in Second Life in the context of the Venice Biennale and collateral events, she was among the pioneers of digital poetry in 1990 and the initiator of Net-poetry in Italy in 1998.Among her publications: Color Color (novel Campanotto, 1998, Feronia Prize finalist), Techno-Poetry and Virtual Realities (essay, Sometti, Mantua 2002, with English translation and a preface by Eugenio Miccini). Caterina Davinio worked for many years also in visual art: after solo and group exhibitions of painting in the late 80's, performances and poetry readings, she was present on the national and international art scene with digital and intermedia art, video, photography and experimental hybrid forms. Included in public and private collections, she is a constant presence in exhibitions and festivals in many countries around the world: in Europe, North and South America, Asia, Australia. In addition to the aforementioned Venice Biennale, she has participated in international biennials, such as Athens (2007), Sidney (on-line, 2008), London (several editions since 2004), Biennales de Lyon (1999, 2007), Liverpool (collateral events 2006, 2008 ), New Media Biennial (Merida, Mexico 2003) and many others.
AVAILABILITY OF THE VOLUME: since October 30 2010 in the bookstores. The book can also be purchased on line. Here are some sites:

For orders contact the publisher:
CAMPANOTTO EDITORE
Via Marano, 46 – 33037 PASIAN DI PRATO (UD)
Tel. 0432/699390 – 690155 – telefax 0432/644728
E-mail: inga@campanottoeditore.191.it
Established in 1976, President: Franca Campanotto, Editorial Director: Carlo Marcello Conti.
Journalists, universities, libraries and cultural centers that can make the volume available to the public, may request a free copy (copies available in a limited number, subject to availability) by writing to: ART ELECTRONICS – Cultural Association: clprezi@tin.it
AUTORE: Caterina Davinio
LIBRO: Fenomenologie seriali / Serial Phenomenologies
EDITORE: Campanotto, Pasian di Prato (UD) 2010
DESCRIZIONE: Poesie 1999-2008, con traduzione inglese a fronte.
Traduzione inglese di Caterina Davinio e David W. Seaman.
Postfazione di Francesco Muzzioli.
Con una nota critica del traduttore americano David W. Seaman.
REPERIBILITA' DEL VOLUME: dal 30 ottobre 2010 in libreria.
Anche acquistabile on line (link in basso) oppure si può richiederlo direttamente a: CAMPANOTTO EDITORE
Tel. 0432/699390 – 690155 – telefax 0432/644728
http://www.campanottoeditore.com/contattaci.php
Giornalisti, università, biblioteche e centri culturali che possano rendere il volume disponibile alla pubblica consultazione, possono richiederne una copia omaggio (copie disponibili in numero limitato, fino ad esaurimento) scrivendo a: ART ELECTRONICS – Associazione culturale clprezi@tin.it
È in libreria da fine ottobre 2010 l'ultimo libro di Caterina Davinio, una selezione di poesie dal 1999 al 2008, articolate in due sezioni: Fenomenologie seriali 1999-2003 e Squeeze 2004-2008. Con un testo poetico conclusivo del 2003: Il fruscio della carta.
Numerosi testi raccolti nel volumetto sono comparsi nel corso degli anni in antologie e riviste italiane e internazionali e sono qui ripresentati insieme ad alcune poesie della stessa serie ancora inedite.
Il volume si avvale di una lettura critica di Francesco Muzzioli, uno dei maggiori esperti italiani di avanguardie e docente all'Università Sapienza di Roma, che scrive nella postfazione:
"l'autrice si "ritaglia" […] un suo spazio all'interno di una sperimentazione poetica e artistica che, oggi, contro tutti i tabù, è in grado di confrontarsi con gli schemi lirici del passato, e sa di produrre una lirica abrasa, non consolatoria, minima anche nella metrica, che qui appare del tutto destrutturata e condotta per piccoli nuclei ritmici. Minima, ma non minimalista, perché non offre riparo e facile compensazione, bensì frammenti frastagliati, frantumi acuminati".
"[…] la "parola" come problema, si trasforma nella matrice di una serie di prove poetiche, in cui la poesia – in virtù del fatto di essere un testo abnorme ed utilizzando tutte quelle chiavi moderne, dal disorientamento alla frammentarietà, dal dislocamento all'astigmatismo e in particolare, come vedremo, le immagini taglienti – assume capacità esplorative di volta in volta diverse, ma sempre acute e crudelmente inesorabili".
Il libretto si avvale di un testo inglese a fronte, elaborato dall'autrice in collaborazione con il traduttore americano David W. Seaman, il quale nella sua nota sul lavoro condotto insieme alla Davinio così scrive nella nota critica: "[…] potrebbe essere una dissezione psicologica realizzata in un paesaggio dipinto da Yves Tanguy e Salvador Dalí. Un fulmine lampeggia attraverso un cielo di piombo, mentre la voce del poeta parla intensamente del suo graduale inaridimento […] Questa raccolta di poesie di Caterina Davinio è un invito a leggere e a rileggere, silenziosamente e ad alta voce. Essa ricompensa il lettore con affascinanti versi e frasi stridenti che portano a sperimentare un godimento fresco e pericoloso. Stiano attenti, coloro che entrano qui".
Come chiave di lettura introduttiva della propria ricerca, scrive, infatti, l'autrice: "La sintassi spezzata e un uso minimale della parola – epifania nello spazio bianco, frammento di storia che continua altrove – la punteggiatura eversiva, il discorso rotto dall'intensità biologica del desiderio, del pianto, del limite, dall'ambiguità di senso, promettono un significato che resta imminente e inespresso", e ancora: "La malattia d'amore e la poesia, fenomeni seriali cui prestare scientifico interesse, ordinatamente numerati, un osservatorio straniato delle passioni disorientanti ed estreme".
Caterina Davinio è nata a Foggia nel 1957, ha vissuto a Roma, sua città d'adozione, dal 1961 al 1996, dove dopo la laurea in Lettere si è occupata d'arte contemporanea e poesia dei nuovi media come autrice, curatrice e teorica. Tra gli artisti multimediali italiani più conosciuti all'estero per gli eventi virtuali creati on line e su Second Life nel contesto della Biennale di Venezia ed eventi collaterali, è tra i pionieri della poesia digitale nel 1990, e l'iniziatrice della Net-poetry in Italia nel 1998.
Fra le sue pubblicazioni: Còlor còlor (romanzo, Campanotto, 1998, finalista al premio Feronia), Tecno-Poesia e realtà virtuali (saggio, Sometti, Mantova 2002, con prefazione di Eugenio Miccini, nella collana Archivio della poesia del 900).
Caterina Davinio opera da molti anni anche nell'arte visiva: dopo personali e collettive di pittura alla fine degli anni 80, performance e letture pubbliche, è presente sulla scena artistica nazionale e internazionale con arte digitale e intermediale, video, fotografia e con forme sperimentali ibride. Inclusa in collezioni pubbliche e private, è presenza costante in mostre e festival in molti paesi del mondo, in Europa, Nord e Sud America, Asia, Australia. Oltre alla menzionata Biennale veneziana, ha partecipato a biennali internazionali, quali: Atene (2007), Sidney (on line, 2008), Londra (varie edizioni dal 2004), Biennales de Lyon (1999, 2007), Liverpool (collaterali 2006, 2008), Biennale dei nuovi media (Merida, Messico 2003) e molte altre. Vive a Monza e a Lecco.
REPERIBILITA' DEL VOLUME: dal 30 ottobre 2010 in libreria.
Anche acquistabile on line. Ecco alcuni siti:
.
Per informazioni e acquisti contattare:
CAMPANOTTO EDITORE
Via Marano, 46 – 33037 PASIAN DI PRATO (UD)
Tel. 0432/699390 – 690155 telefax 0432/644728
inga@campanottoeditore.191.it
Anno di fondazione 1976, Presidente: Franca Campanotto, Direttore Editoriale: Carlo Marcello Conti.
Giornalisti, università, biblioteche e centri culturali che possano rendere il volume disponibile alla pubblica consultazione, possono richiederne una copia omaggio (copie disponibili in numero limitato, fino ad esaurimento) scrivendo a: ART ELECTRONICS – Associazione culturale clprezi@tin.it