UEMON IKEDA, GIASONE E LA BELLA MEDEA – TOKI ART SPACE | TOKYO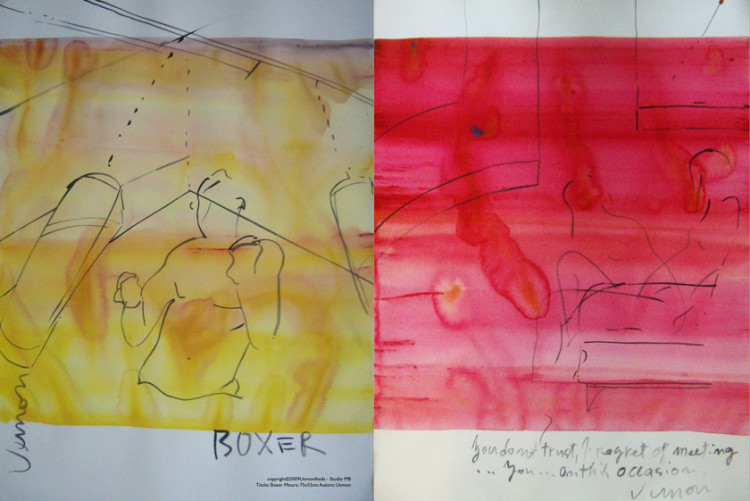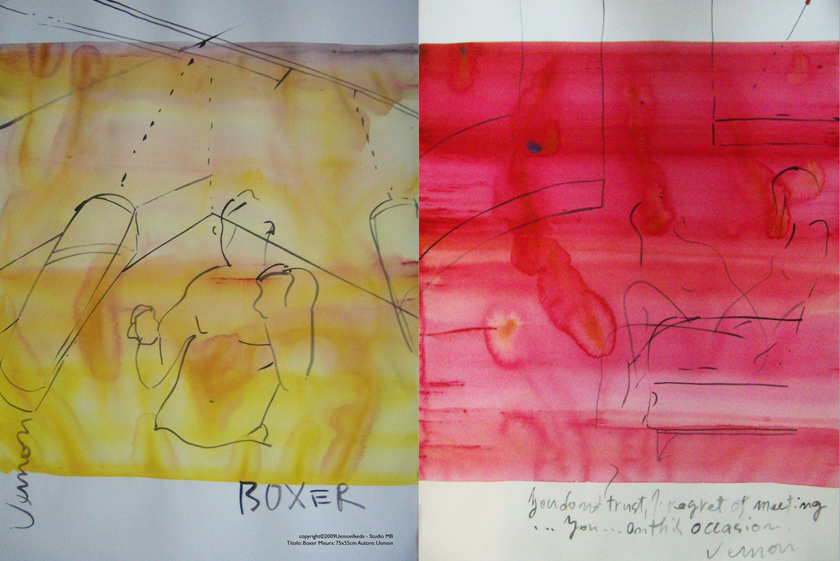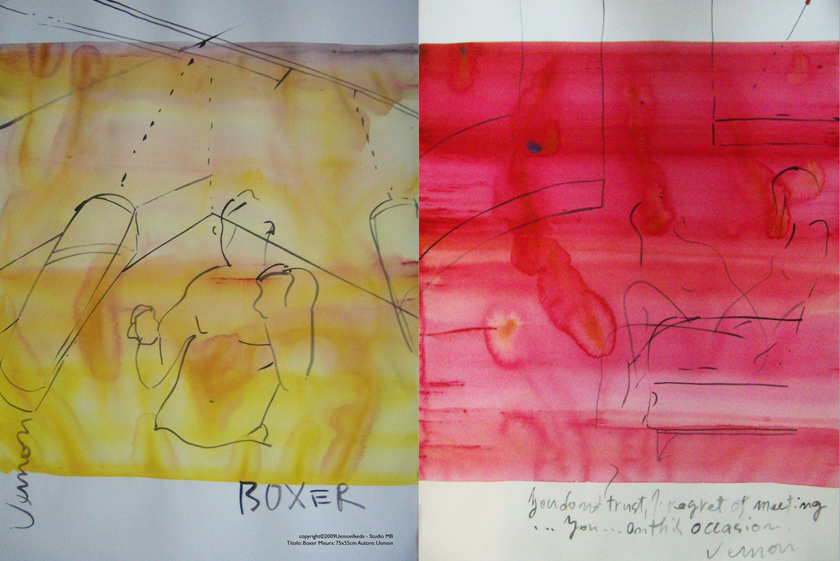 Uemon IKEDA
Giasone e la bella Medea
24 – 30 January 2011
TOKI Art Space
Saion Bldg 1F, 3-42-5
Jingumae Shibuya-ku 150-0001 Tokyo
Japan Tel/Fax 81-3-3479-0332
Text by Vittoria Biasi
The work of Uemon Ikeda is the magical meeting between the sign and its thought,  that delicately  gives life to a theatre of monochrome backgrounds.
The artist achieves lightness of color by stretching a transparent glaze on the sheet that wanders like a cloud in the sky. This gives strength to  the identity of the work's elements: the design and use of color watercolor.
The body and its movement is the central actor, expressed in the natural function of quiet dynamism, philosophical even in action. The figure is spontaneous, it seems to belong to another time and another space, with filtered feelings, any awareness of the disharmony of violence disappears
The artist seems to be looking for energy lines, searching a natural architecture, that move the precarious identity of the individual.
The idea of instability is rendered by drawing a non uniform color that forms islands and floats with different intensity.
Ikeda's poetry favors the idea of distance from invading problems and the unpredictable forces that fall on the balance of the world. The works seem postulates, searching concentration and balance that can only be achieved by overcoming the limitations or barriers and  achieve freedom to move within the incredible development of a globalised world.
The exhibition, titled Jason and Medea, by Noriko Toki, sponsored by the Italy-Japan Foundation, in cooperation with the studio Marta Bianchi communication and design, is part of a research project conducted by the real state of the art Toki Art Space Gallery, in Tokyo. The gallery's project is to discover the geographical and historical world of art by inviting Japanese artists living abroad -Uemon Ikeda lives in Rome – or foreign artists or artist residencies. The project wants to open a dialogue and highlite the attitude, thought, and action of art in the contemporary world.
Vittoria Biasi
Translated by Salvatore Rollo – at salvatore_rollo@fastwebnet.it
Testo di Vittoria Biasi
L'opera di Uemon Ikeda è un incontro magico tra il segno e il suo pensiero, che con leggerezza anima il teatro delle campiture monocrome. L'artista preserva la luce del colore distendendo sul foglio una velatura trasparente che vaga come una nube nel cielo. Ciò introduce una riflessione sulle identità degli elementi che compongono l'opera: il disegno e l'uso acquerellato del colore. Protagonista della scena è il corpo espresso nella funzione naturale del dinamismo tranquillo, filosofico anche in una pratica sportiva. L'immagine è spontanea, sembra appartenere ad un altro tempo e ad un altro spazio, con sentimenti filtrati, in cui non si legge la disarmonia propria di un esercizio per definizione violento. L'artista sembra interessato ad individuare  linee energetiche,  architetture naturali, trovate o ricercate, in cui si muove l'identità precaria dell'individuo.
Il pensiero della labilità è reso dalla stesura cromatica non omogenea che forma isole, galleggiamenti di colore di differente intensità. La poetica di Uemon Ikeda privilegia un'idea di distanza dalle problematiche invasive, di studio delle forze che imprevedibili si abbattono sugli equilibri del mondo. Le opere sembrano postulati, ricerca di concentrazione e di un equilibrio che si può ottenere solo attraverso un procedimento volto al superamento dei limiti, delle barriere, per una conquista di libertà, per posizionarsi all'interno degli sviluppi vertiginosi del mondo globalizzato. La mostra, dal titolo  Giasone e Medea, a cura di Noriko Toki,  con il patrocinio della Fondazione Italia-Giappone e in collaborazione con lo studio Marta Bianchi Comunicazione e immagine, si inserisce in un progetto di ricerca sulla condizione reale dell'arte condotta dalla Galleria Toki Art Space, in Tokyo. Per conoscere il mondo geografico e storico dell'arte,  la galleria ha impostato un progetto di inviti per artisti giapponesi residenti all'estero, come Uemon Ikeda, che vive a Roma, o per artisti stranieri o con residenze d'artista. L'intento del progetto è entrare in dialogo e mostrare l'atteggiamento, il pensiero, l'azione dell'arte nel mondo contemporaneo.
Vittoria Biasi