FROM DADA TO DUD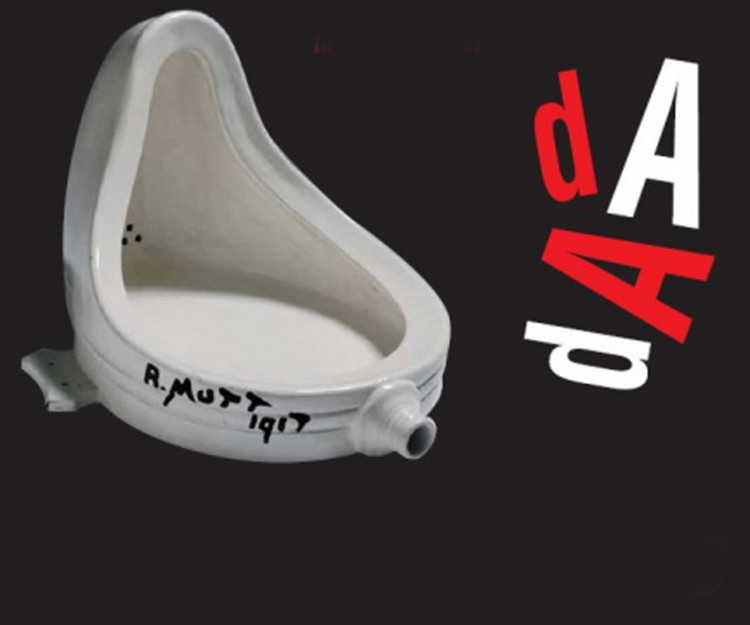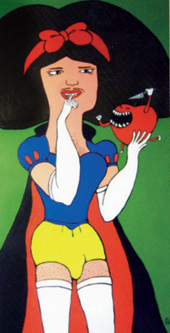 Article from The Telegraph: Calcutta
Page url: http://www.telegraphindia.com/1110219/jsp/opinion/story_13601073.jsp
Marcel Duchamp made a radical change in our perception of what we regard as art after he displayed his infamous Fountain at an exhibition of the Society of Independent Artists in New York in 1917. The Dadaists were up in arms, for the jury rejected Duchamp 019s entry 014 a urinal. Igor Zanti, who curated the exhibition, Dadaumpop: From Dada to Italian Neo-Pop (February 4-18) at the Rabindranath Tagore Centre, ICCR, writes in the catalogue: 01C[Duchamp 019s] is the benchmark that enables us to declare that such dissimilar works as the unmade, well-used bed of the bad girl Tracey Emin, or the performances of Vito Acconci or Andy Warhol 019s Brillo Boxes, are good works. 01D Zanti is quite justified in saying so.
But when he adds that "This exhibition originates from a desire to understand what the Duchampian and Dadaistic legacies are that can be found in Italian neo-pop…", the viewer may have found it difficult to identify such a "legacy", except in a very obvious way, in this rather tame and commonplace show of 27 artists, mostly young, save two. This was the third exhibition of Italian contemporary art being held in Calcutta, and it lacked the sophistication of its predecessors. The works could have been produced anywhere, and that was the point the curator wanted to make. But they were also incredibly naïve, and never for a moment did the viewer feel the frisson of experiencing something new.
The boldest — if only for what it depicted — work was Paolo Schmidlin's resin sculpture of the cross-dressed Mr Prinetti. The lifelike bust of the middle-aged man, heavily made up and bewigged, could have been one of the wax figures from Madam Tussauds, London. Schmidlin's claim to fame is his sculpture of a religious leader as a transsexual. But even in India, so bombarded are we by a daily dose of such images, that the sight of this shirtless she-man fails to raise an eyebrow any longer. Compare this with the mysterious and intriguing "Rrose Sélavy" photographs by Man Ray of Duchamp himself posing as a woman. To this day, they don't fail to surprise.
Teresa Morelli's painting with acrylic on canvas titled Transgenic was certainly a cleverer idea, to begin with. It is all about the hormonal effect of eating genetically-modified fruit — an apple, in this case. In a cartoon-like work, the girl has sprouted chest hairs and scrota as well, going by the contours of her panties (picture).
As expected, there was an entire series of works inspired by cartoons, superheroes, quirky road-signs, manga and popular fiction, and of course there were the Campbell's soup can wannabes. Marco Minotti presented Lewis Carroll, manga-style, while Max Papeschi's American Wedding was a take on Grant Wood's famous painting, with Miss Piggy and Kermit the Frog as newly-weds, their dreams of domestic bliss literally going up in flames in the backdrop.
The hot water bottles are Warholian clichés, although Marco Lodola's Supercar is slick and striking — promotional material, perhaps a poster, reduced to its bare essentials of form and primary colours. The black body of the car stands out a mile against the jonquil background.
Andy's work — fluo acrylic paint on canvas — had the inevitable Marylin Monroe and a video LCD planted in the midst of a riot of psychedelic colours. And although Angelo Volpe used oil paint on canvas to depict Disney characters looking up the thong of a bimbette, it is quite as unimaginative as Andrea Francolino's mixed-media work, Monet & Chandon, with its obvious pun on the famous champagne brand name. David Cesaria and Michela Pedron's superheroes fall in the same mindless category.
Ivan Lardschenider used the traditional skills of a wood carver to give shape to the "windbag". The artist is, no doubt, highly skilled, but his relevance to this exhibition is doubtful.
The most "cerebral" — literally — work on display was Florraine (Lorena Viale)'s installation laid out on the floor. Titled Intelligent Bridge, it referred to the absence of a bridge between two halves of Italy, and reached the conclusion that the real bridge was in the brain itself. Along with it were resin "viruses" of Giordano Curreri and Antonio Sorrention that had "infected" the framed prints and iconic stills from Italian cinema. These were hung on the grubby walls of the hall. There was a video as well, but when this reviewer went on the second day after the opening, the terminal was switched off, perhaps because the hall was empty.