SUSPENSE, SUSPENDED SCULPTURES – EX3 | FIRENZE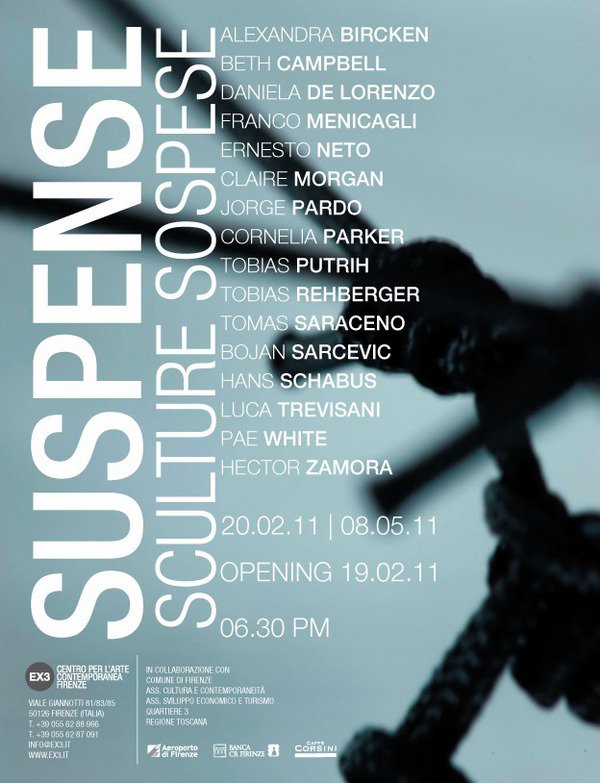 Suspense
EX3 Centro per l'Arte Contemporanea
viale Giannotti, 81/83/85 – Firenze
Tel. 055 6287091
dal 19/2/2011 al 8/5/2011
Foto di Li Bei
Corso di storia dell'arte contemporanea di Vittoria Biasi
Accademia Belle Arti Firenze
Suspense. Suspended sculptures
curators Lorenzo Giusti and Arabella Natalini
Saturday, February 19, 2011 marks the opening of Suspense. Suspended sculptures, an exhibition curated by Lorenzo Giusti and Arabella Natalini that seeks to explore the concept of "suspension" in relation to contemporary sculpture.
The spaces of EX3, Centro per l'Arte Contemporanea in Florence will host works by artists of various generations and provenances, created over the course of the past decade, 2000-2010.
The invited artists are: Alexandra Bircken (Germany, 1967), Beth Campbell (USA, 1971), Daniela De Lorenzo (Italy, 1959), Claire Morgan (Ireland, 1980), Franco Menicagli (Italy, 1968), Ernesto Neto (Brazil, 1964), Jorge Pardo (Cuba, 1963), Cornelia Parker (UK, 1959), Tobias Putrih (Slovenia, 1972), Tobias Rehberger (Germany, 1966), Tomas Saraceno (Argentina, 1973), Bojan Šarčevid (Bosnia 1974), Hans Schabus (Austria, 1970), Luca Trevisani (Italy, 1979), Pae White (USA, 1963), Hector Zamora (Mexico, 1974).
The term "suspended" also refers to various three-dimensional works, most of which are not floor-standing, that privilege empty space over mass, lightness over weight, movement over stability. What the exhibition seeks to explore is a widespread phenomenon, the origin of which can be traced back to some examples from avant-garde tradition, from constructivism to surrealism, and in particular to Calder's mobiles.
The lack of philosophical certainties and political or religious ideologies, running parallel to a rising awareness of the limitations of "progress" and accompanied by a strengthening demand for sobriety and subtlety, contributed to an exponential increase in the creation of slight, precarious or ephemeral works, many of which now share the characteristic of suspension. In fact, a significant segment of contemporary sculptural production has not only abandoned the pedestal, but has radically freed itself from any sort of attachment to the ground.
Explored through individual experiences over the course of the 20th century, in this past decade the practice of "suspension" became a distinctive element of the poetics of numerous artists. The exhibition will present a group of suspended or projecting works characterized by a general rejection of any stable or pre-set form – works that suggest the idea of a possible manipulation or a probable interchange, even as their three-dimensionality and spatiality maintain a solid bond with the idea of sculpture, albeit a mutated one.
The group of artists invited to participate in the show, all of whom share this attitude toward sculptural suspension, convey numerous and varied communicative aims: the common characteristics of lightness, dynamism, anti-monumentality and instability of the works presented at EX3 qualify them as true linguistic devices intended to elicit multiple reactions and reflections.
This is certainly true of the exploration of natural processes carried out in various ways: by drawing on objects from nature, re-proposed as abstract and arbitrary structures by Bojan Šarčevid, as well as in Claire Morgan's vegetal architectures, Tomas Saraceno's microcosms, Pae White's sculptural agglomerations or the biomorphic shapes of Beth Campbell's mobiles. It is also true of the further reflection on identity found in the anthropomorphic forms constructed using everyday materials by Alexandra Birken, Jorge Pardo's human cages and Daniela De Lorenzo's felt casts, or represented conceptually through the dichotomy between presence and absence in Hans Shabus's work. And it is true of the exploration of the intrinsic temporality of the object and its tendency to mutate and deteriorate discernible in the structures by Franco Menicagli and Luca Trevisani; or in Tobias Rehberger accumulations, as well as the reflection on the instability and semantic "drift" of perception suggested by Cornelia Parker's hybrid trap/shelter structures, Tobias Putrih's experimental apparatuses and Hector Zamora's sculptures teetering on the fence of a double abstract/figurative, heavy/light duality; or Ernesto Neto's walk-through installation in which perceptive instability is augmented by aromas and odors that physically involve the spectator in concert with the fluctuating and organic forms of the structures.
Multiple lines of experimentation converge in the ever-changing and mutating relationship that works of art establish with the space around them, in virtue of their suspension and instability.
EX3 is supported by Comune di Firenze
Assessorato alla Cultura e alla Contemporaneità
Consiglio di Quartiere 3
Regione Toscana
Assessorato alla Cultura, Commercio e Turismo
Press Office: Davis & Franceschini
tel. 055 2347273 – fax 055 2347361 davis.franceschini@dada.it
Communications: Neri Torrigiani
tel. 055 2654589 – fax 055 2654590 neri.torrigiani@torrigiani.com
Opening saturday february 19th 2011, h 6.30 p.m.
EX3 – Centro per l'Arte Contemporanea
viale Giannotti 81/83/85 – 50126 Firenze
Hours of operation:
Wednesday to Sunday, 11 am to 7 pm – Friday until 10:00 pm
Closed Monday and Tuesday
Position the cursor on the images to view captions, click on images to enlarge them.
Posizionare il cursore sulle immagini per leggere le didascalie; cliccare sulle immagini per ingrandirle.
Le foto sono di Li Bei, Corso di storia dell'arte contemporanea di Vittoria Biasi, accademia belle arti Firenze.
Suspense. Suspended sculptures
a cura di Lorenzo Giusti e Arabella Natalini
Si apre sabato 19 febbraio 2011 Suspense. Sculture sospese, una mostra a cura di Lorenzo Giusti e Arabella Natalini, che vuole esplorare il concetto di "sospensione" in relazione alla produzione scultorea contemporanea.
Negli spazi di EX3, Centro per l'Arte Contemporanea, Firenze, saranno presentate opere di artisti di diversa generazione e provenienza, realizzate nel corso dell'ultimo decennio, tra il 2000 e il 2010.
Gli artisti invitati sono: Alexandra Bircken (Germania, 1967), Beth Campbell (Usa, 1971), Daniela De Lorenzo (Italia, 1959), Claire Morgan (Irlanda, 1980), Franco Menicagli (Italia, 1968), Ernesto Neto (Brasile, 1964), Jorge Pardo (Cuba, 1963), Cornelia Parker (Regno Unito, 1959), Tobias Putrih (Slovenia, 1972), Tobias Rehberger (Germania, 1966), Tomas Saraceno (Argentina, 1973), Bojan Šarčevid (Bosnia 1974), Hans Schabus (Austria, 1970), Luca Trevisani (Italia, 1979), Pae White (Usa, 1963), Hector Zamora (Messico, 1974).
Con il termine "sospeso" si indicano alcuni lavori tridimensionali, in massima parte non poggianti a terra, nei quali si privilegia il vuoto alla massa, la leggerezza al peso, il movimento alla stabilità. Quello che si vuole approfondire è un fenomeno diffuso la cui origine si può fare risalire ad alcuni esempi della tradizione avanguardista, dal costruttivismo al surrealismo, ed in particolare ai mobiles di Calder.
La carenza di certezze filosofiche e di ideologie politiche o religiose, parallelamente a una presa di coscienza dei limiti dello sviluppo a cui si è affiancata una sempre più diffusa esigenza di sobrietà e leggerezza, ha contribuito ad un aumento esponenziale della creazione di opere esili, precarie o effimere, molte delle quali si trovano oggi a condividere la caratteristica della sospensione. Una parte significativa della produzione scultorea contemporanea ha infatti non soltanto rinunciato al piedistallo, ma si è anche radicalmente svincolata da ogni rapporto con il suolo.
Esplorata, attraverso singoli episodi, nel corso del XX secolo, la pratica della "sospensione" è diventata, nell'ultimo decennio, elemento distintivo della poetica di numerosi artisti. In mostra sarà dunque presentato un gruppo di opere sospese o aggettanti caratterizzate da un generale rifiuto di ogni forma stabile o prefissata.
Opere che suggeriscono l'idea di una possibile manipolazione o di un probabile attraversamento, pur mantenendo, in virtù della loro tridimensionalità e della loro spazialità, un saldo legame con un'idea, seppure mutata, di scultura.
Il nucleo di artisti chiamati a partecipare all'esposizione, accumunati da tale attitudine alla sospensione scultorea, veicola plurime ed eterogenee volontà comunicative: le condivise caratteristiche di leggerezza, dinamismo, antimonumentalità e precarietà delle opere presentate ad EX3, si qualificano come veri e propri espedienti linguistici atti a scaturire molteplici riflessioni.
È il caso dell'indagine sui processi naturali, variamente condotta sia attraverso il prelievo di oggetti naturali, riproposti come strutture astratte e arbitrarie da Bojan Šarčevid, sia nelle architetture vegetali di Claire Morgan, nei microcosmi di Tomas Saraceno, negli agglomerati scultorei di Pae White o nelle forme biomorfiche dei mobiles di Beth Campbell. Dell'ulteriore riflessione sull'identità, riscontrabile nelle forme antropomorfe costruite per mezzo di materiali d'uso quotidiano di Alexandra Birken, nelle gabbie umane di Jorge Pardo, nei calchi in feltro di Daniela De Lorenzo, o rappresentata concettualmente per mezzo della dicotomia tra presenza e assenza nell'opera di Hans Shabus. Dell'indagine sulla temporalità intrinseca dell'oggetto e sulla sua tendenza alla mutazione a e al deterioramento, rilevabile nelle strutture di Franco Menicagli e di Luca Trevisani, o nelle accumulazioni di Tobias Rehberger. Della riflessione sull'instabilità della percezione e sulle sue derive semantiche, suggerita dalle strutture ibride tra trappole e ripari di Cornelia Parker, dagli apparati sperimentali di Tobias Putrih, dalle sculture di Hector Zamora, situate sul doppio crinale astratto/figurativo, pesante/leggero, o dalle installazioni percorribili e abitabili di Ernesto Neto, dove all'instabilità percettiva concorrono aromi e odori che, parimenti alle forme fluttuanti e organiche delle strutture, coinvolgono fisicamente lo spettatore.
Plurali direttrici di ricerca che vengono condotte attraverso la sempre mutevole e cangiante relazione che le opere instaurano con lo spazio circostante, in virtù della loro sospensione e precarietà.
EX3 è sostenuto da Comune di Firenze
Assessorato alla Cultura e alla Contemporaneità
Consiglio di Quartiere 3
Regione Toscana
Assessorato alla Cultura, Commercio e Turismo
Ufficio Stampa: Davis & Franceschini
tel. 055 2347273 – fax 055 2347361 davis.franceschini@dada.it
Comunicazione: Neri Torrigiani tel. 055 2654589 – fax 055 2654590 neri.torrigiani@torrigiani.com
Anteprima per la stampa Venerdì 18 febbraio 2011, ore 13.00
Inaugurazione sabato 19 febbraio 2011, ore 18.30
EX3 – Centro per l'Arte Contemporanea
viale Giannotti 81/83/85 – 50126 Firenze