FACES IN THE TIME OF TAGORE FRENZY: FINGER OF FRAUD AT ART COLLEGE SHOW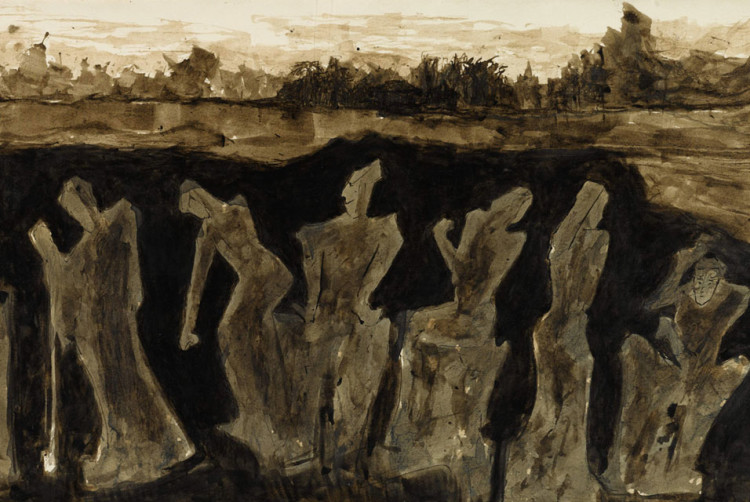 Fakes in the time of Tagore frenzy: finger of fraud at art college show
SOUMITRA DAS
Page url: http://www.telegraphindia.com/1110302/jsp/calcutta/story_13655903.jsp
By Tagore or not by Tagore, that is no longer the question.

The thriving cottage industry in churning out fake paintings has invaded the Government College of Art & Craft, where an exhibition of paintings purported to be by Rabindranath Tagore has been categorically branded fake by experts.
The institute, founded in 1854, was presenting a "Show of Rabindranath Tagore's paintings" from February 27 to March 8, as part of his 150th anniversary celebrations. Governor M.K. Narayanan inaugurated the exhibition on Sunday morning.
Veteran art critic Pranabranjan Roy, who also "authenticates" art work, rang the alarm bell on Monday morning, when he pointed out that the paintings on display at the Government Art College were all counterfeit.
It is well known that academically-trained artists of Calcutta are good at draughtsmanship, a skill that comes in handy for making near-perfect copies of Bengal masters — of the past and contemporary ones as well. But never before has this talent backfired on the institute that mass produces such daubers.
Three of the "Tagore works" were from the collection of the Indian Museum, and the rest were sourced from the collection of Jayanta Banerjee of Dhanbad, who had, claimed Dipali Bhattacharya, the principal of the college, received them from Rani Mahalanobis.
It was later revealed that this Tagore associate had nothing more than some manuscripts, sketches and other paraphernalia in her famous trunk, which she bequeathed to Rabindra Bhavan in Santiniketan in the early 1980s before her death.
Poet Sankha Ghosh, who was witness to the negotiations with Mahalanobis for institutional acquisition, said on Monday there was no painting in that collection, a statement later endorsed by the UK-based Tagore scholar, Ketaki Kushari Dyson, in an email to Metro.
Dipali Bhattacharya said both Jogen Choudhury and Ganesh Haloi were associated with the exhibition, and that Choudhury had bought one of the works, a fact that was later confirmed by the artist who has lived and worked in Santiniketan for decades.
Choudhury, who called for "scientific authentication" of the works, was unable to attend the inauguration on Saturday owing to illness. Haloi was there, but he said his vision was not clear after eye surgery.
R. Siva Kumar, professor, Kala Bhavan, Visva-Bharati, told Metro that he had already seen digital images of the paintings and was convinced that they were all fakes. "These are by an academically trained artist — not old Santiniketan. Elements have been taken from different prints and then collaged together.
"This needs to be nipped in the bud. The other day, I came upon a notice about an exhibition of Nandalal (Bose) and Abanindranath (Tagore), the medium being acrylic and canvas. Acrylic paints were not invented then. They are totally uninformed. The art world should wake up if it wants credibility. Institutions should be more careful. They have a certain responsibility to their heritage and legacy. The academic part of it should be more professional."
The Government Art College, however, stood its ground. In a statement, Dipali Bhattacharya wrote: "On behalf of the organising committee of the Tagore Show, I can only express my shock, disappointment and disgust at such an irresponsible statement made by someone [referring to Pranabranjan Roy] who has neither cared to personally inspect the exhibits nor cared to put them through any established method to verify their authenticity. The Government College of Art and Craft is proud to host the Tagore Show and dismisses such comments with the contempt that they deserve."
Sushobhon Adhikary, curator, Kala Bhavan Museum at Visva-Bharati, who saw digital images of the paintings sent via email, categorically stated that they were fakes. "These are based on three albums or catalogues of Tagore paintings — Chitralipi of 1940 brought out by Visva Bharati, an album with 25 images published by the Lalit Kala Akademi on Tagore's centenary year, and the Tagore festival catalogue in Japan in 1988. These are weak imitations of Tagore. They lack the warmth and the intensity…"
Soumitra Das
How can the display of Tagore fakes be prevented? Tell ttmetro@abpmail.com