EXPOSICIÓN Y VENTA SOLIDARIA ARTE CONTRA EL HAMBRE – MADRID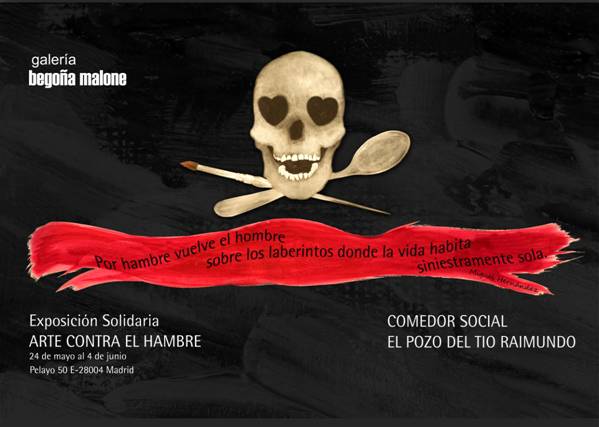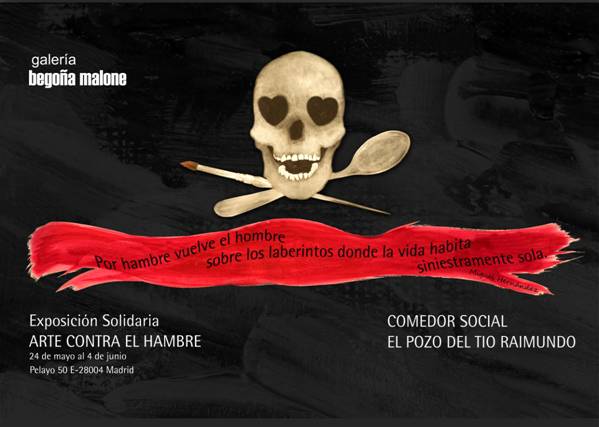 EXHIBITION AND UNITED SALE  ART AGAINST THE FAMINE
Opening on Tuesday, the 24th of May at 20 a.m.
www.bmalone.com – galeria@bmalone.com
Pelayo, 50 – 28004 – Madrid
T. +34 91 297 38 79 – F.+34 91 308 28 97
In the beginning of the XXIst century, the man and its societies seem to have come to the apex of the biggest developments and scientific and ethical achievements. The almost miraculous development of the astronautics that allows to put the human foot on the moon; the creation of the United Nations with the universal Declaration of the Human rights (it does already more than sixty years) and the permanent advances in the positive treatment of multiple pathologies – till not long ago incurable – seems to have taken the human being at the maximum levels of justice and well-being. But to date of today, in this advanced world thirty million deaths take place, every year, for famine. And of this contingent, more than eleven million are children younger than five years. That's why, as Miguel Hernández was saying "the famine is the first one of the knowledge" that many human beings acquire on having been born.
Across the begoña malone gallery like meeting point, a numerous group of creators and plastic artists of recognized prestige, have delivered generously its works in a public and united exhibition which sale benefits will be assined, in its entirety, to the struggle against the famine, across the Social Dining room Well of the Uncle Raimundo.
Luis Jaime Martínez del Río, Matías Sánchez, Cristina Lama, Raquel Mora, María García-Ibáñez, Javier Rojo, José Luis Menéndez, Santiago Martínez Peral, Eduardo Gazalle Marco, Lucadamo, Hugo Pérez, Marcel Bohumil, Ximo Lizana, Isabel Fernández-Simal, Alberto Donaire, Antonio Sosa, César Osorio, Marta Villamayor, Susan Nash, Natalia Auffray, Ángel de la Peña, Luis Fega, Dario Battaglini,
Francisco Bahón, Ana Rincón, Manuel Portera, Gerardo R. Velarde, Óscar Méndez Lobo, Gabriel Fuertes, Santiago Plat, Filippos Tsitsopoulos, Rafael Orozco, Juan Antonio Tinte, Javier Cachorro, Adolfo Alcaide, Manuel Martín Cabrera, Antonio García (Totom), Anabel Serrano, Pablo Borreguero,
Luis Herrero, Alberto Donaire, Jorge Hernández, Carmen Pallarés, Moisés Zamora, Evelyn Hellenschmidt, Teresa Ciscar, Marta Iglesias, Daniela Barreto, Lucia Beijlsmit, Dora Stefanova, Gervasio Pérez, Begoña Malone, Gonzalo Iranzo, Jordi Sanjuan, Fernando Alonso, Nicolai.