LONDON, AWAY WITH THE FAIRS…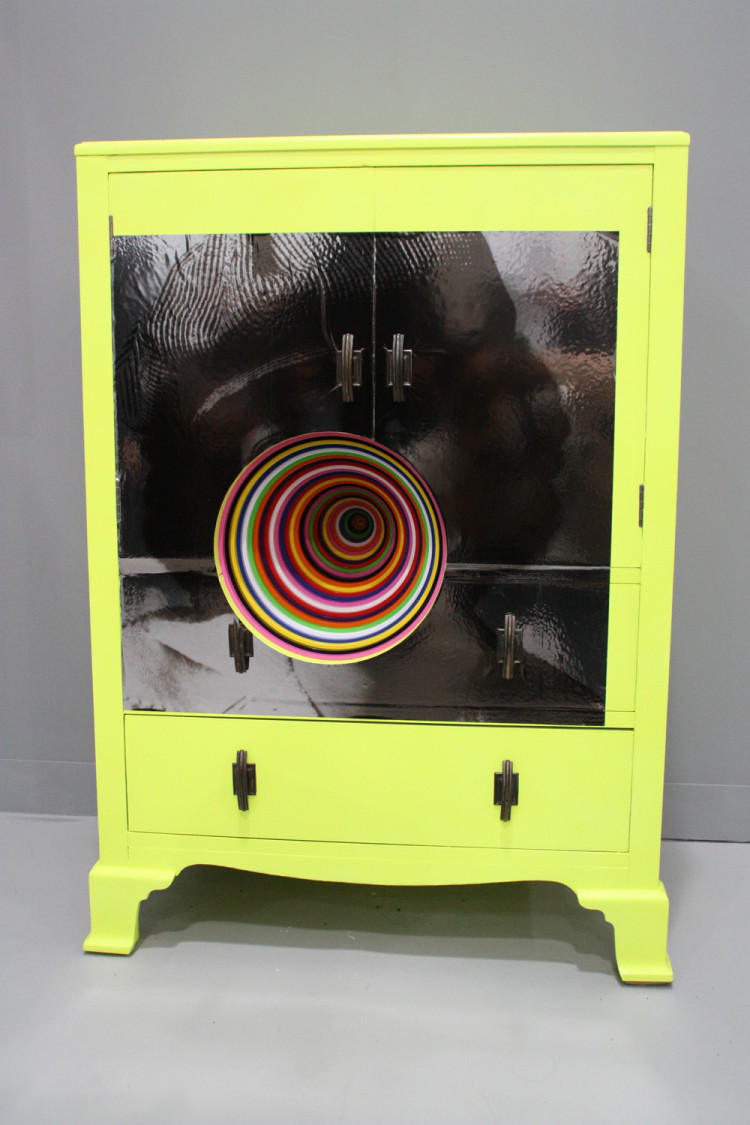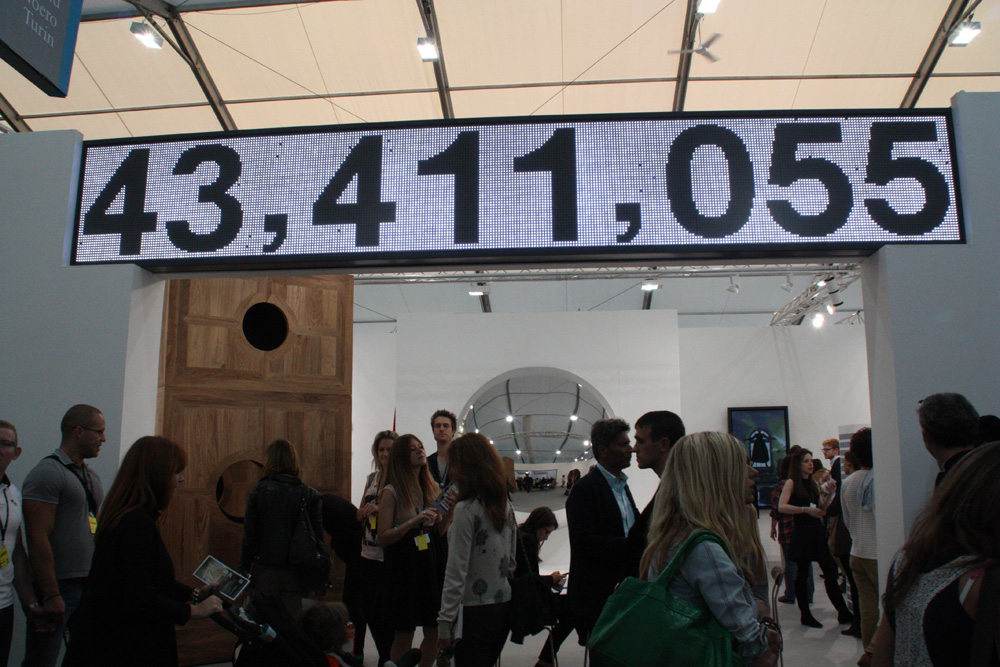 LONDON, AWAY WITH THE FAIRS…
Frieze Art Fair 2011
Regent's Park, London. October 2011.
Text by Francesca Di Fraia
For the ninth year in a row, the Frieze Art Fair opens its gates to the international public.
Only twenty years ago, frieze was a fledgling international art journal founded by two recent university graduates. Once a year galleries and artists all over Europe gravitate around the so-called
"Frieze Week", culminating in an eight-site specific show known across the world.
Anywhere in London the art galleries, artists and design dealers come to daylight, the city just looks like an enormous display window. Not to mention the FIAC in Paris, just two hours drive away from the British capital city. Actually, some galleries like the American Marc Foxx based in Los Angeles had a booth at Frieze and subsequently went directly to FIAC the following weekend.
Every gallery put its best artist on display. The list of shows was remarkable: Gerhard Richter at Tate Modern, Tacita Dean in the Turbine Hall, Doug Aitken at Victoria Miro, Rebecca Warren at Mauren Paley, Charles Avery at Pilar Corrias, the Chapman brothers at the White Cube. Tracey Emin, Jeremy Deller, Sarah Lucas, Ryan Gander, among others, had one-off works on show across London. On the Tuesday before Frieze opened, there was the opening of the new White Cube in Bermondsey, the Lisson Gallery party, Doug Aitken at Shoreditch House and, hard to believe,  the Museum of Everything at Selfridges, a popular department store in Oxford Street. Meanwhile, in Mayfair took place the PAD (Pavilion of Art and Design), a sophisticated, intimate, and eclectic design show hosting more than 50 international exhibitors. An art overdrive that brings together culture and market, uncovering the commercial side of art.
According to the Financial Times, this year's vibrant London art scene suggests a positive turnover, especially for businessman-artists like the usual Damien Hirst.  The fair started off with an early private viewing attracting VIPs like Elle McPherson, Gwen Stefani,Charles Saatchi, Dasha Zhukova and Antoine Arnault. Under the shadow of a massive white tent in Regent's Park you can find a range of premises ranging from restaurants to wooden stalls stretching towards the gardens all around, to the sculpture park (with works by Tom Friedman and Kiki Smith among the others) right by the entrance.
A rather traditional reference is the White Cube spot, theatre of ironic performances and pieces, hosting this year the Chapman brother's blatantly provoking and purposely blaspheme sculpture/installation of the Virgin Mary with child set on a squalid bedroom wall. Despite having attracted less American collectors this year, the White Cube sold a mural-size photograph of a packed German nightclub by Andreas Gursky, Cocoon II (2008) for €600,000, an Antony Gormley steel standing sculpture, Spy, for £300,000, a new Mark Bradford painting for £200.000, and other works by Damien Hirst, Damián Ortega and the Chapman brothers. The show develops over a surface occupied by eight special projects commissioned to artists, by prizes focusing on themes like the Teheran skyline, by areas dedicated to interviews, films, lectures and conversations.
The most interesting and experimental section of the fair is, without any doubt, Frame. Established in 2008, Frame showcases smaller galleries, which are allowed to exhibit just one artist in their allotted space. The floor is uncarpeted, and there is a rough feel. The work is made by younger people, though Channa Horwitz, whom is in her 80s, has been displaying her  sequences at Aanant & Zoo. Here Riva Aquarama and Max Wigram are names that is worth mentioning. Also Eva Kot'átková's work at Hunt Kastner, a gallery from Prague: her collages of old books and photographs fold together. It is the artist's exploration of identity disorder, and the role of the individual in society.
Outside Frame, in the main corridors is the Gavin Brown's enterprise, winner of the Stand prize. Bright canvases by Joe Bradley and poppy pieces by Martin Creed encircle an enormous golden, folded coat hanger by Mark Handforth. On one end are, instead, Michael Landy's Heath Robinson machine, which chewed up credit cards, and Pierre Huyghe's aquarium, one of Frieze's commissions. A hermit crab bobbles about, wearing a shell that clacking its pincers. The aquarium is in a darkened room. Casey Kaplan, a New York gallery, gave over its whole space to Matthew Brannon. There were hand-painted posters, little railway station signs, a collection of coloured bottles. As far as sales figures are concerned, Bloomberg, a financial data agency, estimates that this year's total value of the works on display was slightly less than last year, about $350 million, compared to $375 million in 2010.
Talking of collectors' attendance, instead, Frieze dealers noted the shortage of American collectors compared to those from Europe and the Middle East. As released by Frieze, German artists were the beneficiaries of the top two sales of the week: a huge new digital print by Gerhard Richter (now on show at Tate Modern), titled Strip (2011) and featuring hundreds of horizontal parallel lines in an array of colors, selling at Marian Goodman for £1.4 million, a price likely boosted by the recent Christie's London sale of Richter's Candle painting for £10 million. Another big purchase was the £800 thousand reportedly paid at David Zwirner for the painting Haus des Lehrers (2003) by Socialist-Surrealist Neo Rauch. The gallery also sold a three-panel Marlene Dumas painting of female nudes for £341.000 and a Daniel Richter painting of neon monkey-like creatures to Indo-Chinese collector Budi Tek for £217.000.
Also, other big-ticket sales included aTakashi Murakami manga sculpture for about £558.000 at Galerie Perrotin, and Anselm Kiefer's winged-stone painting San Loretto (2008) for about £435.000 at Galerie Thaddaeus Ropac. In the Frieze sculpture park, all three copies of Thomas Houseago's 10-foot-tall black-bronze brute, Hermaphrodite (2011), sold to European collectors for £260.000 apiece. Italian galleries didn't lament lack of interest either, as we were passing by. Finally, what caught our attention was a video by Francis Alÿs (2004) at the Galerie Peter Kilchmann space; a video that showed him walking down residential streets with a drum stick, rhythmically tapping railings and building columns as he was passing by. Other  Railings videos, similar to the one on show, are available  from the artist's website.
Francesca Di Fraia
London-based editor
Links:
http://videos.artinfo.com/video/PAD-London-2011#c=NS1DL921VHBHTVW6&t=PAD London 2011
Position the cursor on the images to view captions, click on images to enlarge them. 

Posizionare il cursore sulle immagini per leggere le didascalie; cliccare sulle immagini per ingrandirle.
.